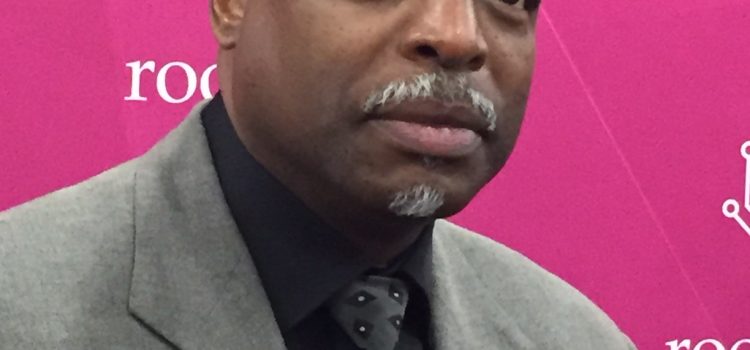 SALT LAKE CITY – LeVar Burton got the crowd going and used family history to do so early in his keynote address to over 13,000 people last Friday. He was the first speaker at RootsTech's inaugural African Heritage Day. As he entered the stage and spoke his first words of  "Good morning," he told us about his beloved mother, Irma Jean Christian. "She taught me to speak when spoken to, so I will say again, 'Good morning.'" At that the crowd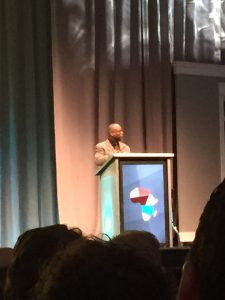 immediately warmed up with an invigorated, "Good morning," and knew we were in for a treat.
Burton spoke of his mother lovingly through his address. "I am the man I am because of the woman she was," he said. He credits his love of storytelling and reading to her, saying she was a "voracious" reader with a book always in her hand. Because of that, he learned to love to read. "Reading is as important in the survival of a human being as breathing," he added, noting that his family subscribed to two newspapers.
He loves to speak of his mother whenever he gets a chance.  He knows he could have easily been a statistic in his life because he was raised by a single mother and was a "latch-key" kid.  "She said I would rise to my full potential in life, even if she had to kill me," he said as he and the audience laughed. He admits to still being afraid of her 4'10" self, even though he is nearly 60 old. She set high standards for him and he knew he wanted to meet those hopes and expectations. She knew the value of being educated, earning two college degrees, receiving the first degree at only 19 years old. She earned her masters of social work while working full time and raising three children on her own. Through that time, Burton learned an invaluable lesson, "There are no limits to what I could become other than those that I self-imposed," he said, raising one finger in the air. She taught him education could be a leveler in the playing field of life, but also that the world could be hostile to him, "simply because of the color of my skin," he said. She always taught him and he came to know that education could be a tool for him when in a classroom of "melanin-challenged" classmates. "That's code for white people," he added.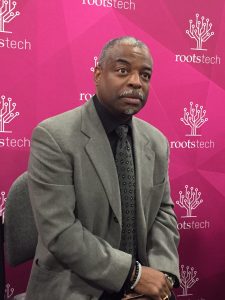 At that, laughs from the audience as well.
She told him that as a black male in America his trail could be fraught with injustice, but he could triumph because it was his right to determine his destiny for himself. Burton said it seemed early on his life that his path was to be that of a storyteller. He credits his mom as one of four people that helped pave that path of his storytelling career.
Gene Roddenberry was another storytelling role models for him. When growing up, Burton admits he didn't often see people that looked like him in science fiction novels or comic books, or even on television. "I lived in an era where black people called each other up when we saw black people on tv," he said. So, when Roddenberry cast a black person in a key role, it really meant something. He talked about how science fiction gives us the power to imagine. "It is our imagination that causes us to be able conceptualize, devise and design," he said, noting it is a human's "super power." He loves science fiction literature because it invites people to put two of what he considers to be the most important words in the human language when put together, "What if."
He then spoke directly to Star Trek fans, chanting out, "My people!" He referred to all the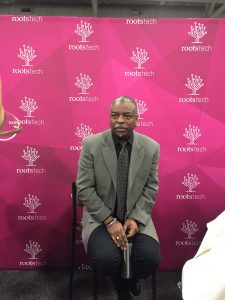 inventions that very possibly came from  Star Trek – flip phones, blue tooth devices and Ipads, just to name a few.  "The link from that which we imagine to that which we create are inextricable," he said. He believes one day we will get to the holladeck. "That upon which we focus on our imagination is that which we imagine in this realm," he said more than once.
Creators and storytellers go in hand in hand. "It's in our DNA," he quipped. Stories provide context for who we are, why we are here, where we are going and ultimately, our destiny.
Alex Haley is the third storyteller who has had a profound effect on Burton. It was January of 1977 when Roots premiered over eight nights. He noted that Roots woke people up the travesty of slavery and some of the truths that really occurred. "There was an America before Roots and there was an America after Roots, and they were not the same America, y'all," he said with great profoundness. Before Roots, many people believed slavery was something necessary to the economy, but after, no one viewed slavery that way. "That was all accomplished with one family's story," he said to loud applause from the crowd. Their story was brilliantly brought to life in the living rooms of Americans.  As a short clip from Roots played, we watched as Burton's character was repeatedly beat, while being asked his name. In the audience, tears started to flow freely, watching and reliving that moment again.
He then told us a story regarding his final storytelling mentor, Fred Rogers. The two were at a special dinner at the White House with then president Bill Clinton. It was a dinner to examine the effects of television on children. Burton admitted that there were some pretty big egos in the room, but that didn't stop Rogers from being humble and engaging with the crowd. He stood before the group and asked everyone to close their eyes and bring into that moment in their mind a person who had seen their potential in life and helped them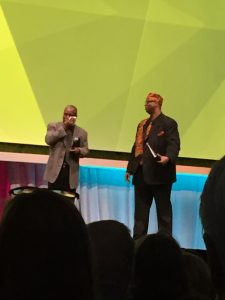 realize their gift of what their contribution to the world might be. He then invited the RootsTech crowd to do the same. The crowd grew silent for one powerful moment. There was complete silence and many tears shed. "None of us get through this thing called life on our own," he said at the conclusion of the moment.
As Burton went to walk off the stage, he was stopped, emotions already flowing from the feeling in the room. Thom Reed, a senior marketing manager with FamilySearch came out on stage for a gift for Burton. Burton raised his hand, because he sense what was coming. "Is this what you all day?" he asked the audience. Reed then produced the marriage certificate of his grandmother and grandfather. He had a dare relationship with his grandmother and FamilySearch was able to find four of his second great grandparents and five of his third great grandparents. "We boldly went where you maybe you have never gone before," Reed said.  "Those are my people," Burton said through teary eyes. Reed then gave him all the documentation. Burton was visibly moved and so was the rest of the audience. When Reed handed the documents to Burton the crowd arose and cheered and applauded. The two men embraced and Burton bowed to Reed and the crowd.
At the conclusion, Burton quickly made his way to the media hub. He originally was not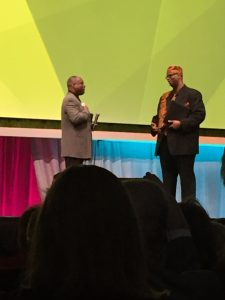 going to make an appearance there but changed his mind after the warm spirit of the morning. Crowds quickly gathered in the media hub to talk to Burton. Not so much to ask questions, but to share their own stories of how he changed their lives. Watch for another story
detailing his press conference.
—By Rachel J. Trotter