Last February when I attended RootsTech 2016 I was able to chat with BYU Football quarterback Taysom Hill and his wife, Emily, along with University of Utah Football wide receiver Britain Covey. Britain is on an LDS mission right now in Chile. It was great to get to hear them talk about things of a personal, even a spiritual nature.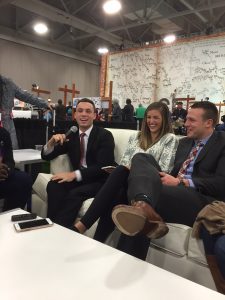 By Rachel J. Trotter
SALT LAKE CITY –  BYU Football quarterback Taysom Hill and University of Utah Football wide receiver Britain Covey don't have to go far to have a fan following and that was apparent on the last day of RootsTech in February. The two dressed in pressed shirts and ties and didn't necessarily resemble the brawny men we see on the football field, but showed their softer sides as they talked about their own family stories and the relevance family history has in their lives.
Taysom was joined by his wife Emily and the three had a large fan following gathered around the media hub to hear what they had to say. And while football talk wasn't totally off the table, the rivalry was set aside and the two gentlemen talked candidly about family stories and their importance in their lives.
For Britain, his life has been a lot about family stories. His grandfather is Stephen Covey, the highly acclaimed author of Seven Habits of Highly Effective People,  and he has lived his life hearing about the habits and working toward goals. He said he was never "forced" to live the goals, but was always encouraged to lead a positive, upbeat lifestyle to find success. He feels very proud of that fact. He said it has helped him connect more to his family history. "The cool thing (about family history) is even if my kids only know me, they will know about the rest of my family because they will have those stories," Britain said. From some of the family history work he has done and storytelling he has heard, it has made him want to do more and write some facts down. Getting his LDS mission call also spurned him on. "I know the importance of this work and the importance of writing it down," he said with a big grin. "And I now know it for myself, not from what someone else has told me," he said, grinning widely again.
Taysom and his wife, Emily, have made some goals as a new, young family to tell family stories and make sure their future children know where they came from. For Taysom, his season-ending injuries for three consecutive years helped put some things into perspective. Both he and Emily said the injuries were extremely difficult. "It was hard to watch him struggle and to know I couldn't do a lot to help him," Emily said. "We really decided then to focus on things that were most important and one of those things was setting goals and building our family," Emily said. Taysom agreed. "I want to make sure I've done the things that I would want my kids to do," he said, adding that he wants to live his life in a way that
when his progenitors read about him they want to strive to be better.
The two men said that while they love the game of football, events like RootsTech are a good reminder for everyone to focus on the most important things in life and that is family and religion. "Football is fun. I love it. But the most important things in life happen in other places," Taysom said. Britain agreed.
Taysom's 2016 season ended with an injury in the Utah State University football game in late November and he will not play in this Wednesday's Poinsettia Bowl game, but he will be watching. At the time, Britain said he plans to play football when he returns from his 2-year mission next year.