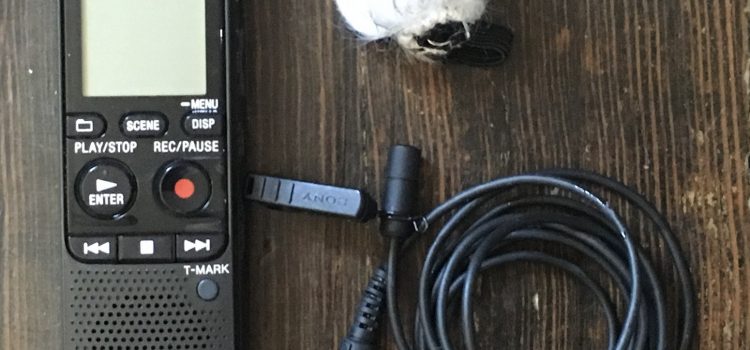 Voice Recorder Review: Sony ICD-PX333
I know I have mentioned before that I'm a novice when it comes to digital recorders, so I wanted to do a Sony ICD-PX333 review. From me, this review is quite pure – because I am learning as I go. The past few weeks I have been using digital recorders more and loving what they can do.
With the Sony ICD-PX333, I like the simplicity and the sound quality the best. My first recorder, the Olympus WS-852 also has my heart, but I can see some great functionality with the Sony. It's a tiny bit more compact and doesn't have as many bells as whistles – which isn't always a bad thing. If you're looking for pure voice recording with ample minutes, the Sony fills the bill. It has over 1,000 hours of recording time with 4GB of memory and requires 2AAA batteries, which are supplied wit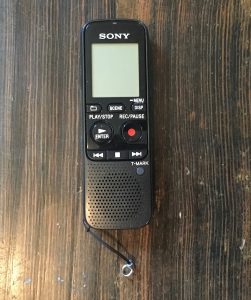 the purchase. I'm not sure how long the battery life is, but I haven't run out as of yet and I used it for four straight days about three to four hours per day.
This model is set up so you can use separate folders and book mark them with a specific category or place so you know whose interview is whose. You can also jump between folders with little effort, which is nice. It holds your place in one folder while you visit the next. There are only five buttons on the recorder, so knowing what does what is a good idea, and most of them have multiple uses. It's not too hard to figure out, because basic instructions flash on the screen.
I love that you can choose the recording setting, ie: meeting, voice notes, interview or lecture. This way, you can maximize your setting for your interview environment. The playback is top notch – I can hear things quite clearly and the noise cut – which allows you to cut out background noise – is quite genius. I personally would just always keep my setting there. I also like that the erase button is on the side, so I don't accidentally erase something important because I'm not up to speed with the buttons on the front. I have to go to a totally different space to erase.
It is also comes with a USB cable and sound organizer and the USB spots are cleverly slid in on either side of the device so they can easily be plugged into your computer or other device for downloading. I like this because the whole device doesn't attach, just with a USB chord. Sometimes it feels clunky to have the entire device attached to the computer. It kind of bogs down the space.
The price is right as well for generally under around $60 on Amazon and it's available on Amazon Prime, an extra bonus, right? The Sony website  gives a sleek tour of the product from all angles that is quite lovely and I recommend you check it out before purchasing.
For me, this is a great product. Not as many bells and whistles as a more expensive model, but it gets the job done in my opinion and it saves you a few bucks.
Check out other articles and resources to record audio and get a great oral history:
Do a family history interview
Sign up and we will email you a free, printable download of our mini-course to conduct a great oral history interview. You will be done in a week or less.