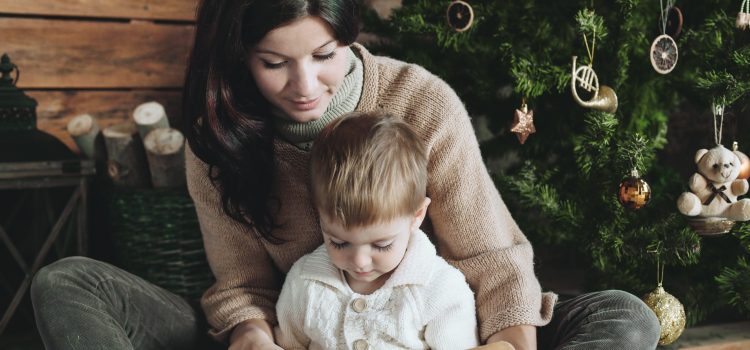 Here is a big list of my top family history gift ideas for 2019 ranging from thoughtful acts of service that cost only your time, on up to a few hundred dollars. This list includes new items I've added to my own kit this year. We at Evalogue.Life wish you a wonderful holiday full of what matters most. To be sure, that's not stuff. But…gifts are lovely too. The tools and family history gift ideas here reflect what I actually use in my professional work and with my own family. I tend to do a lot of homework before I buy something and I don't hesitate to swap old stuff for better tools. So, I hope that my research sparks ideas and saves you time. Note: I'll update this list with any flash deals I find throughout the Black Friday week.
Disclaimer: We make a small commission if you buy some of the products in this article using our links. This is a teensy part of our living, but we appreciate it! 
Please click links for current prices – they update throughout the holidays, so I included live links.
Family History Gift Ideas and Tools for Writers
(Organized by price low to high)
1. Free Family History Gift Ideas:
These meaningful ideas cost only your time, and send a message that you value memories and relationships more than things.
Digitize family pics and share: This year, I am giving my brothers each a flash drive with all the family photo albums digitized. You can take your photos, slides, or audio files to a FamilySearch center and scan them for free. You can them through the cloud, or put them on a flash drive (click here to get a pack on sale) and give to family members. Find a family history center near you by clicking here.
Make a family video: You can tell a story or make a tribute to someone using free Adobe Spark. Check out this article for ideas.
Interview a loved one: Give the precious gift of your time by interviewing someone. Click here to get our free printable –the best questions everyone should answer.
Our free interviewing mini tutorial will help you preserve oral history.
Get the app Marco Polo. Have you heard of this? Tried it yet? It is described as video walkie talkie and is a fun, easy, and private way for families to stay connected. My young daughter loves sending quick video messages to her cousins, uncles and grandparents and I predict you will too. This is a phone app that is not so much a gift you will put under the tree, but a gift throughout the year. When you get together with loved ones during the holidays, it's a great time to get your family on the app.
If you'd like help: 
Next, if you are seeking help we would like to offer you our best rate of the year on life story interviews and coaching sessions by us. Purchase instant gift certificates before Monday night to get $15 off each session. There is no quantity limit, and additional discounts are available if you buy a package. Click here for details on our services, prices and our shopping cart.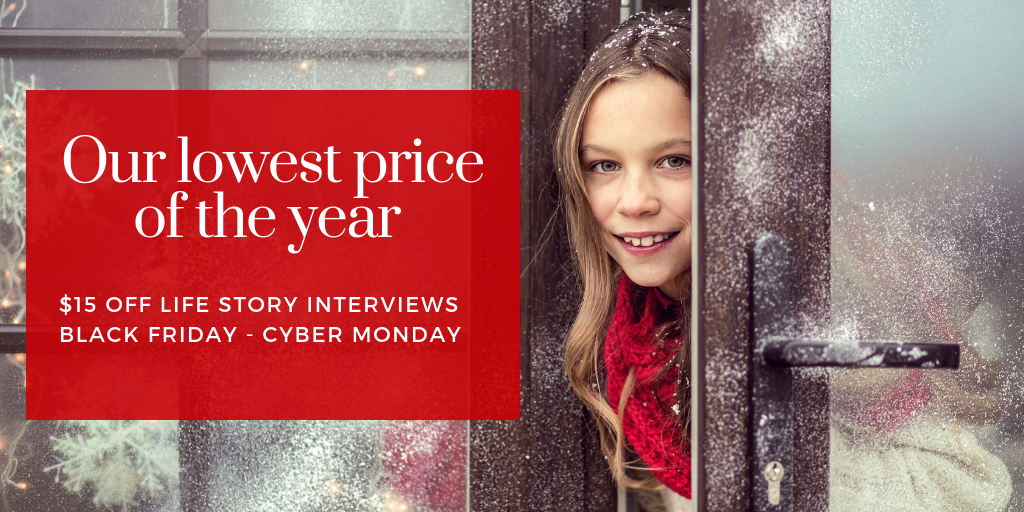 2. Stocking stuffers
3. Telephone recorder 

doohickey

 (Olympus TP-8):
That's right, a doohickey. Let me explain. This year I found an inexpensive piece of hardware that solved a huge need for me, recording phone calls. And for less than $20, it's a unique gift that might delight someone on your list. The Olympus TP-8 (Telephone pick-up microphone) connects to a digital recorder's microphone port and has a wire that leads up to your ear. You put the earbud inside your ear, then press your phone to that ear. It sounds weird, but it works by picking up the call's sound from inside your eardrum and the sound coming out your mouth, capturing both ends of the in your digital recorder. The quality is remarkably good considering how it works. This has become my go-to backup recording method for doing oral history interviews. My primary method is TapeACall, but this hard-wired recording ensures I get something if TapeACall somehow fails.  This primary and backup method is working well for me now, and I use it at all the time.
4. Family history games
No list of family history gift ideas would be complete without some family games and activities. A while back, Rachel wrote a great article entitled, "Is family storytelling and family history for kids? Yes!" In the article, she shared how her family has taken to playing family trivia games and it has brought them together. Here are her picks:
5.  Books – The Artist's Journey and The War of Art by Steven Pressfield: 
If you are a creative or you struggle with procrastination, resistance and its many demonic forms then get this book for yourself. If an artist of any description is on your list, give it to them.  These are mind-bending, soul-freeing books that I cannot recommend highly enough. I could go on and on, but a top-10 list is not the place. Just trust me on this, and email me after you've read them. Click here to get the War of Art.  Click here to get the 2018 book, The Artist's Journey.
6. Shameless plug for our how-to books
If you know someone writing a life story or novel, my How to Storyboard book and storyboard template posters will help, I promise. (Here is an article). And if you want someone else to record their life story, our booklet of questions can give them food for thought.
7. The Secrets of Happy Families, by Bruce Feiler 
I love this book because of the solid research combined with sheer quantity and quality of ideas to help strengthen families. This book is not fluff and I predict you will love it, finding something that will improve life for your family. I can think of three practical ideas off the top of my head that I implemented, and they made a noticeable difference. Click here to get The Secrets of Happy Families: improve your mornings, tell your family history, fight smarter, go out and play, and much more.
8. Digitize, digitize, digitize: 
If you want to read a full overview, here is a round-up article with my favorite methods and equipment for digitizing photos, audio, slides, and documents. Here's a quick list:
Here's a video of how I use my light box:
9. DNA kits:
This holiday weekend, the competition amped up on DNA kits, driving the price down. As with last year, DNA kits are one of the hottest gift ideas for anybody anywhere. The benefit for everyone is that as more people get their testing done, the databases get better and better. If you get your test done now, you will get refined results in the future as they become available. Here are links to 3 of the big ones: Ancestry, 23andMe, and MyHeritage.
10. Digital Recorders:
No list by me would be complete without a digital recorder because this is my numero-uno tool of the trade. One improvement this year was launch of the Sony ICDPX370  digital recorder (mono sound) or Sony ICDPX470 (stereo sound) with the USB port built in. With this addition, Sony now goes toe-to-toe with my favorite Olympus WS-852 or the newer Olympus WS-853. So, my advice? Shop on price between the three models listed here, because it can bounce around from day to day. But buyer beware if you choose a cheaper model by the same brand. The lower models don't have a USB connection, but instead rely on memory cards. That's a pain and you will hate it. (Note that the Olympus WS-852 and Olympus WS-853 are functionally the same model but released in different years.). Here are the 4 recorders below. Keep in mind that the difference between the Sony ICDPX370  digital recorder (mono sound) or Sony ICDPX470 (stereo sound) is the sound input – mono or stereo.
11. Rode Boom Microphone for getting good sound when recording live videos
Now that I'm doing more video, this Rode boom microphone I bought last year on Black Friday was an investment I have not regretted because it made an enormous difference in the sound quality of audio recorded on my iPad. This is for times when you can't get up close. Not everyone needs this, but you know who you are if you do. So, my endorsement is: love.
12. Subscription to Animoto – make beautiful videos more easily than you think:
I'm not shy about sharing how much I love Animoto for making family story videos and to market Evalogue.Life. Most of the videos we share are made with Animoto plus a lot more personal ones that are just for my own little family. For example, after our family vacation this year, my 5-year-old saw me making a video and she wanted to do one too. So, I let her choose a template then drag and drop her favorite pics from our vacation into it. Then she narrated commentary about the photos in her own voice right onto the slides. It took us about an hour to create something that I hope will act as a happiness anchor, reminding her of good times together as a family and forever recording the event in her little voice. When she becomes a moody teenager, I may need to go back and hear that voice again. This is a subscription service and they typically offer 10% off an annual plan, but they usually have holiday specials too, so check it out now.
Animoto – Two plans: 
Animoto Personal Subscription: $8 per month for an annual plan. Click here for 10% off an annual plan. (They also offer a free trial)
Animoto Professional Subscription: $22 per month for an annual plan. Click here for 10% off an annual plan.
(Note: there is a third "Business" level, but I doubt you'll need it so I am skipping that. I have the Pro plan). 
13. Software:
14. Noise canceling headphones and noise canceling headset microphone. 
When I get in a work zone the house could be on fire and I might not notice. There is one exception, however: TV and movies. If there is a story line and dialogue, my eyes lock with the screen and I can't seem to tune it out. So, if I'm trying to write and there is a story playing out anywhere in earshot, noise canceling headphones are a necessity. These are the ones my husband bought me for Christmas last year. I LOVE Them.
A new addition to my kit this year was a this Sennheiser headset microphone that cancels background noise. It's amazing for talking on the phone, recording voice memos and dictating. I use this multiple times Every. Single. Day. The quality is superb for the price, and you will not regret this purchase. (Note: they also have a USB version if you want it for Skype).
15. Microphone for narrating videos and dictating audio with voice recognition
A good microphone makes a big difference in how voice narration sounds on a video, and how well voice recognition works, such as with Google Speech-to-Text or Dragon. Here is the one I use for narrating videos. Of all my microphones, this has the richest overall sound: Blue Yeti podcast grade microphone.
16. RootsTech pass
From now until December 9, RootsTech is offering 50% off a one-day pass for the family history conference in late February, 2020 in Salt Lake City. The coupon code is GENFRIEND. 
17. Life Story Interviews:
In closing, if you are interested in a gift certificate for our services, here is a description and quick links. Professional life interviews preserve a voice and capture meaningful stories that will bring loved-ones together and inspire future generations. Gift certificates are a wonderful way to record a family member's story, offering a meaningful alternative to buying "stuff." Ideally, interviews are conducted in person but may also be done by phone. We reach out to schedule a time and understand goals for the interview, then we email food-for-thought questions. During the interview we record the audio and handle all the technology, saving files for you. Single interviews provide approximately 60 minutes of audio, capturing poignant highlights. If your goal is a more complete life story, consider choosing a package of multiple interviews for a discounted rate. We offer our best deal of the year for Black Friday.
18. Story Coaching Sessions:
If you have the spark to write your story, but would like to collaborate on getting organized, storyboarding your tale, or handling technology, we love coaching clients. We will give you our best tools of the trade and let you pick our brain, packaged with a boost of encouragement.Choose one, or save on a bigger project by purchasing a package.
I hope this list of family history gift ideas helped you find something meaningful for the people you love most, or perhaps a splurge that will help your work move forward. Rhonda Lauritzen is the founder and an author at Evalogue.Life – Tell Your Story. Rhonda lives to hear and write about people's lives, especially the uncanny moments. She and her weave family and business together. She especially enjoys unplugging in nature. Check out her latest book Remember When, the inspiring Norma and Jim Kier story.
Questions Everyone Should Ask
Don't have regrets. Preserve a life story now with our all-time best questions. Interview a loved one or prompt your own personal history. Do it now, and it will be enough.