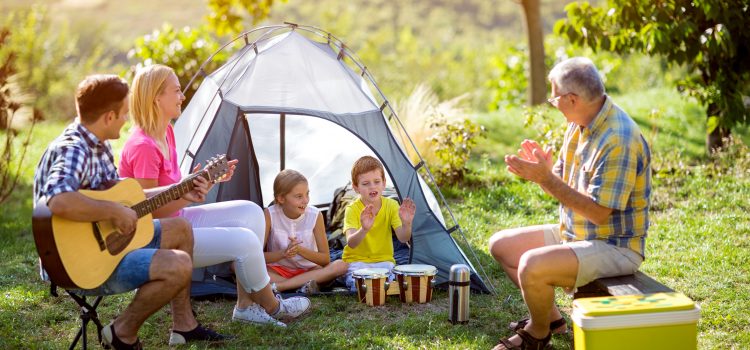 No parent in the world would say they don't want happy kids. But what's the secret for that? I asked New York Times columnist and best selling author Bruce Feiler just that after his keynote address at RootsTech 2016. After his compelling address, he sat down with me and gave three tips for strengthening any family, including storytelling with your kids and how that creates happy kids. He also candidly talks about being a dad,  cancer, and how both have affected his own story. His address and our conversation were full of insights and inspiration.
Cancer and a change of focus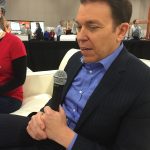 Storytelling is an art, and Bruce Feiler knows that. But being a professional storyteller wasn't in his plan – at first. Feiler was born and raised in Georgia and went to Yale. He spent time walking the Holy Land and writing a book about his discoveries, Walking the Bible and Finding God were two books that came as a result of that experience. He often called himself the "walking guy," he said in his RootsTech address.  Until one day in 2008 when he got a pain in his leg. He went to the doctor and upon the news everything changed for him – he had a malignant tumor in his leg – cancer.
He then realized he may not be around to do all the dad things he wanted to do his with his twin daughters who were 3 at the time. He talked about how one day they came bouncing into his room showing him a new dance with much joy in their voices and in their step. "It was at that moment I crumbled," Feiler said. He started thinking of all the things he wouldn't do, walks he wouldn't take, stories he wouldn't hear, boys he wouldn't glare at and aisles he wouldn't walk down.
Happy Kids and the "Secret Sauce"
After that, he started talking to other men, other dads that would be in his daughters' lives and writing down their advice for his daughters. During his 9 months of chemotherapy he worked hard on the project and came to several new discoveries. "I set out to write my story," he said. In the process he found what he knew and what he didn't know about his grandparents. One of his grandfathers didn't have a personal history, but had collected three volumes of epitaphs. "While it wasn't his life story, it was something I knew about him," he noted. At that point he came to one big conclusion: "From a storyteller speaking to you storytellers, you don't need the whole story!" he said with enthusiasm. He encouraged the audience to go with they have – to start somewhere.
During this process, Feiler had a rare and miraculous surgery to remove his cancer. He is currently cancer free, although he had to walk on crutches for two years. Now for the past seven or eight years, he has been working on what makes families tick. "What is the crazy sauce that holds families together? What is the one secret ingredient?" His answer: They talk. A lot. And it's not just about the day to day things, but it's deeper things – what it means to be part of a family. His New York times bestseller The Secrets of Happy Families has hundreds of tips, based on research from many fields like organizational teams, not just marriage and family therapy. One might expect the best ideas to come from counselors, but he found some of the most innovative and effective practices came from high-functioning teams. That book is a smorgasbord of ideas.
Feiler's Three Keys to Happy Kids
Write a family mission statement.

Play storytelling games – don't let there be silence in the car, talk about something fun and explore family things.

Tell your family history. "The number one predictor of a child's happiness is that they feel they are a part of something," Feiler said. Happy kids are a good thing.
In our personal interview, I wanted to know more about his three elements, especially that storytelling game idea. "Tell stories to tell people about what you believe in," Feiler explained, noting that it is particularly powerful to do with your children. "Stories can be an agent for so many things," Feiler said. Storytelling games can also happen during dinner table talk. He laughed that it is cliche how important everyone says dinner talk is, but it really is.  He has started doing this with his daughters, who are now 11. "We so often are in a dinner rush, or watch the tv while we eat. Don't do it. It takes 10 minutes to have a good, talk or tell a good story," he said. "Most of us aren't doing it, but we should," he said.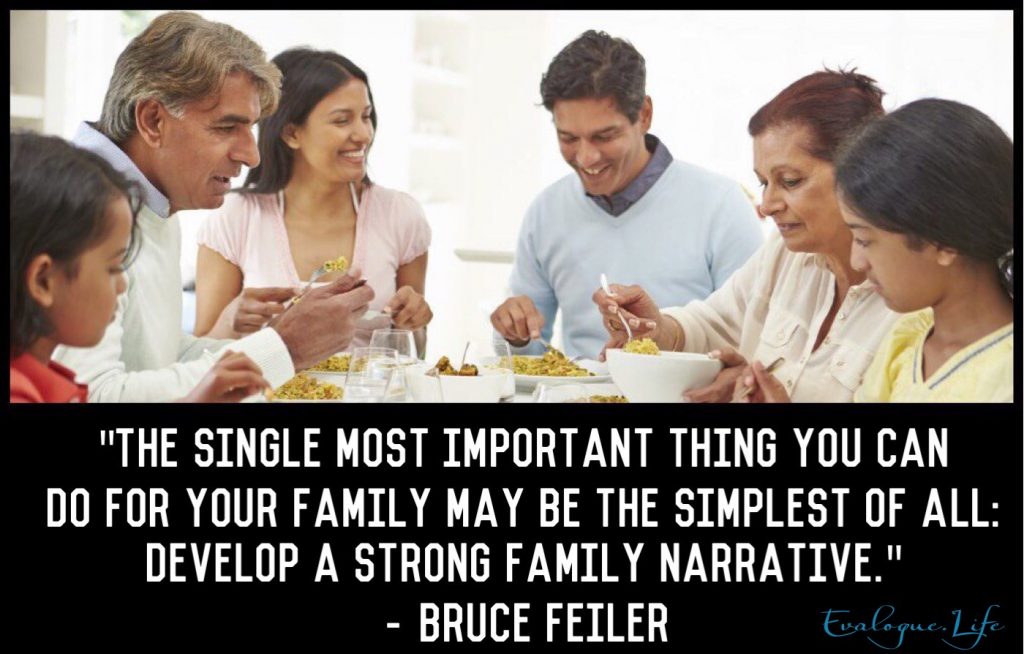 He also added that road trips are priceless times for good storytelling. He talked about the study done by Marshall Duke at Emory University in the 1990s where he found that children found a stronger sense of meaning and felt they could control the world around them if they knew their family history – and not just the good stuff, but the gritty, hard stuff.  Another suggestion for me: "Don't video everything on your trips. Let your kids tell the story of the trip – write it down," he suggested.
He talked about a short road trip where he visited a cemetery with his family and talked about family members buried there. His family thought he was a little nuts, he said with a laugh, but through the process, the stories and the talks on the way to their destination made the trip worth it.
Feiler said the process of telling your family history to your child has an added bonus: you will find value in your life. "We are the sandwich generation, but we can find value in that. We can repackage our stories for our children and grandchildren. The process of doing it does more for you than you will even realize."
Hey y'all, get Bruce Feiler's books here!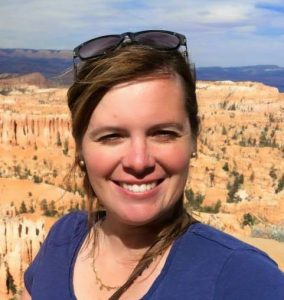 Rachel J. Trotter is a writer at Evalogue.Life, where we tell personal and family stories that inspire, and help you tell yours. She has worked as a writer since her college days over 20 years ago. She loves telling people's stories. She lives in Ogden, Utah and is busy raising six children and loves working on family history alongside her husband, Mat.
Disclaimer: This page contains affiliate links which means if you purchase some of the products we mention by using our links, we make a commission. Be assured that I'm only sharing the methods I actually use, but I do appreciate when you buy with my links because it helps fund articles like this one. 
Do a family history interview
Sign up and we will email you a free, printable download of our mini-course to conduct a great oral history interview. You will be done in a week or less.