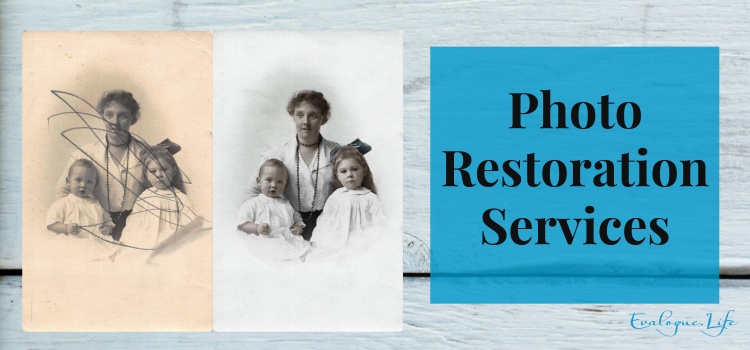 We have years of photo restoration experience and can restore torn photographs or those damaged by water, or sun. Located in Ogden, Utah we charge a flat fee of $29.95 for any photo and 19.95 per photo *with a 5 pack purchase. Rest assured your photos stay here and are processed here. They are not sent out of the country for processing or placed in the hands of individuals you did not intend to have them.
If there is enough of the photo left, we can digitally restore it for you. Rarely do we have to recommend no restoration, due to the quality of the original photo. Bring in your photo, Mail us your photo or email us a high resolution scan and we will digitally restore your images for you. Once we receive your scanned photo our artist will restore your photo back to the day it was first created. We will then send you a convenient link to download your photo(s) and send any original copies back to you. It is best that they are scanned in at a high res and in TIFF format. The better the scan the better we can restore the photo. With JPG or other lossy files some details are compressed and lost. We will scan your photo for restoration at no extra charge. These are some places you can scan your photo if you would rather use their services for convenience.
Most family history centers in Utah will do this for free.
https://www.familysearch.org/help/fhcenters/locations/
Fedex printing services
UPS store
Staples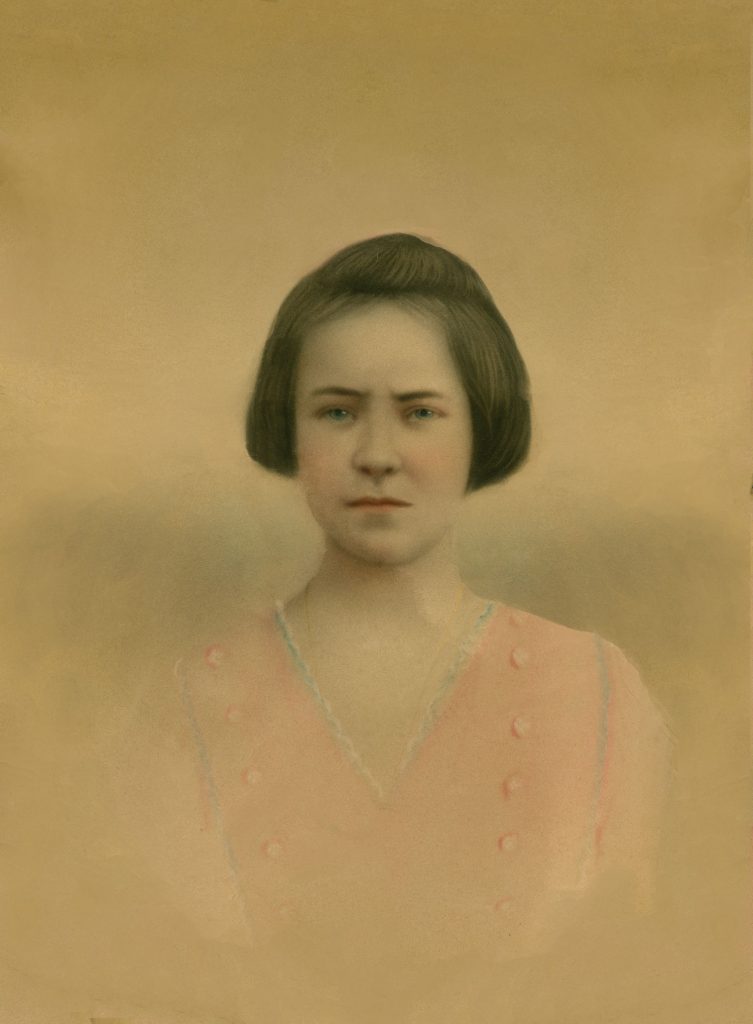 ---
FAQ's
Does this affect the original photograph in anyway?
No. Only if the item is stuck to glass. The restoration is all done digitally and does not affect the original in any way. With the digital file, the photo can be re-printed saved and shared with other family members. Note: We can only improve damage done to the photo so it will only be as good as the original. We have restored and enhanced, scan of a scan type photos but when the quality is low there just is not much left to restore. In general if most of the photo is there we can restore it. Seldom do we have to say it is too far gone.
Can you remove a photo that is stuck to the glass?
In most cases? Yes we can. There can be minor damage to the original that will be fixed digitally during the process.
What about water stains? Can you remove them?
Yes, we can and do all the time.
How do I scan them?
We can scan them for you. Fedex, Ups stores can also scan for a fee. A lot of family history centers will also scan your photos for free. We prefer they are a Hi-Resolution scans and in the Tiff or a non loss format.
How do I get the photo to you?
We have a convenient downtown Ogden location available on an appointment only basis. Or, you can also mail the photo to us for scanning. Just include a self addressed envelope so we can return the photo for you. Digital files can be emailed to us or we can give you a dropbox link to upload the file to.
How will I receive my restored photo?
We will send you a link where you can conveniently download your photo.
Do you offer printing?
Yes for a minimal shipping and handling fee of 6.95 plus printing costs we can have the photo printed and delivered to you.
Questions
Feel free to contact us anytime!