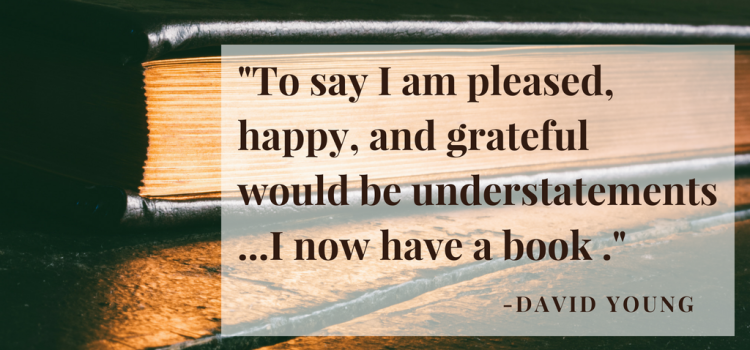 Looking for Evalogue.Life reviews and comments? We are delighted to share some client testimonials here, and would like to begin with a note about what this work means to us. Here at Evalogue.Life we have seen people's lives change and have witnessed moments of discovery, confidence-building and joy through interviewing and writing the stories of people's lives.
Telling your story or that of a loved one is special work. It builds love between families and conveys life's most important lessons. We know it is a profound privilege to be part of that process.
In that spirit, we would like to share positive experiences people have had with our services in their own words.
Organizations who have hired us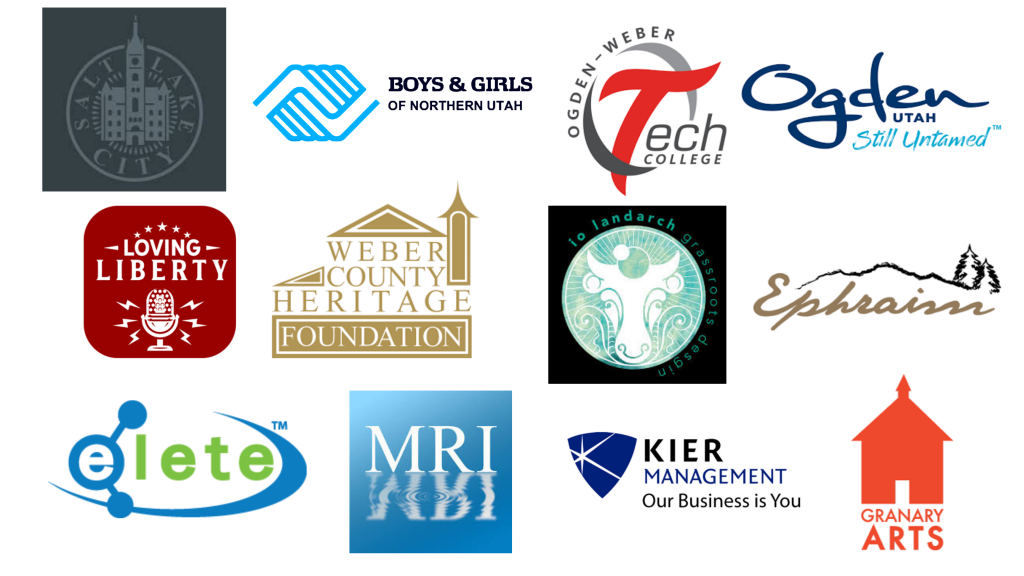 Evalogue.Life Reviews for interview, writing, and coaching services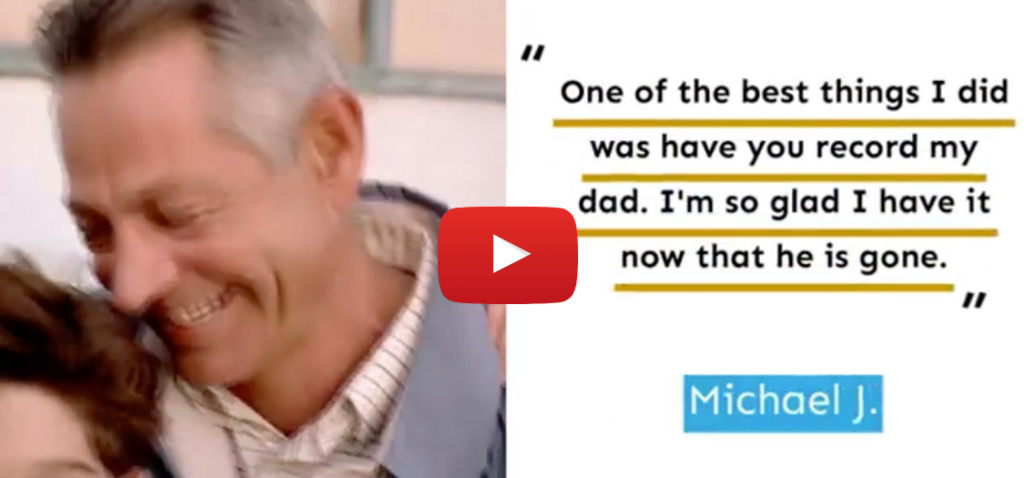 Rob Gentile, Author of Quarks of Light, a #1 bestseller
Rhonda Lauritzen acted as writing coach and development editor, working closely with Rob A .Gentile for three years during the writing, editing, publication, and launch of his book. Quarks of Light, A Near-Death Experience. In the first week, it became a #1 bestseller in no fewer than 13 separate categories on Amazon. Rob wrote this acknowledgement to Rhonda in his book:

"Rhonda Lauritzen, of Evalogue.Life, writing coach, and mentor—without your loving guidance this book would not have been written."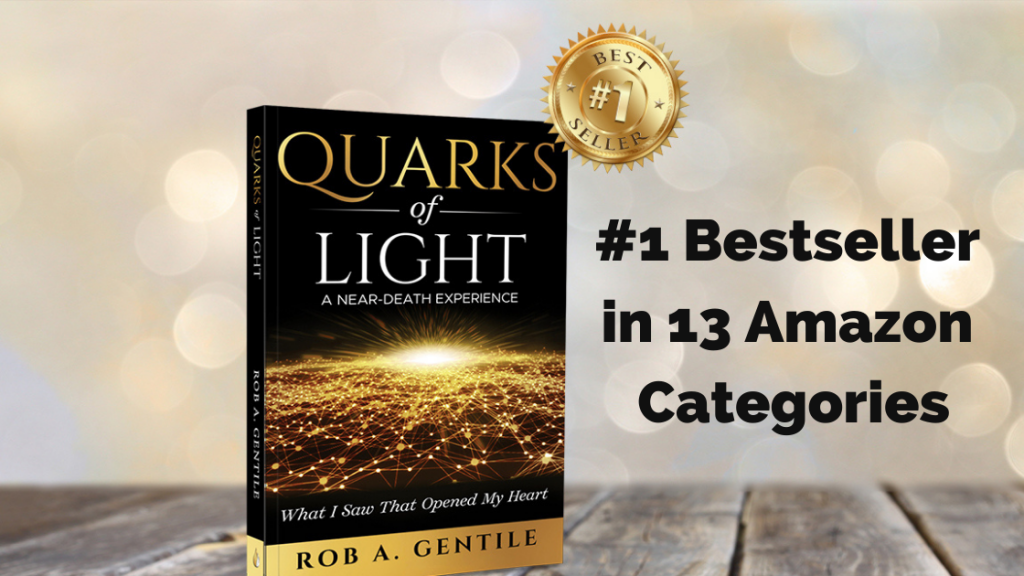 Click here to watch an interview with between Rhonda and Rob and/or to read the transcript
Devon and Mary Hokanson, Provo, Utah
Devon and Mary Hokanson heard about us from a Christmas special we offered in 2017. We conducted a series of eight oral history interviews over four months. The interview was primarily with Devon, but Mary also added perspective from time to time. Their story moved us to tears and it was a joy to be a part of their process. They will use the oral history recordings and notes from the interviews to share with family and compile their own book.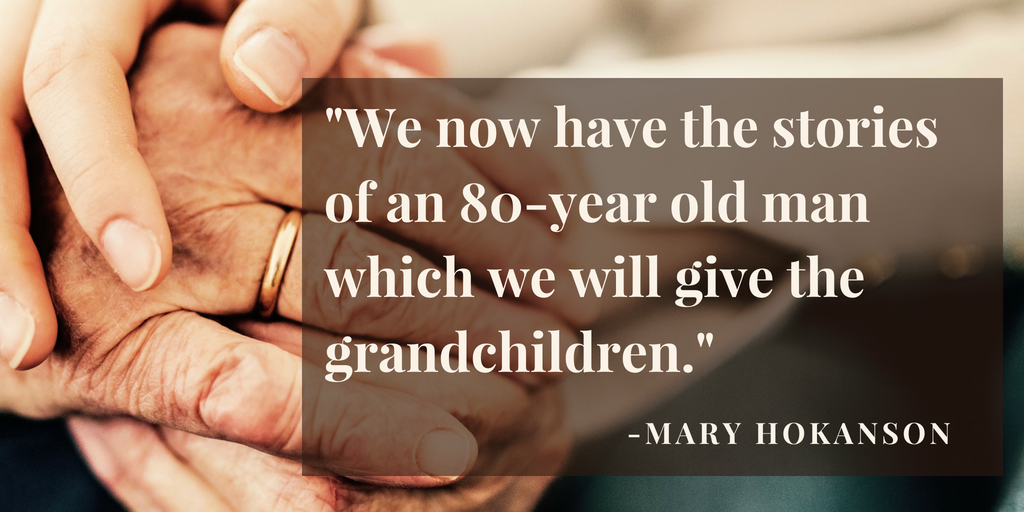 "As a Christmas present, I gave my husband a life interview with Evalogue Life. In a series of 7 interviews, Rachel Trotter recorded his life story. Rachel was superb at asking questions—questions we would never have thought of discussing had we done this ourselves. She also knew when to draw back and just let him continue to wind through thoughts that had sprung to mind. Additionally, she took notes while the recording was being made so we have those to refer to. We now have the stories of an 80-year-old man which we will give to the grandchildren and great-grandchildren so they will always know Devon's voice as well as his life experiences and times. We are grateful to Evalogue.Life and Rachel for helping us develop this family treasure for generations to come."
Michele Thorpe, North Ogden, Utah
"Thank you for gifting us with your presence in helping us record our family stories, traditions and history. Our children always ask us about what gifts they might choose for us for holidays, birthdays, etc. Our son found us one of the best presents ever."
Sincerely
Michele Thorpe
James Johnston and Becky Ellis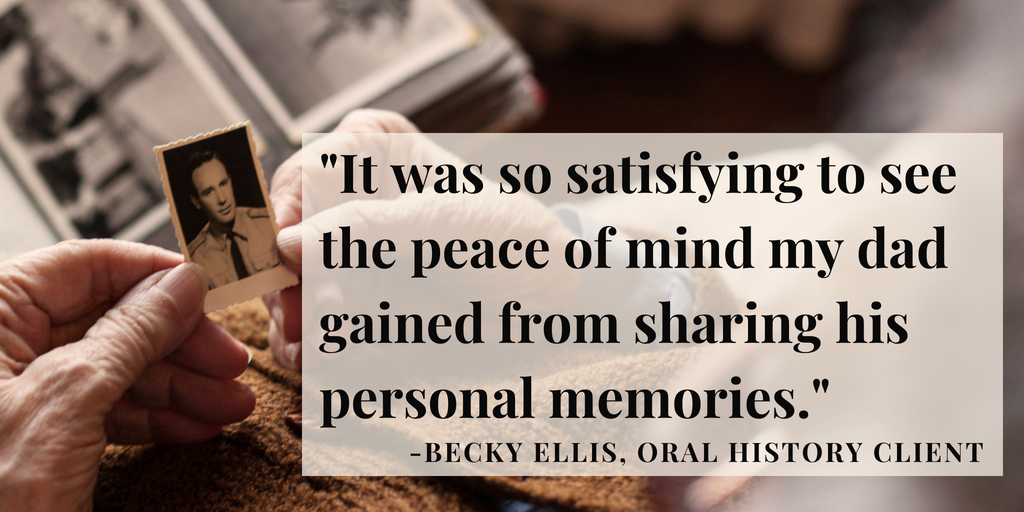 Becky Ellis and her siblings purchased oral history interviews for her father from a 2017 Christmas special and then again with our 2018 Father's Day special. Her father has battled different illnesses and then after the sudden and unexpected death of an uncle, she and her siblings realized it was time to record their father's stories.
"Giving my dad the gift of a personal history interview was a priceless gift for him and my entire family. I am sure that for him, sitting down to write a life story on the computer was an overwhelming task. Evalogue's services gave the perfect format for him to share many of his life experiences. We were able to tailor the interview questions to find out personal stories from all time periods of his life. It was amazing to hear the funny anecdotes, rich memories, and historical details that came from asking questions. Best of all, it was captured in a digital audio file for our family to enjoy in the future. He loved the experience and it was so satisfying to see the peace of mind my dad gained from sharing personal memories from his life."
Praise from students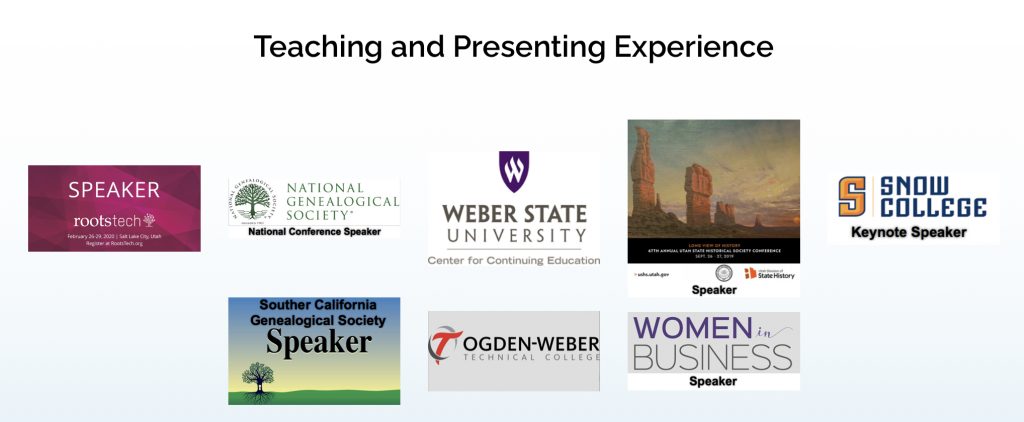 "I attended your talk about story boarding at the SCGS jamboree and I was inspired. I'm working to find direction with my book (rather than a collection of random chapters) and you helped me to realize that I am the hero of my own story! …I did not think that I had much of a story but now I realize that I do have a great story. Thank you for giving me direction!"
-Kelly, from Southern California
"I have loved your classes. They have changed my life. I now feel inspired to share with others."
-VerDene
"I thoroughly enjoyed the 'Life Story' class at Weber State. The storyboard info was marvelous and extremely helpful…"
-Bryan
"Your class was a delightful learning experience. It was nice to realize that a few well-told stories of the most impactful lessons of your life are enough to pass on to posterity. Thanks again for your inspiration."
-Nina
"I never realized how important writing is to me…I feel blessed to have found your class! Thank you for giving me the tools, and now the confidence, to take the words from my head and place them on paper. You are a fabulous teacher."
-Denise
"Thank you for teaching this class. It is making my life better and giving me the encouragement I need to finish my book."
-Stephanie
"Thank you! Best class I attended at RootsTech."
-Craig
"I have had a terrific time in your class. It has provided a necessary means of accountability. I felt inclined to write some life stories but just wasn't applying the chair glue to do it."
-Valarie
"So many inspiring ideas! Great job!"
-Kathie
"I really enjoyed your class and feel like I was set to go on a journey. I have to confess that I was not sold on the storyboard idea at the beginning of the class, but as I have studied it and learned a bit more, I can see and recognize it not only in books and movies but in real life. Very interesting!"
-Santiago
David Young, Ogden, Utah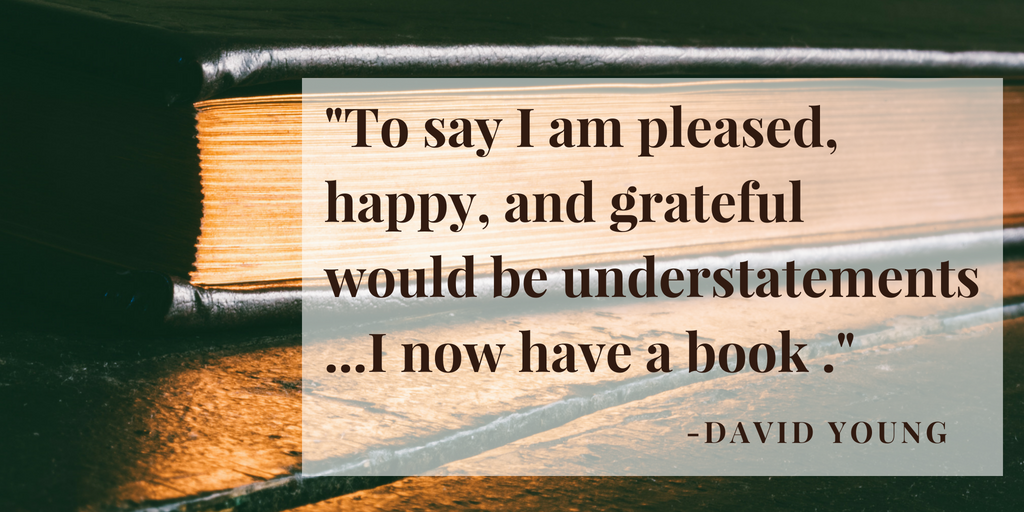 David Young approached us after hearing about us from a mutual friend. He wanted to record his life story to give as a gift to his wife. He wasn't sure how long he wanted his story to be, but we just moved forward with a series of oral history interviews that he then decided he wanted us to compile into a short book. The process was rewarding for all involved.

"For a number of years, my dream was to document my life. Last May, I engaged a very talented journalist (Rhonda Lauritzen with Evalogue.Life) and scribe to help me accomplish my dream.
We spent numerous hours together while I was telling her stories and recounting my 77 years. She kept my nose to the grindstone with homework assignments including answers to her many questions. Plus, during our sessions she was recording my voice while typing away on her laptop. The transcriptions and notes amounted to 176 pages of material.
To say I am pleased, happy, and grateful are understatements. I now have a book which has been given to my two daughters.
My final comment regarding the production of this book: My dream has been realized and I want to thank all those who made it possible. If I died tomorrow, I'd have no regrets."
Bonnie Kier Herrick, Kier Management Corp.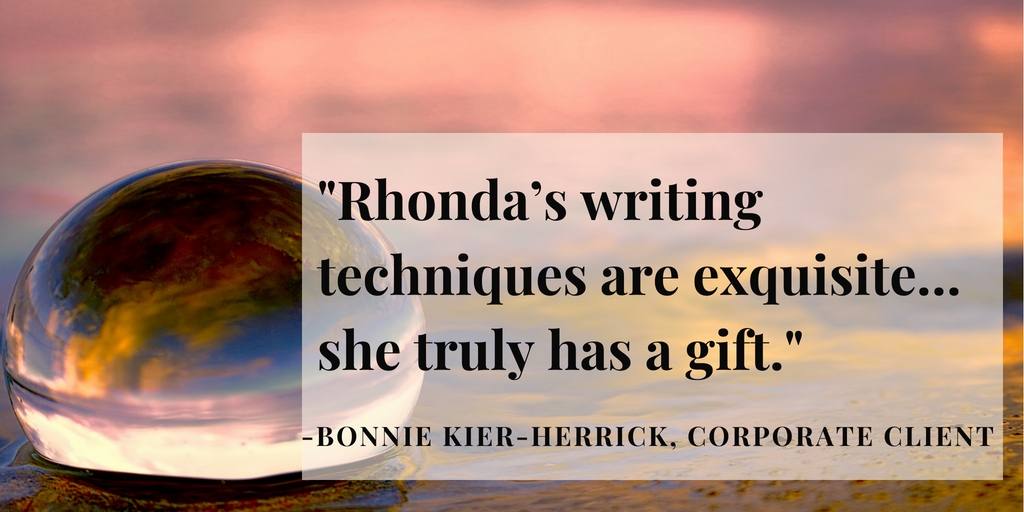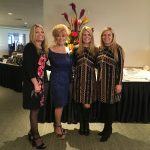 "Rhonda's writing techniques are exquisite! She has written three tributes, a press release and speeches for our company and each time she takes my breath away! She truly has a gift to write." – Bonnie Kier Herrick, President Kier Management Corp. Bonnie has been a corporate client for several years. The photo on the left was taken at the book release party for her mother, Norma Kier whose book Remember When tells the Jim and Norma Kier story.
Norma Kier, Ogden Utah
Norma Kier and Rhonda Lauritzen became acquainted through the Breakfast exchange Club of Ogden. When Norma read Rhonda's first book, the life story of Lauritzen's parents, she revisited her dream of writing a book to honor her late husband Jim Kier. Rhonda jumped at the chance to write the Kier story, partly because it included spending time with Norma, someone she greatly admired.
When the book was published, Norma threw a bash. At the book release party she presented Rhonda with flowers before her prepared remarks and she said the following:
"Before I speak I would like to present my wonderful, delightful writer with some flowers. Rhonda must be my best friend now. If you would like your story written, this is the lady because she is wonderful. Thank you so much, Rhonda."