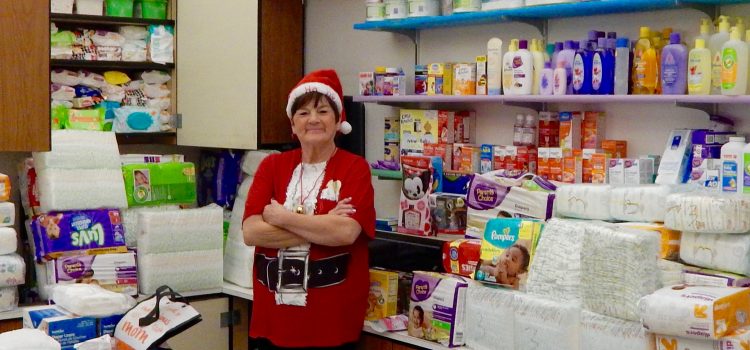 OGDEN, Utah.  By Rhonda Lauritzen
If you still feel world-weary from recent news, please read this. Last Saturday our community demonstrated its goodness when over 400 volunteers pulled off a mammoth giving event, the culmination of efforts by thousands of individuals and organizations since October. It was not just the sheer numbers, this seventh annual Community Christmas sparkled with extra touches dreamed up by volunteers who wanted families to feel loved.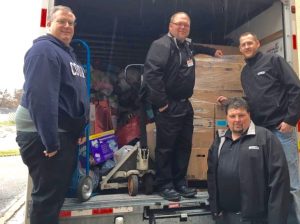 On a chilly December the 17, Boy Scout troops directed traffic into an overflow parking lot across from the Ogden-Weber Community Action Partnership where around 1,200 children and parents had been invited to celebrate. The incredibly well-orchestrated event engaged children with a Christmas carnival, while parents shopped upstairs for new toys and clothes, baby necessities and hygiene items. An additional overflow room housed quality used toys and clothing without a quantity limit. Every gift had been donated, and families left with three bags of groceries for a holiday meal. Runners then whisked presents into car trunks with children none the wiser.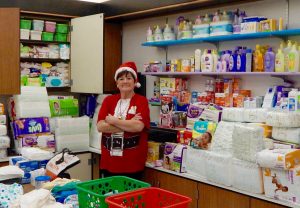 When Christmas lists were checked-off, families enjoyed hot chocolate and baked goods donated by local grocery stores, and lined up for formal family portraits. Professional photographers donated their services to offer an otherwise unaffordable luxury, and free 8×10 prints will arrive in January. All these details made the day special, including enough Spanish-speaking volunteers to make everyone feel welcome.
Ogden-Weber Community Action Partnership (OWCAP) provided the facility, staff time, and invited their Head Start families, although many more invitations went out through churches, schools and vetted agencies. Jill Oberndorfer, staff lead at OWCAP said about the day, "It's hard to identify one best thing. Emotions are high and you can see the excitement on family faces. Kids are interacting with their siblings, spending family time together. Parents are so grateful. When they tear up and say thank you, you know how much one new toy per-child means. The volunteers get so much out of it as well."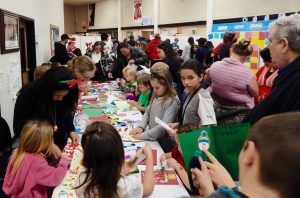 Indeed, a cadre of volunteers began meeting in the home of ringleader Bonnie Randall on Tuesday evenings in October. Lest anyone think Randall had time on her hands, she juggled organizational responsibilities with two children under the age of three, all during bouts of morning sickness. Randall created a Facebook page and used it as a conduit for donation requests and updates: giving trees to be set out in businesses, food, cash, clothes hangers, and critical volunteer time.
Randall said, "I was overwhelmed by the generosity. Every day random people emailed me wanting to get involved. It just warms my heart to know that there are still good people in the world and that love will prevail."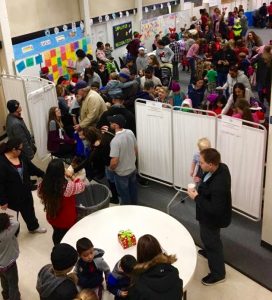 Exceptional organization of such a large grassroots effort is remarkable. No lead corporate sponsor or large foundation exclusively owned this. Volunteers made it happen, calling dozens of companies who gave significant contributions, and they rallied their friends too. Businesses, local agencies, nonprofits, churches, high school Latinos in Action groups, Boy Scout troops and area schools all answered. Indeed, there were so many partners that naming some here would overlook the generosity of too many others.
In addition, thousands of individual people gave toys and cash. Many donated in checkout lines at Winegars and Smith's in Layton and Kaysville. Also noteworthy is that some of the big donors requested a delay in any publicity because they wanted to keep the focus on families and not on themselves.
In a thank-you email, Randall said, "I wish I could personally reach out and hug every one of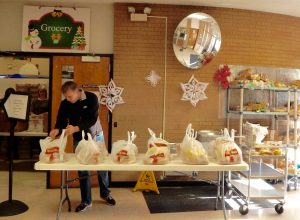 you! This was a community effort! I'm so proud of you because we had enough for every child to receive new gifts in addition to used items. We even had enough left to donate to Toys for Tots so they can help even more families, and Americorps to help with their clothing drive next month. I'm overwhelmed by the generosity our community has shown. It's truly made my Christmas brighter…keeping the true meaning of Christmas alive."