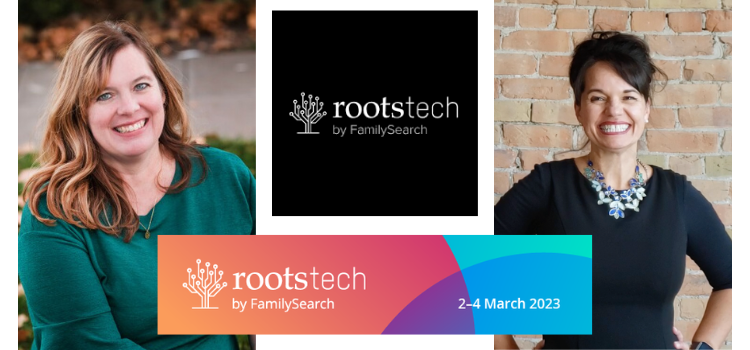 When I first heard that RootsTech 2023 was going to be back in person, I will admit, I was over the moon. While I really enjoyed being able to connect virtually the past two years, I missed the excitement of being in person and connecting with the family history community. But nothing quite prepared me for just how it good it felt to be in person – to unite. the theme of "Uniting" was a perfect fit for RootsTech this year! Uniting not included people uniting in the hear and now to learn more about family history, but uniting generations of past, present and future. I felt that during RootsTech on all fronts in a big way this year.
When I walked through the doors Wednesday afternoon to pre-register, all the RootsTech magic was back. It was exhilarating to run into old friends and even be able to hug them! I loved my first stroll through the expo hall and the beauty of the displays, knowing the time and work that went into each one.
As an influencer at RootsTech, I had the great opportunity to attend the media dinner the night before RootsTech began. The energy was high in the room as old friends reunited and some of us who met during the pandemic finally got to meet face to face. Last year I did a panel presentation for virtual RootsTech and I had only met one of the presenters in person before the media dinner. It was a delight to meet them in real time and laugh and enjoy our in-person time. At the media dinner FamilySearch CEO Steve Rockwood told us that he, too, was feeling the magic of getting being in person but also shared all the great discoveries that had been made doing a virtual event. "That is something that will never go away," he said of the virtual event. He admitted to the excitement he felt the night before, when he knew the event was kicking off officially in Japan. We could all feel his enthusiasm and I immediately gained an understanding for the need for a virtual event as well as in person. Jen Allen, RootsTech event organizer, also told a small group of us at the dinner that the virtual event was something special just as the in-person event. "We have to have it. It includes so many people and it is so important," Allen said with a big smile.
RootsTech – The Event
As day 1 of RootsTech arrived, a couple of things were evident – it was a bit smaller than the usual in-person crowd, but it was great that it was. For many of us, it was our first large-scale in-person event and it felt just right. The Expo Hall was a bit smaller and so was the Main Stage. But after taking a two-year hiatus it made sense. The excitement at the Main Stage was palpable and RootsTech 2023 Kirby Heyborne was a great fit. He was witty, and approachable, but also knew when it was time to take things seriously. The Day 1 speaker/performer was American Idol winner Jordin Sparks. She shined on stage as she sat knee to knee with Heyborne and she shared that "family is everything." and that her family is her center, her home. After answering a few questions she stood and belted out a Whitney Houston classic and then shared a song from the Broadway hit, "Waitress" along with some of her own hits. Her message was inspiring and uplifting.
One part of the Main Stage I always enjoy is when the sponsors of RootsTech have some time on stage to share their new innovations. This year was no different. My Heritage shared a new story building tool that is wonderful and a great boon to us storytellers and family historians.
On Thursday, I had the chance to present my first of four classes. This class was on the power of oral history. I was a bit nervous to present in person to large crowd, but the crowd was warm, the FamilySearch staff helpful and welcoming and the cobwebs fell right off. I quickly remembered why I love to speak and how much I learn from the students who attend my classes.
Day 2 – Sharpening Skills
As day two began, I felt right back into the thick of it. I had the great opportunity to present with both my husband in one class on the Power of Place and then with Rhonda and writing tips for ancestor and personal stories. It was a full and busy day, as I also was able to attend the Main Stage where I heard the gripping personal story of Me Ra Koh. Her story of triumph from abuse and assault was inspiring and her talent to tell a story through photos was beautiful.
I also had the opportunity to interview Rockwood and Kevin Hamilton a Seventy for the Church of Jesus of Christ of Latter-Day Saints and Executive Director of FamilySearch. I loved their enthusiasm for family history and for both the virtual and in-person conference. I was struck by how important it is to them for FamilySearch to connect with interested family historians across the globe. "My favorite thing to hear people say (at RootsTech) is, 'I had no idea,'" Rockwood said with a big grin. "When they say that, I know we've done our job. I love to see and hear people learning something new," he added. "Then when they hear something for the first time, they share it with someone else and it grows," he said motioning a globe with his hands. Rockwood said he noticed many people cry of tears of joy so far at the conference and that he was loving that one on one experience others were having. Hamilton mentioned that he was awed by the worldwide event RootsTech has become. "In every culture there are people passionate about family history and we can feed that need," he said.
For me, I felt fed as I listened to the two talk and be able to talk to them in person and feel their excitement for RootsTech and uniting.
Day 3: Uniting Comes Full Circle
Saturday is often my favorite day of RootsTech and this year was no different. I started the day giving my last presentation on youth and storytelling. I got to teach some youth and even had some young parents with babies in my class. It was inspiring to see the next generation show interest in something so important!
We then were beyond privileged to hear from famed actor from "Lord of the Rings," "Goonies," "Rudy" and many of my other favorite shows, Sean Astin speak to us. Wow! He may be my favorite RootsTech keynote of all time. He was just as warm and interesting as I thought. He and Heyborne also sat and chatted and it felt like we had been invited into Astin's living room. It was a beautiful moment when he shared the text from his daughter, who has caught the family history bug, has to why it's important to her. "You read it," he said to Heyborne as he started to get choked up. Her text talked about how families are eternal and finding out about them is important to her. He also quickly made that discovery.
"Genealogy is a way to learn about the ancestors that live on through me. We are the key to our ancestors' eternal life, and through my children, in a way, I'll live forever." –Sean Astin, quoting his daugther, Ali.
After his keynote, he walked over to the media hub where he generously took questions from influencers. It was a wonderful experience. He talked about his discoveries with family history and his intrigue on why it was important to members of the LDS Church. "I found out in about five minutes…family is important to them and they want to reach as many as they can," he said. I was deeply inspired by his thoughts and by how touched he was with all the family historians at the conference.
In the afternoon, Gerrit Gong, a General Authority from the LDS Church, and his wife Susan, addressed the crowd at the Main Stage. They talked about the joys they have felt in visiting their homelands of Hawaii and Ireland. It was touching to watch their beautifully-produced video where they visited family gravesites of their ancestors. My husband and I felt emotional as Elder Gong and his wife shared many of the same thoughts of the power of place and significance of discovering where your family is from that we had shared the day before.
As Saturday's events wrapped up, I left feeling like I had united with many over the past three days. My bucket was full and so was my mind. Ideas swirled with new ideas on how to approach storytelling and listening. I was invigorated by seeing so many youth show interest in family history. I also left with the resolve to watch some of the virtual classes and recorded classes that I had missed in the whirlwind of my own teaching.
What's Next
RootsTech 2023 is far from over! All those online classes are still available along with the keynotes. I can't wait to catch up on Crista Cowan and Amy Crow's classes that I missed during the conference as well as so many others that submitted pre-recorded classes. My sweet spot is in-person presenting and attending, but I love that I have the chance to keep learning all year through the virtual platform. Want to learn more? Click this link to hear and see a whole world of family history!
Don't forget to mark your calendars for the in-person event in 2024, February 29 – March 2 in Salt Lake City, Utah. You can also catch some of the RootsTech 2023 Highlights on the RootsTech Facebook and Instagram accounts.
Read below to get some of Rhonda's reactions and feelings and also links to our spring seminar series where you can catch some of what we taught at RootsTech this year.
Rhonda's thoughts
First, a few of my personal thoughts about the event. Our own classes went great, and we met many readers and students. For me, that was absolutely the best part – meeting people I've only known as a name on our list or perhaps have met on Zoom but not in person. Colleagues flew in from all over the world, and there was a rich sharing of cultures and ideas. I've been a big fan of the virtual opportunities since the pandemic, but there's also nothing like a hug. And I got a lot of those this week.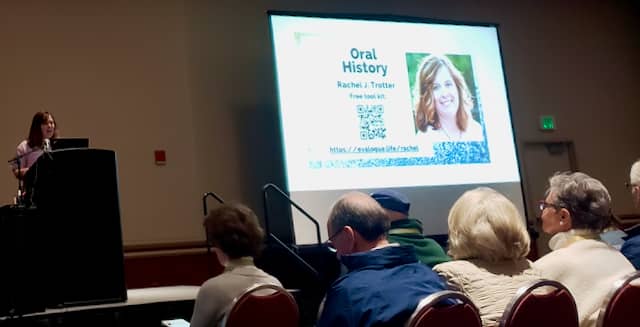 Learning how to "people" again
Also, I've commiserated with friends that after so much distancing, it feels like we've forgotten how to "people." Seriously, it can be kind of awkward now. And leading up to doing my first talks onstage after Zoom for 3 years, I was more than a little nervous.
Lightening up
However, I've been reading a wonderful new book on creativity by Rick Rubin (The Creative Act) and it planted seeds that helped me reframe my thinking. I decided to go into this and just have fun in the spirit of childlike play. So I decided to pretend I was going to a big party (which I was) and that I'd get to play dress-up (which I did). So I—yes, literally—let my hair down. Hair worn up is my daily uniform. I mean, who has time for nonsense like hair and fussing over outfits? But I broke with my daily habit and let it down. Big news, right? The point is, though, is that some of us who take ourselves too seriously need to be reminded to lighten up sometimes. I worked hard, but this week was pure delight for me.
Okay, onto more substantive thoughts.
AI and Chat GPT
The first note is that we've seen AI features in the genealogy world such as from MyHeritage with photo colorization, or the immensely popular time travel feature where it generates images of you in different time periods. (The one below generated me as a French aristocrat).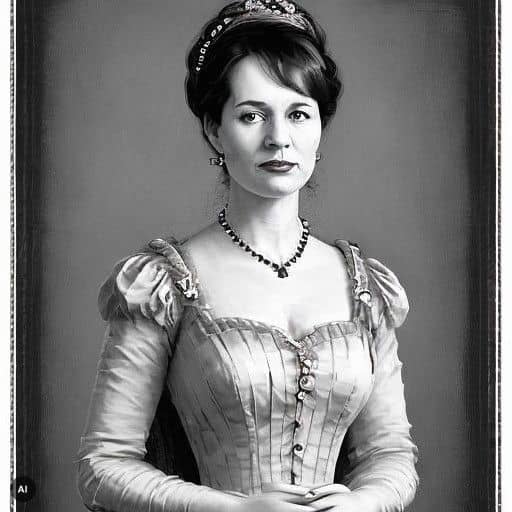 We also know that AI has been a game changer in the world of transcribing audio files.
But what about storytelling?
MyHeritage's DeepStory feature is one option, and I'll be sharing a guide that my friend (and student) Janna from Israel created shortly.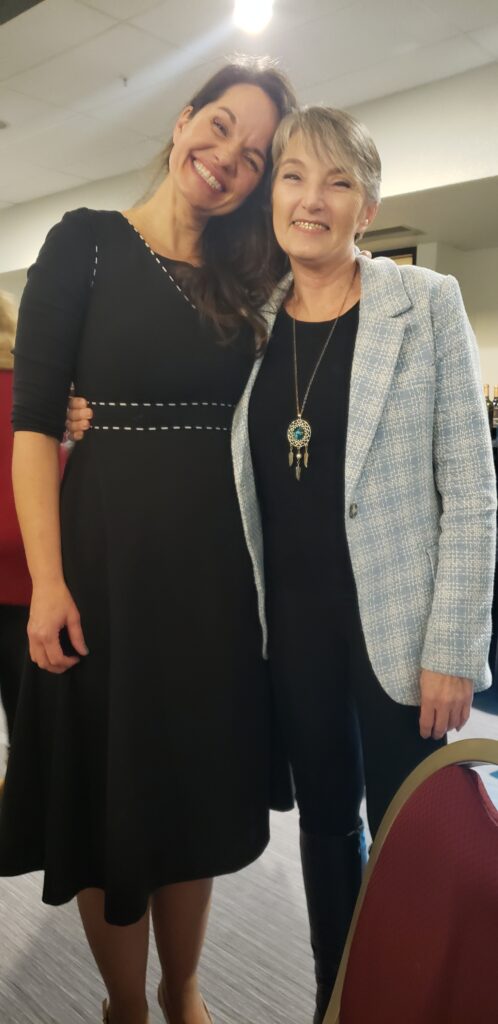 Along those lines, Storied is a new company that arrived with a splash, and they have a feature to use something along the lines of Chat GPT to help write your stories. I'm intrigued but not overly worried about robots replacing the human aspects of creativity and inspiration. If we can use tech to do some grunt work, then we can focus on true creativity and bring love to our work. I'll do a deeper dive on some of these emerging technologies and will report back soon.
Ponga:
My good friends at Ponga have a fabulous introductory offer that expires at midnight, so check out their visual storytelling here: https://ping.ponga.com/about/rootstech
MyHeritage:
I also want to give a shout-out to MyHeritage for always taking wonderful care of those of us who are writers and professional genealogists. I am doing a class with MyHeritage and Legacy Family Tree Webinars on September 12, so I'll be sharing more about that in the months ahead. MyHeritage also announced:
A new cM explainer that estimates familial relationships between DNA matches
A third round of their DNA quest initiative whereby they donate DNA kits to help people reunite with their birth families.
Our classes:
And of course, we have our own announcement. Since our live classes were not recorded or streamed at RootsTech this year, you may recall that we recorded a live seminar series with all our RootsTech classes in February. These classes include tool kits AND our ancestor videos self-paced course.
Our code: CONFERENCE
It's for $30 off any course or service we offer, and it goes away tomorrow. Our full lineup of courses is here, including our spring seminar series: https://learning.evalogue.life
Our earlier RootsTech announcements:
Once again, the RootsTech 2023 conference is here to educate and inspire family storytelling. This year it will offer over 300 breakout sessions both in-person and virtually in just 3 days (March 2nd-March 4th), so you can both learn from some of the best and feel the joy that comes from connecting with your roots. Get ready for technology tips, DNA breakthroughs, and (our favorite) family stories! RootsTech is bound to inspire, so register for this conference, by clicking here.
What will Evalogue.Life be offering during RootsTech Connect 2023? Five engaging classes if you are attending in-person! Rachel Trotter and Rhonda Lauritzen, together have over 35 years of interviewing, storytelling, writing, and teaching experience, and we have been maximizing our online offerings to give you our best. Scroll down to see our entire line-up of classes and special opportunities during RootsTech. We hope you'll take advantage of these resources.
RootsTech 2023 special!
We like to do something special around our favorite time of year, so we are offering $30 off any service, package or class purchased during the conference. The code is CONFERENCE. In fact, you can still buy our Spring Seminar Series if you want to watch all of our classes as replays – with the coupon it would only be $9. And it still includes the bonus $99 ancestor videos course, so it's a heck of a deal! Or you can also use the CONFERENCE coupon code to sign up for our membership. The first month would only be $9 and you would have access to our entire library of on-demand courses, replays, and the live classes we teach members in March. But act soon as it's only available during RootsTech 2023.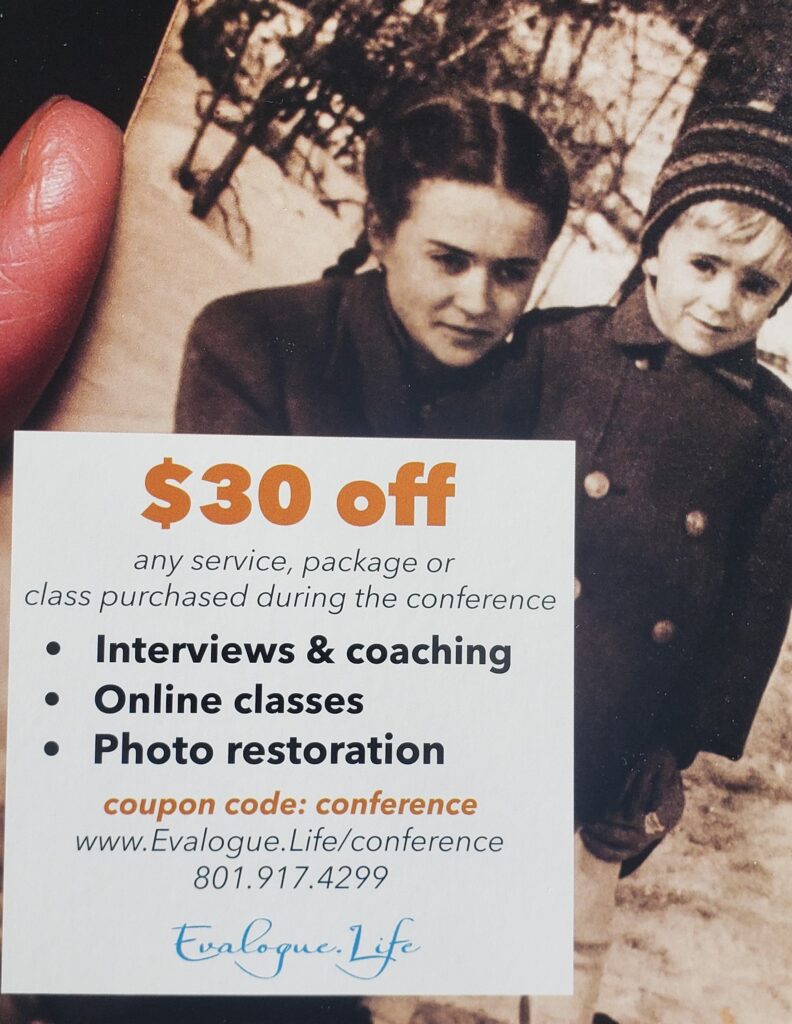 Our in-person class offerings
We are thrilled to be covering some of our favorite topics with five in-person classes at RootsTech this year. Please see our schedule below and join us! If you can't be there in-person, because these classes won't be recorded, we recommend getting our Spring Seminar Series which features four of the classes below. With the coupon code CONFERENCE is only $9 for a limited time. Click here for more information on that online seminar series.
Click here to register for the in-person option of RootsTech 2023 in Salt Lake City.
Our RootsTech in-person 2023 classes:
Oral History, Thursday 3/2 at 1:30 PM with Rachel Trotter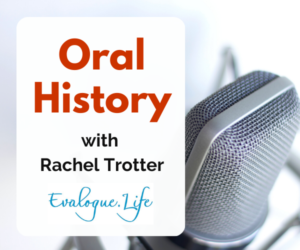 Power of Place, Friday 3/3 at 9:30 AM with Rachel Trotter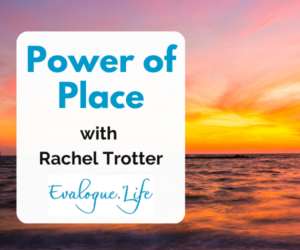 Sensitive Subjects, Friday 3/3 at 1:30 with Rhonda Lauritzen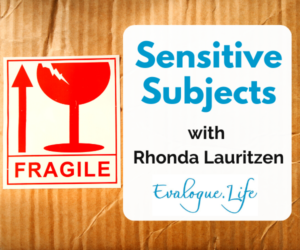 Writing Essentials, Friday 3/3 at 4:30 PM with Rachel Trotter and Rhonda Lauritzen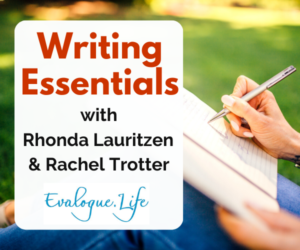 Youth and Storytelling, Saturday 3/4 at 9:30 AM with Rachel Trotter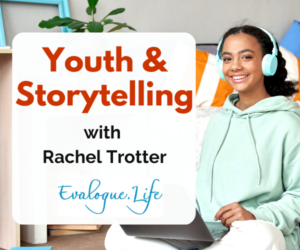 Want to attend RootsTech 2023 virtually?
This year if you can't make the trip to Salt Lake City, we highly recommend the FREE virtual option. You'll get over 200 inspiring, on-demand classes. Register for that here!
Last year's free class replays
Want to see how great these classes are? Check out a couple of last year's replays before they're gone!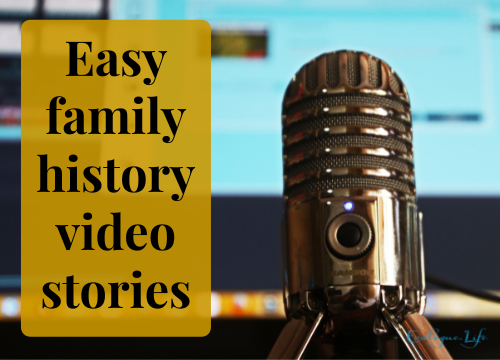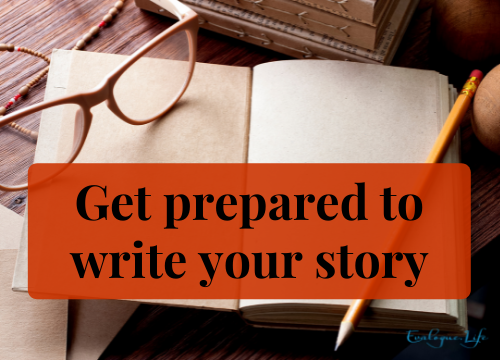 Meet us at RootsTech 2023
We hope we can connect with you at RootsTech 2023. Catch a class or come to our meet-and-greet:
Thursday from 3-4 PM in the Speaker Bookstore Area.
Either way, we know you'll enjoy the many offerings you'll find this year at RootsTech 2023. It's definitely a family history event you don't want to miss. Also, be sure to use our coupon code CONFERENCE to get $30 off a class or monthly membership. It's time sensitive, so get that benefit while you still can. Happy learning and connecting at RootsTech 2023!
Click here to browse our online course offerings
Click here to browse our professional oral history interviewing services