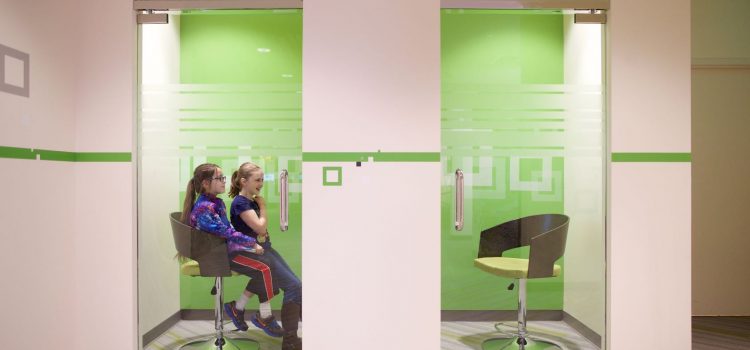 SALT LAKE CITY – Walking into the new Family Discovery Experience in the Family History Library feels like a breath of fresh air. It's bright and inviting with smiling faces all around. Learning about your family history is as easy as 1-2-3.  There are seven stations throughout the main floor of the library to try your hand at a variety of different family history activities.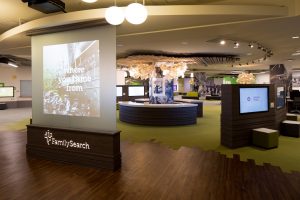 The old center, in the Joseph Smith Building just across the street, has been moved to the bigger space at the library, allowing for more space, more computers and more services for all ages.  The center will officially open tomorrow as RootsTech kicks off at the Salt Palace.
Visitors can take as little or as much time at each station. It's more fun to explore if you have a FamilySearch identification that can be easily set up by clicking here.  Upon arrival an LDS Church service missionary
will hand you an Ipad where you will enter in your ID or sign is as a guest. After that, you wcan doc your Ipad at any of the stations and start exploring. The "My Famous Relatives" exhibit shows you what famous people you are related to from television celebrities to people in history to people at the center as the same time as you.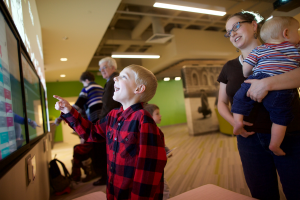 Brandon Baird, Discovery Outreach Coordinator at the center said the exhibit has been wildly popular. When they first opened the space to friends and family a few weeks ago, the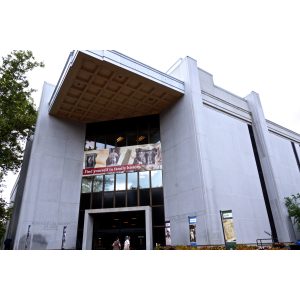 area was so popular they moved it to the front of the center and added 7 more stations. "People love it!" Baird said with great enthusiasm. It was touching to him when he saw one visitor walk up to another and share that they were related. The two struck up a great conversation.
Other exhibits include a "Where do I Come From," which features maps showing where different ancestors have lived; "Picture Our Heritage," where people can pick different places around the world, stand in front of a green screen and have their photo taken; and "My Time Machine"  which lets you see a timeline of your ancestors' lives. This one gives a peak inside what life may have been like for ancestors. It is most effective if someone in your family has been diligent with family history work because there will be more information to see.
"Picture My Heritage" is popular with children because you can pick a photo of different period costumes from around the world and have your face inserted in the photo. The "All About Me" station shows you everything you ever wanted to know about your name, plus your children and grandparents. It also highlights headlines from the day you were born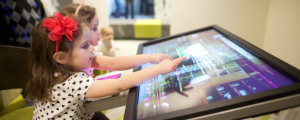 for you, your children and grandparents.
The "Record Our Story" exhibit lets you make a little history of your own. There are rooms set up for a group or for one person to go in and record personal stories or family stories. You can record and conduct interviews yourself, or there is a screen where a friendly woman comes on and asks a series of questions for 10 minutes. Once you are done, it automatically emails the video session to your personal email – you may even have it before you walk out of the center.
Each of the exhibits give you the option to download whatever you would like from what you learn. At the end of your visit, it emails you what you have dowloaded.
The center is open Monday through Saturday from 8 a.m. to 5 p.m. Monday, 8 a.m. to 9 p.m. Tuesday through Friday, and 9 a.m. to 5 p.m. on Saturday. No need to make an appointment for a visit, unless you want to schedule a group guided tour. Click here to get tickets for that. The center is closed Sundays. Make sure to carve out some time when you go, there's a lot to see and do!