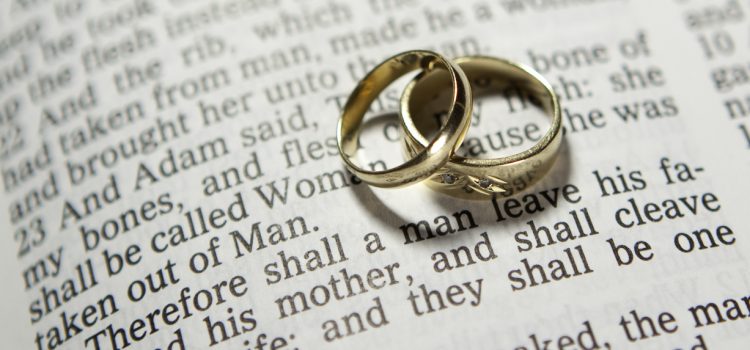 Do God and marriage fit together? Kevin and Kit Cummings feel confident the two are integral pieces in a puzzle that fits together perfectly. The couple has been married for over three decades – quite an accomplishment in its own right. But they have found success by making a commitment to more than just each other – they have committed to God to make their marriage work. This has equaled great success not only in their marriage, but in their own personal happiness.
God and marriage – a partnership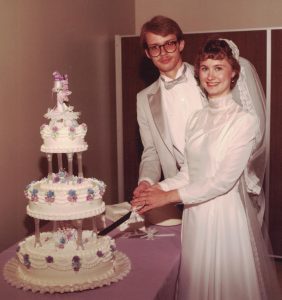 Many of you may be wondering how they do it and how it works. I loved hearing them talk about it. I spoke with Kevin and Kit in a conference call and just listening to the way they converse with each other was endearing. There was a mutual respect and understanding and even some of that finishing- each-other's-sentences that we all long for in a marriage! For the two it's about making their marriage a Sacrament to the Lord. For them a Sacrament is a symbol of God's grace. What a beautiful way to view a marriage – a symbol of God's grace!
Brought together by God
The two feel God brought them together with their initial meeting. Kevin had been hit by a car and was in the hospital. He was a friend of Kit's boyfriend at the time. She had come to visit her boyfriend who worked at then St. Mark's hospital in Salt Lake City. When she came to visit, he told her about Kevin being in the hospital and the two were introduced. Kevin had no family around, Kit's boyfriend had to work, so Kit didn't want to leave the poor guy alone in the hospital, so she stayed the entire night with him.
"I always joke that since she spent the night with me I had to make an honest woman out of her," Kevin said with a big laugh. But they didn't start courting right then. The two University of Utah college students were dating other people. Kit stayed with her boyfriend for a few more months and Kevin and his girlfriend along with Kit and her boyfriend double dated all the time. "I'm one of those people that stayed faithful to my boyfriend," Kit said. But, she did finally break up with that boyfriend. She decided she had better let Kevin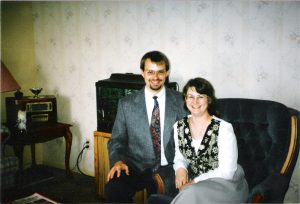 know, since they were becoming such good friends.
At the time Kevin was living at the Newman Center near the University of Utah, although he wasn't Catholic…yet. Kit went to visit him there. "I won't be seeing you again, but I wish I could have dated you," Kit told Kevin on her "goodbye" visit. Well, Kevin wasn't going to let that open door close! "I absolutely asked her out!" Kevin exclaimed.
A history of hard work
The rest is history, but there isn't much good history that doesn't take hard work. The couple were married the next fall, but some big changes occurred during their courtship. Kit was Catholic. Kevin was Baptist. Kit decided early on she wouldn't approach him about it and they would celebrate the similarities in their faiths. Kevin started exploring the beliefs of the Catholic church (unbeknownst to Kit.) She was more than surprised when she got the call from Kevin the spring before their wedding letting her know he was converting to Catholicism. "I didn't even know he was exploring it and then he called and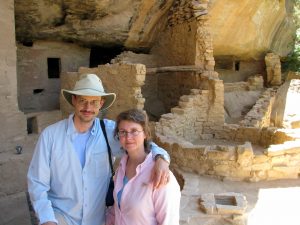 asked me to be his sponsor," Kit remembers fondly. But Kevin was quick and clear to point out that he did not convert for Kit. His conversion was personal and he noticed when he attended Mass with Kit a couple of times that people were affected when they took communion in a way that was beyond rational – it was special and something he wanted to make a part of his life.
And while the couple admits they have always been truly devoted to each other and to God, both that love and devotion have grown over time. "At first it was like, 'Wow, I'm married, that's awesome,'" Kevin chuckled. He noted that once that newlywed feeling wore off, they could look more closely at the foundation they were building for their marriage and that was with God.
Kit agrees. She sees that strong marriages are based on a firm, solid foundation not on sandy ground. The "firm foundation marriages" are those that stand the test of time. "If you marry someone because they are hot or sexy, those things fade. But being grounded in God helps that love to grow and continue," Kit said.
Pray together every day
Both Kit and Kevin said they have a found a few things that they do together have really strengthened their marriage over the years. One of the big ones is praying together every day. This is something they have always done, but they have worked hard to be more deliberate about it over the years. In their Catholic faith they have specific prayers they say and there are not even "apps for that," Kevin said happily.
Go to church together
Another great habit they have is going to church together. "That doesn't mean we are together every second we are there, but we are there and we support each other in what we do," Kit noted. Kevin loves watching Kit excel with the many responsibilities she has at Saint Rose of Lima Parish in Layton, Utah. That support of one another is yet another thing that strengthens their marriage. They also work together on projects within their church – another building block of a strong marriage and also a marriage where God is a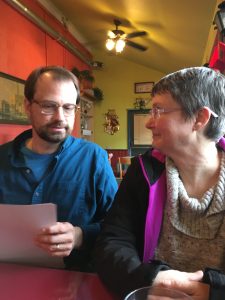 part of their union. They also read scriptures together which has been powerful for the couple.
"We have a framework we follow," Kevin said.
I think for me, the thing I loved about hearing how the Cummings work at their marriage, the love story, is that while I know they work hard at it, they are both committed and want it to be good and they know that for them to have that goodness, God needs to be a part of it. This is something I have learned in my own marriage as well. Plus, I've learned there are peaks and valleys. If we remember what our end goals are, we can rise out of the valleys and climb to the peaks. It's nice to see other couples finding those peaks as well.
Kit and Kevin Cummings live in Clearfield, Utah and are active in their Saint Rose of Lima Parish in Layton, Utah. Kit helps with a Vacation Bible School and the couple also also runs a Catholic Conversations class every Thursday at the Parish. Their youngest son is currently in his fifth of six years studying to become a  Catholic Priest.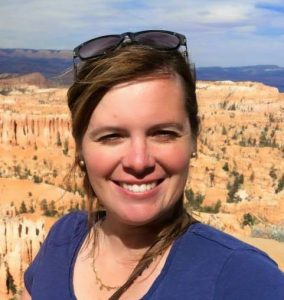 Rachel J. Trotter is a writer at Evalogue.Life, where we tell personal and family stories that inspire, and help you tell yours. She has worked as a writer since her college days over 20 years ago. She loves telling people's stories. She lives in Ogden, Utah and is busy raising six children and loves working on family history alongside her husband, Mat.
Subscribe!
Get our weekly email with tips to tell your story and the Sunday Edition. (Free, of course)