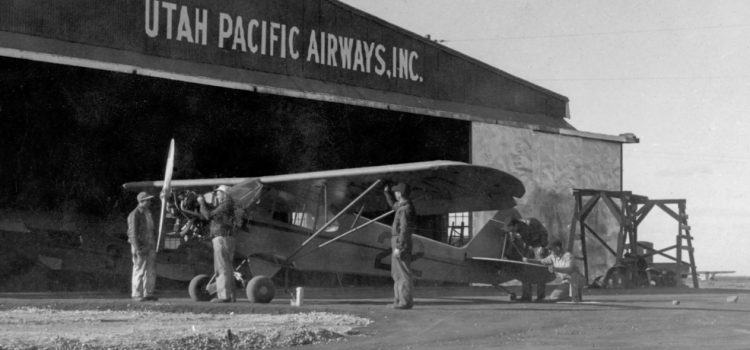 When many people think of the name of Ogden's Airport – the Ogden Hinckley Airport – they may automatically assume it's named after the former prophet of the Church of Jesus Christ of Latter-Day Saints – Gordon B. Hinckley. That might seem like a pretty safe bet, but they would be wrong. It's actually named for his cousin – Robert H. Hinckley – who was not only an aviation but a transportation pioneer and put Ogden on the map in another way – helping in the World War II effort.
Watch a video summary here:
Robert H. Hinkley – a man of with vision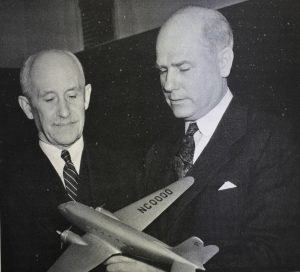 When Robert H. Hinckley moved to Ogden with his wife Abrelia in 1927, it was for a chance at a more fruitful economic life. They had started their life together in Mount Pleasant, Utah and loved the small town life, but there were some family ties in the big city of Ogden, so it made sense to move to Ogden and open a second Dodge dealership here. They did just that and found great success, but aviation was where his heart was rooted. As early as when he served his LDS Mission in Germany he and mission companion, Dean Brimhall, had dreams of flying. It was while they were on their missions that Orville Wright made the first power plane. Hinckley and Brimhall talked at that time that they would fly.
The same year that Robert moved to Ogden and founded Hinckley Dodge, he and Brimhall co-founded Utah Pacific Airways, which served as an airplane dealer, charter, and school. The other unique thing about the school is it had a perfect safety record – no deaths of a pilot, student or passenger. In the time before they sold it, Utah Pacific Airways became the largest fixed base operator in the western region.
Ardeth "Art" Mortenson bought Utah Pacific Airways from Robert and Dean Brimhall, and Art also became a friend. Art would stay in the Ogden area and eventually became the operator of the new Ogden-Hinckley Airport after it opened in its new location.
Related: The Remarkable life of Robert H. Hinckley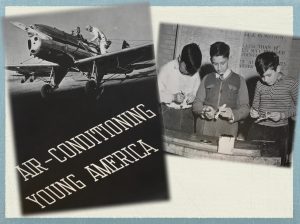 A New Program
Robert was always one to see a need and bring people together to get things done so when the Great Depression loomed large, Hinckley helped with relief in Utah and his efforts were noticed by FDR. He was asked to take part in the New Deal and oversaw work projects in the western region. His speciality was using the Works Project Administration labor to build airports.
In 1938 he was appointed as the head of the Civil Aeronautics Authority, a precursor to today's FAA. Robert brought Dean Brimhall with him to Washington as an assistant. Robert's first big job was to oversee construction of the Washington National Airport (Reagan National Airport today). Next, Robert had an idea to get as many pilots trained to fly as possible. He believed aviation would be critical to the country's future prosperity. He had two main areas of focus. One was helping young people become interested in aviation, and the second was to train civilian pilots in partnership with colleges and universities across the nation. Weber College was one of the first college training sites in the country. The first Ogden Airport, which at the time was located where the current Ogden Regional Medical Center sits, was fortunate to become one of the non-college training sites as well, meaning trainees did not have to be enrolled in college to train as a pilot.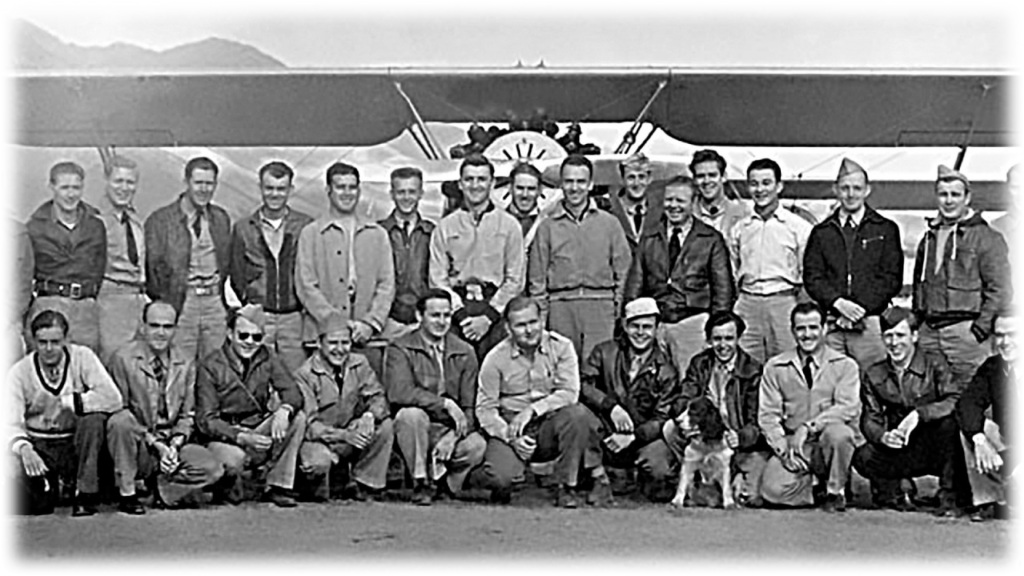 Robert H. Hinckey worked with Brimhall and Mortenson to to get the program off the ground. Mortenson said there were many long and expensive phone calls between Ogden and Washington D.C. to implement a workable program. At the time it started, they were interested in teaching people to fly so the United States would be at the forefront of aviation, but it also proved to be vital once the United States entered World War II. Because of this nationwide program, the number of trained pilots in the United States jumped from 25,000 to 100,000. It was set up to train both male and female pilots and the national program even had a hand at training the famed Tuskegee Airmen. Eleanor Roosevelt applauded this diversity and wrote this in a letter to Robert:
"I think it is fine that…courses are being conducted for negro men… (and) I am pleased to learn of the part which women are now playing in wartime aviation and to know of the splendid success which the pilot training program has experienced in uniting diverse races and groups in a common cause."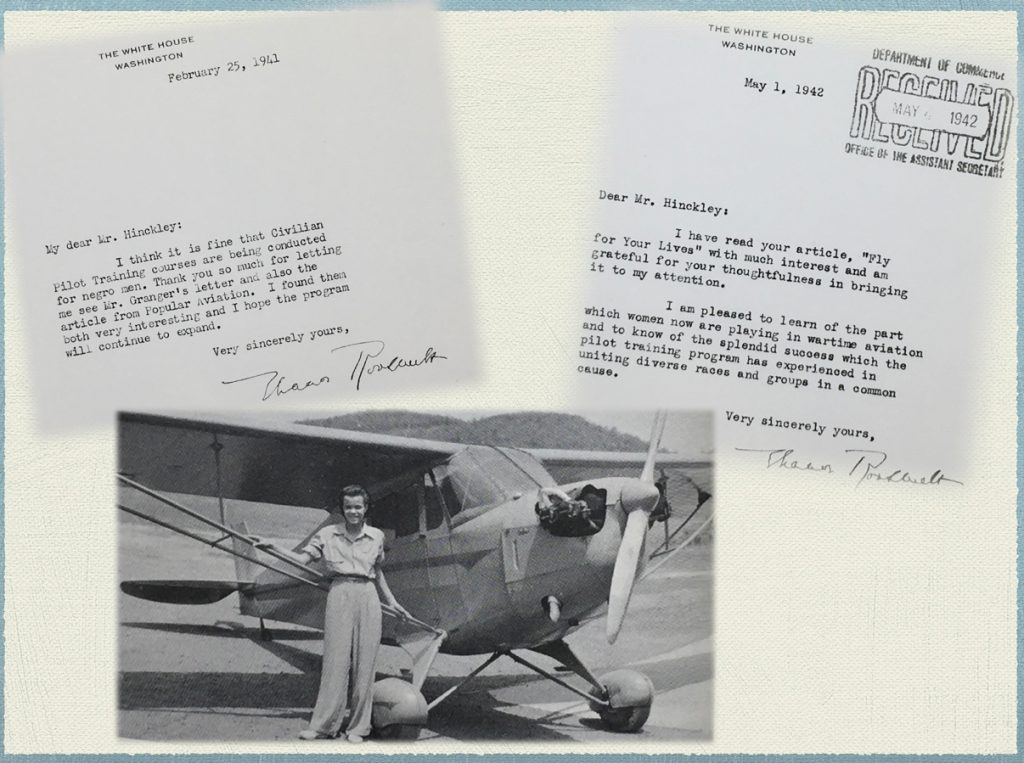 Without the early foresight to launch this program years before the bombing of Pearl Harbor, there would have been a critical shortage of trained pilots. The importance of this cannot be overstated.
Both Robert and Brimhall sent sons to war. All three of Robert's came home, but Brimhall's son would not return alive. He was killed in France.
After the United States entered World War II, the program changed from a civilian operation into a military training one. Mortenson was at the Ogden Airport's helm and oversaw the training of 500 Navy V5 Cadets.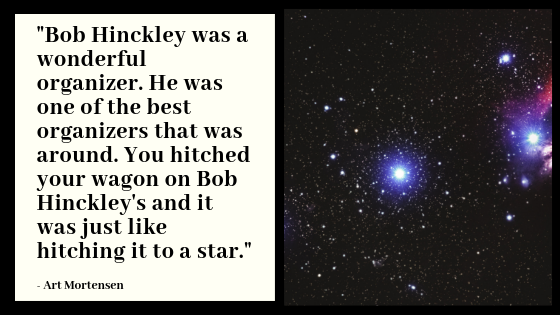 Mortenson said, "…They graduated as fighter pilots. Then we sent them over to carry the ball in the Orient and killed a lot of them. They were the finest fellows I ever worked with….We lost a lot of them. I got to know them real well. I was kind of like a father to them. I bawled a little bit when I heard, 'So-and-so's dead, and so-and-so's dead.'" (p. 7) – Art Mortensen.
Related: Ogden Updates Doughboy
Famed Candy Bomber trains at Ogden Airport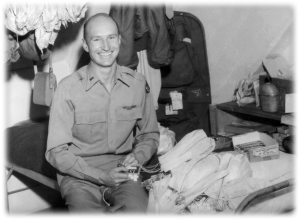 The famed "candy bomber," Gail Halvorsen, was one of the pilots trained in Ogden. In an oral history interview, Halvorsen said he thought he was "too poor" for college. Halvorsen's kind act of service to  of dropping "candy bombs" to starving German children made world headlines. Robert Hinckley signed Gail Halvorsen's pilot license in Germany, and the two had great admiration for each other the rest of their lives.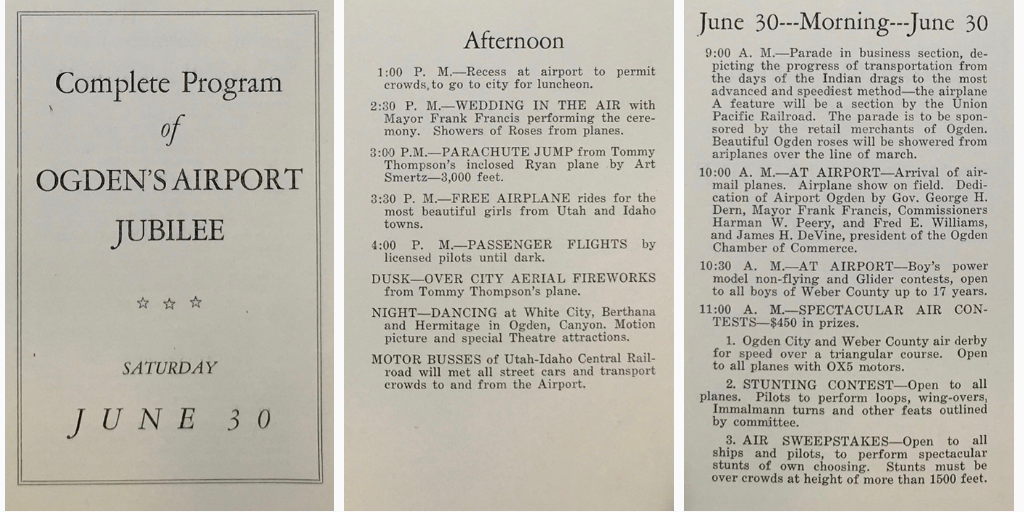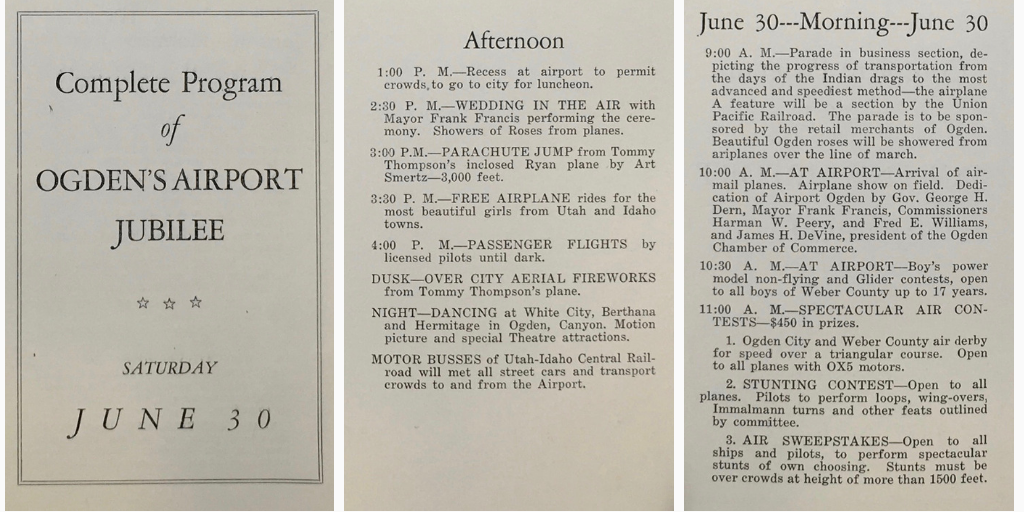 Ogden Airport Becomes Ogden-Hinckley Airport
After the war, Robert felt it imperative to move the Ogden Airport to a better, more secure location.  Plus, the airport was ready for expansion. He would often express the opinion that moving the airport further from the mountains would be wise – less snow, less wind and better overall weather conditions. They were able to secure a large space where the Ogden-Hinckley Airport currently sits. It wasn't long after the plan was put into motion, the community decided to name the airport after Hinckley. He was more than flattered and left his Washington D.C. post to visit for the grand opening celebration. Not only would the airport be named after him, but the road leading to it would also bear his name – Hinckley Drive. The grand opening was a big event with much celebration and joy. Robert spoke at the event and offered these wise words:
"Two strange elements to man, water and air, perhaps cannot be conquered as the earth has been, but we can become at home in them. The South Sea islanders have demonstrated the ability of man to be at home in the water. They do this by getting them young and throwing them in…This is the only way what we can become a nation of fliers. But a nation of flyers we must become…It is a case of fly or die."

A big day – the dedication of the Ogden-Hinckley Airport.
Ogden-Hinckley Airport Still Thriving
The Ogden-Hinckley Airport is now thriving in its airport with some commercial flights and numerous private flights.  Bryant Garrett has just been named as the new airport manager. According to a news release from Ogden City, Garrett has more than 30 years of aviation experience and things continue to move forward thanks to the vision of early aviation pioneers, namely Robert H. Hinckley.
"The primary goals for the airport are to be financially self-sufficient and to find ways to be more efficient & communicative to the needs of all of the airport users, Garrett said. He would also like to increase airport carriers at the airport and create other destinations, which will grow the airport. 
Robert H. Hinckley later Co-founded ABC News and the Hinckley Institute of Politics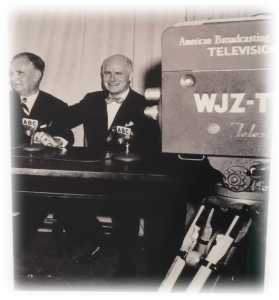 Following World War II, Robert H. Hinckley served as the Director of Contract Settlement, overseeing the wrap-up of all civilian contracts after the war. Then, in a remarkable turn he moved to New York City and co-founded the ABC News Network and helped build it into the powerhouse it is today. While in New York, Robert said this:
"I have completed in my life the cycle of transportation: horse to airplane. Now back to bicycle, and wishing for a horse."

-Robert H. Hinckley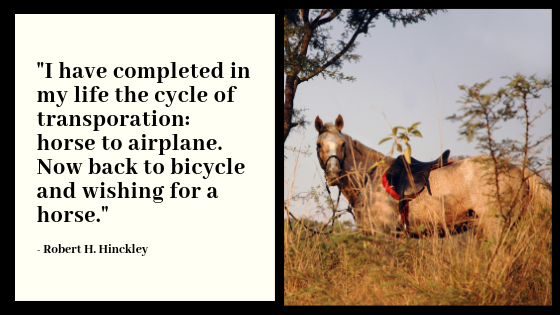 Later in life he founded the Hinckley Institute of Politics at the University of Utah to help promote political engagement in our state. He and his wife eventually returned to Eden, purchasing a ranch and once again enjoying small town life.
In 1977 at he age of 85, Robert received the Brotherhood Citation Award of the Utah Chapter of the National Conference of Christians and Jews (NCCJ), delivered by Ronald Reagan who was not yet President. The citation was presented in front of a crowd of 1,000 to honor an individual who "has unselfishly furthered the cause of brotherhood and understanding among all races, creeds and national origins."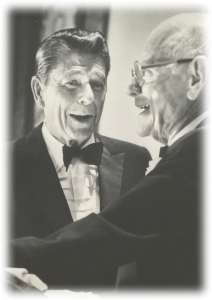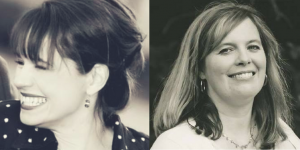 Primary research for this article was conducted by Rhonda Lauritzen, who also wrote the historical narrative upon which this article was based. This story was written by Rachel J. Trotter, with editing by Rhonda Lauritzen.
Rachel J. Trotter is a writer at Evalogue.Life, where we tell personal and family stories that inspire, and help you tell yours. She has worked as a writer since her college days over 20 years ago. She loves telling people's stories. She lives in Ogden, Utah and is busy raising six children and loves working on family history alongside her husband, Mat.
Rhonda Lauritzen is the founder and an author at Evalogue.Life – Tell Your Story. Rhonda lives to hear and write about people's lives, especially the uncanny moments. She and her husband Milan restored an 1890 Victorian in Ogden, Utah and work together in it, weaving family and business together. She especially enjoys unplugging in nature. Check out her latest books: How to Storyboard, and Remember When, the inspiring Norma and Jim Kier story.
References:
Charles Redd Center for Western Studies, Brigham Young University. Western Aviation Oral History Project, Ardeth R. Mortensen, interviewed by Paul C. Richards on January 15, 1993 CRC-W6, Copyright 1993 Charles Redd Center for Western Studies. Quotes are from pages 5 and 12.
Standard Examiner – October 4, 1943, front page. Obtained from the Robert H. Hinckley papers, Ms 102, Box 57. Special Collections and Archives. University of Utah, J. Willard Marriott. Salt Lake City, Utah.
Air conditioning America's Youth – Obtained from the Robert H. Hinckley papers, Ms 102, Box __. Special Collections and Archives. University of Utah, J. Willard Marriott. Salt Lake City, Utah.
Robert H. Hinckley papers, Ms 102, Boxes 34, . Special Collections and Archives. University of Utah, J. Willard Marriott. Salt Lake City, Utah.
The Putt Putt Air Force – Story of the Civilian Pilot Training Program and the War Training Service (1939-1944), Department of Transportation, Federal Aviation Administration, by Aviation Education Staff member Patricia Strickland, GA-20-84. (The Orville Wright and Robert H. Hinckley Image is a CAA photo from 1940, shown on p. ii. The photo of young pilot Miss Dorothy Layne, student at West Virginia State College. Shown on p. 44. Utah programs shown on p. 111
Oral history interview by Carolyn Nibley Suhkan with Gail Halvorsen, September, 2018 at Mr. Halvorson's assisted living home
Quote about Hinckley's life cycle from horse to horse. From Robert H. Hinckley papers, Ms 102, Special Collections and Archives. University of Utah, J. Willard Marriott. Document entitled "Summary," page 1. Box 1,
Speech by Robert H. Hinckley given at the Grand Opening of the Ogden Airport. Robert H. Hinckley papers, Ms 102, Special Collections and Archives. University of Utah, J. Willard Marriott. Box 57