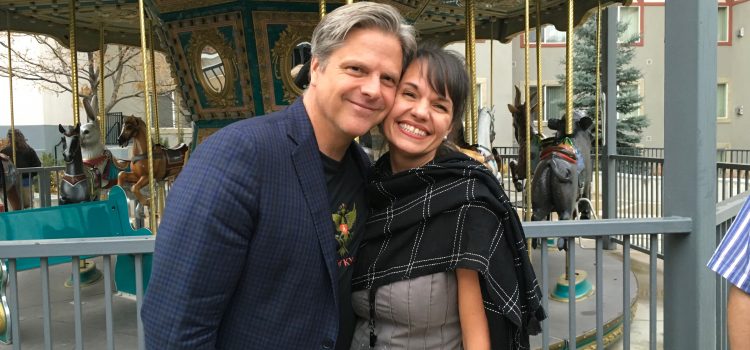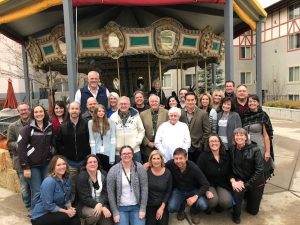 We are sharing this article again because it has such great inspiration! It's as pertinent as ever and is one of my go-to's when I need some solid writer's motivation. Enjoy!
Today my mind buzzes with creativity after returning from a two-day "Premier Author Training" by Richard Paul Evans. I was a bit worried that it would be a lot of rah-rah hype, but can't say enough good about the entire experience packed with world-class tips covering writing, marketing and the publishing business. Richard Paul Evans is personable, funny and genuinely committed to other people's success (Could you blame me if, against all personal will, I came away starstruck? As in, Richard Paul Evans: "Call me Rick." Me: "Well, call me twitterpated.")
Related: Top 11 Best Books on Writing, Storytelling and Memoir
Also, the other writers in the room deserve a shout-out for being super-talented and encouraging of each other. Finally, I felt grateful to hear from A-list speakers of a caliber that folks like me just don't get to hear from. My notes amounted to 20 pages of inspiration! I will take my time writing about more takeaways, but for now here is a quick list of my very favorite Richard Paul Evans quotes from the weekend, along with others who spoke. Presenters included his agent, Laurie Liss, Jenna Evans Welch and Benjamin Hardy.  Hope you enjoy these quotes even a fraction as much as I did absorbing them in real-time.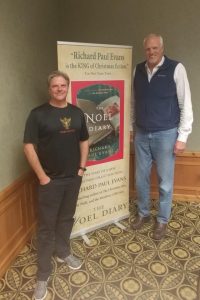 My Favorite Richard Paul Evans Quotes from his Premier Author training:
"I suddenly realized I have no idea how to write a bestseller. That was the best day of my life. That was the moment I became a writer. All I know how to do is write to someone I love." – Richard Paul Evans
When Richard Paul Evans asked Mary Higgins Clark which book was her favorite she said, "Every story I have ever started is the best book I have ever written."
"There are no statues dedicated to committees." – Richard Paul Evans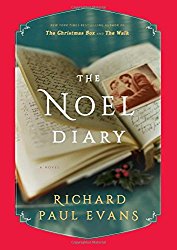 "Don't try to be a good writer. Write a powerful story that moves people." – Richard Paul Evans
"I have never slacked off on a single book's marketing and I never will. The day I am ready to slack off, I will just quit and do something else." – Richard Paul Evans
"One reason I am a good marketer is I know that I don't know. So, I test, test, test. I'm wrong 75% of the time. I admit that I know nothing. Then my work begins." – Richard Paul Evans
"People who want to be big, aren't. People who stay focused succeed." – Richard Paul Evans
"I don't know if a man has ever bought the Christmas Box." (He laughs as he says this) – Richard Paul Evans
"When the pirates came off the high seas, they went into small press publishing. Be wary." – Richard Paul Evans
"The best medicine is the kind you don't know you are taking. Books are powerful things and writing them is a privilege." – Richard Paul Evans
"Love what you are doing and then let the book happen. That book is a magic carpet and it can take you places." – Richard Paul Evans
Related: How to Write a Life Story – Advice from a Hollywood Journalist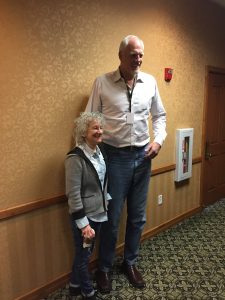 Laurie Liss, Literary Agent for Richard Paul Evans
Laurie Liss also discovered The Bridges of Madison County and represents other A-list authors. 
"The most important client is the client I am speaking to at the moment." – Laurie Liss
"Sometimes good is good enough. If you are stuck on a sentence, go to the next sentence. You might end up cutting it anyway." – Laurie Liss
"You go through phases with your publisher, but what you really find is that it's the phases of grief." -Laurie Liss
"I don't want you to get frustrated! Find something to tell yourself that is affirming and tape it to your computer. Tell yourself every day, 'I can do this. I am worthy. My work is worthy.'" – Laurie Liss
Jenna Evans Welch – Author of NYT Bestseller Love & Gelato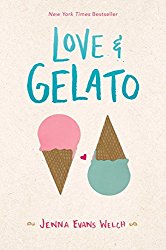 Author of Love & Gelato, a New York Times Bestseller and recipient of "Teen's Top 10 Awards." She also happens to be the daughter of Richard Paul Evans and has worked as his assistant throughout the writing and publishing of his books. I found Jenna to be lovely, funny and self-effacing. Love her!
"As a writer, it's positive when you can see that your taste level is higher than your skills. That means and you'll get there. People who think their writing is brilliant rarely get there." – Jenna Evans Welch
Related: A Thing Worth Doing is Worth Doing Badly – The 10,000 Hour Rule
"Find yourself a mean person. You need someone who is not your mom or boyfriend to tell you what is wrong with your book. Also find yourself a nice person. Having that support system is a big deal because this work is not easy." -Jenna Evans Welch
"Stay away from Goodreads! That's where the horrible people are." – Jenna Evans Welch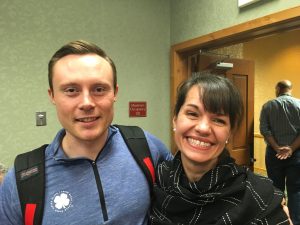 Benjamin Hardy – Currently the world's #1 blogger on Medium and other platforms
Richard Paul Evans said Benjamin Hardy is the "new guard," who writes on the psychology of success. I can't wait to check out his upcoming book "Willpower Doesn't Work." (Hope I got that title right). Check out Ben's article on the topic on Inc. Magazine.
"Give better stuff for free than other people sell." – Benjamin Hardy
"Write your truth and don't worry about what your friends and family think. They are probably not your audience anyway." -Benjamin Hardy
"Be transformational, not transactional." – Benjamin Hardy
If you liked this article and the Richard Paul Evans quotes, I invite you to get my weekly email with inspiration to tell your own story. Click here to subscribe.
This article contains Amazon affiliate links. If you purchase the GREAT books in this article, I get a commission. I really appreciate that it helps me keep the lights on and write more articles like this. Thank you!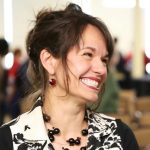 Rhonda Lauritzen is the founder and an author at Evalogue.Life – Tell Your Story. Rhonda lives to hear and write about people's lives, especially the uncanny moments. She and her husband Milan restored an 1890 Victorian in Ogden, Utah and work together in it, weaving family and business together. She especially enjoys unplugging in nature. Check out her latest book Remember When, the inspiring Norma and Jim Kier story.
Subscribe!
Get our weekly email with tips to tell your story and the Sunday Edition. (Free, of course)