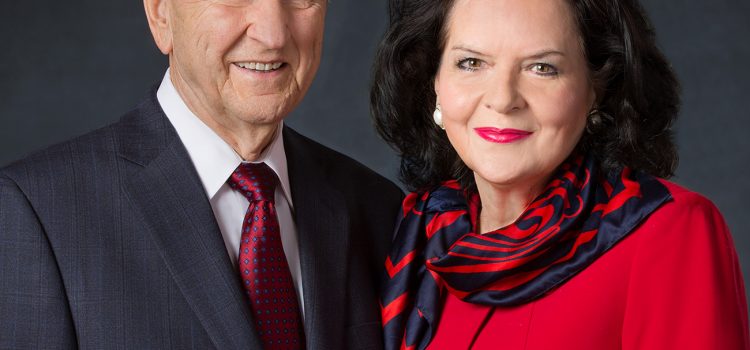 "Sacrifice brings forth the blessings of heaven." This begs the question, "How do blessings flow from sacrifice?" This is one of the questions Russell M. Nelson asked us at Family Discovery Day at RootsTech in 2017. President Nelson was not yet the prophet, but it was a treat to hear his message and I find myself referring to his and Sister Nelson's message often as I tell family stories and work on my own family history.
How does sacrifice = blessings?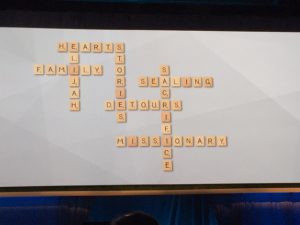 The line is from an LDS church hymn and it often resonates in my head when I hear the word sacrifice, but not so much when I hear the word blessing. I find in my life I tend to want the blessings without the sacrifice, but when I actually sacrifice, I want the blessings right away.
In February when President Russell M. Nelson, president of the Quorum of Twelve Apostles, and his sweet wife Wendy spoke to a large crowd at the LDS church's Family Discovery Day at RootsTech, they offered me some fresh perspective about sacrifice, blessings, family history, temple work and even missionary work. President Nelson told us our sacrifice, and especially our sacrifice of time would bring us untold blessings – not only for us on earth, but for those in heaven. He told us we would could feel a joy like no other joy by doing the work. Because of his promise, I have found it to be true, and put it to action right away, which I will talk about later.
Family history Scrabble
The couple talked candidly in a relaxed kitchen setting while they did one of their favorite past times, playing scrabble. The two played the game by putting up different words as they related to family history and how they had applied it in their own lives. It got me thinking about how I was applying it in my own personal life and that of family. I came to one conclusion quickly – I'm probably not doing it enough, but some of their simple suggestions seemed a little doable. So doable, I've already conquered one. I will tell you about it in a minute.
Family – we are all a part of one.
The first word they started with was "family." The two talked about their families and Sister Nelson talked about the huge family she married into – at the time of their nuptials and how after 11 years, that size has almost doubled. President Nelson laughed at the thought, but he said one thing I loved that stuck with me.  "But the size of a family is not the important issue. The important thing is that we are a family." My immediate family is small – one sister, but I have six children. Big difference, but we all love the same.
President Nelson talked about the ups and downs that families experience – how proud he is of his family, but also mentioned there have been great sorrows and trials amidst the good. The two mentioned ways they keep in touch – a family newsletter and a wide variety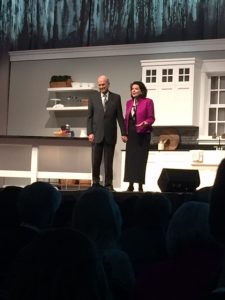 of family activities, including LDS church ordinances and special days like ski adventures that draw them together.
A nice thought for me to think of now that two of my children have moved out and are young adults building their own lives. I can keep us together with simple things like the Nelsons suggested.
The prophet Elijah – how can we relate?
President Nelson's second word, Elijah, took on a more serious note for me. He talked about how Elijah is a prophet in the old testament. "The name EL-I-JAH in Hebrew literally means "My God is Jehovah." Think of it! Embedded in Elijah's names are the Hebrew terms for both the Father and the Son," he said. His job was to turn the hearts of the children to the fathers, and the hearts of the fathers to the children, so they could be together. Now here's the next part that really struck a chord with me. "Elijah's mission was to turn the hearts of the children to the fathers, and the hearts of the fathers to the children, so they could be sealed, or else 'the whole earth would be utterly wasted.'  That's pretty strong language: 'Utterly wasted'?" Sister Nelson said with solemnity. Those words made me sit up straighter in my chair too. I guess family history and temple work are important. But it's not all doom and gloom. That "spirit of Elijah" we hear about so often is good stuff. We can feel encouraged by the idea of doing family history work.
Family stories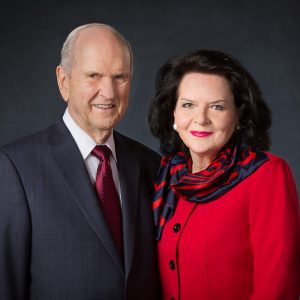 Stories were the next word on the list. This is something I can get behind for sure. I LOVE family stories and so do the Nelsons. President Nelson told a sweet and touching story about his Grandfather Nelson who died when his father was only 17 – so President Nelson never knew him. But he had a sweet and spiritual experience he took the time to record for his family. His grandfather was only 27 when his own father passed away. About three months after his passing, his deceased grandfather paid him a visit. He offered wise counsel to his son and told him a little of what life was like on the other side of the veil. He explained that he was busy preaching the gospel. He said he cannot come and go as he pleases and can't always see what people are doing on earth. He talked about how death was natural and also how correct records are kept on the other side, so simple mistakes made here are not of great consequence. He also testified of the truthfulness of the gospel of Jesus Christ, saying it is true and encouraged his family to live it. He told him, "Be humble, be prayerful, be submissive to the priesthood, be true, be faithful to the covenants you have made with God. Never do anything that would displease God. Oh, what a blessing is the gospel. My son, be a good boy.'"
Russell M. Nelson puts family stories into tangible form.
President Nelson said he and his family have cherished those words. So much so, he made a copy for his family members and they they got together and talked about it and shared their thoughts, what stood out to them. This prompted to me that both my husband and I have copies of sweet experiences about testimonies, conversions and even visitations similar to President Nelson's great grandfather that I need to be sharing with my children on a more regular basis.
Sister Nelson also told a great story about a great aunt of hers – she even had her great nieces and nephews write a book to illustrate her conversion story. What a fabulous idea!
Detours and procrastination detract from family history work.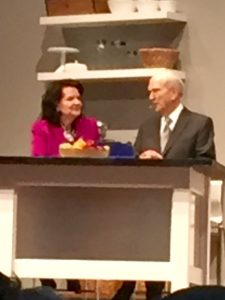 The next word was "detours." Another interesting word for me. They told us that we can know all the family stories and know great things about our ancestors but if we do nothing about what we know, we could be leaving some stranded on the other side,  a sobering thought.
That's where the "S" word comes in: SACRIFICE. "We need to be spending more time in the temple and in doing family history research," President Nelson said.
They also talked about how families "can" be together forever, but people have to choose that eternity.
Sacrifice of time = Blessings.
But it was at the end of their address, when they spoke of the blessings that flow from sacrifice that hit home for me. Sister Nelson said that however "fabulous" our lives are right now they can be made better by doing family history work or temple work. The same with those who are struggling. "What do you need in your life right now? More love? More joy? More self-mastery? More peace? More meaningful moments? More of a feeling that you're making a difference? More fun? Could you use more answers to your soul-searching questions? More heart-to-heart connections with others? More understanding of what you are reading in the scriptures? More ability to love and to forgive? How about more ability to pray with power? More inspiration and creative ideas for your work and other projects? More time for what really matters?" Yes, all those things, I need! So she said this, "I entreat you to make a sacrifice of time to the Lord by increasing the time you spend doing temple and family history work, and then watch what happens. It is my testimony that when we show the Lord we are serious about helping our ancestors, the heavens will open and we will receive all that we need."
President Nelson then said something that made so much sense. "You and I can be inspired all day long about temple and family history experiences others have had. But until you and I do something to actually experience the joy for ourselves, our attendance here at RootsTech 2017 will have been something like a nice, warm bath. It feels so good at the time, and then it's over." This is right on. I have been going to RootsTech for a few years now. I leave feeling inspired, but this is the year to put that inspiration to action – to sacrifice my time to yield the blessings. President Nelson challenged us to make an effort to sacrifice our time, or sacrifice something to put the work into action and we will see the result of joy and and blessings in our life.
I did it!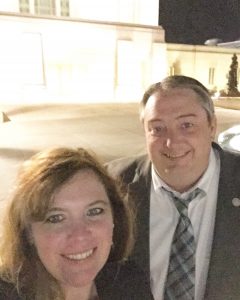 So I did. I went to work. My husband and I have found lots of family names and done quite a lot of work to this point, not everything was nearly finished with some. On Valentine's Day my husband and I sacrificed our usual traditional date night and headed to the temple. Not something that should be a sacrifice, but sometimes, let's be honest, it is. My experience there is a little to personal to share on a blog post, but I will say this: Heaven and earth touched that night. I will never forget the feeling or the blessings I experienced from that small sacrifice.
For me, sacrifice has literally brought forth the blessings of heaven.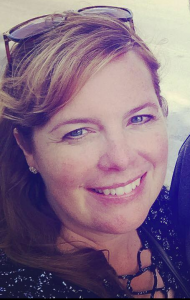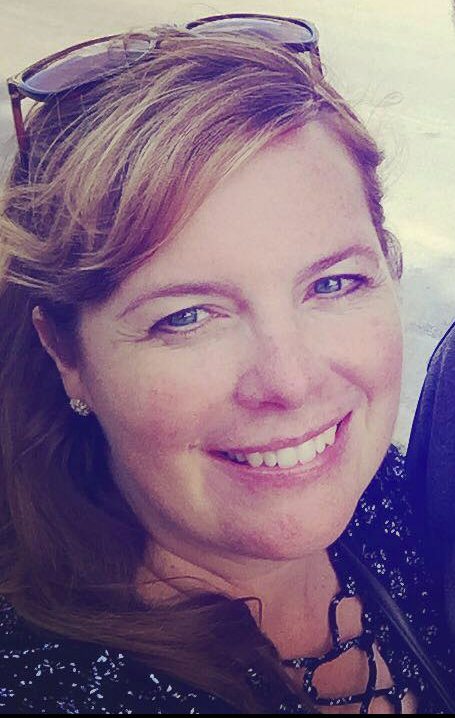 Rachel Trotter is a senior writer/editor at Evalogue.Life. She tells people's stories and shares hers to encourage others. She loves family storytelling. A graduate of Weber State University, she has had articles featured on LDSLiving.com and Mormon.org. She and her husband Mat have six children and live on the East Bench in Ogden, Utah.
Subscribe!
Get our weekly email with tips to tell your story and the Sunday Edition. (Free, of course)