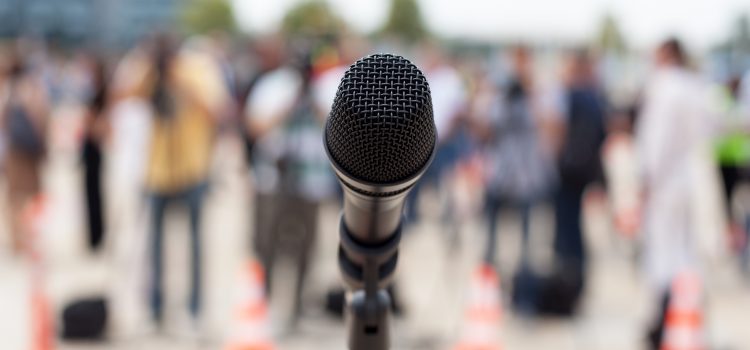 Let's face it: capturing the sound of a loved one's voice is magic, so what are some great free voice recording apps? That sound can be cherished for years to come so finding the best app is important. But it has more value than just sentimental reasons. It helps capture valuable information that you may need or want to write the perfect family, personal or business story. Below I have found a few free apps that have different uses that you may find helpful. I know I do.
In this article I will review the free apps and in the future, I will review some apps that cost a few bucks. I have an Iphone, so these apps are available on Iphone, but we will look at Android specific apps in the future as well.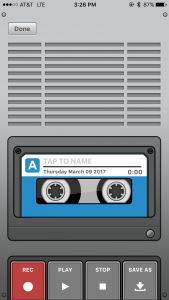 This is the first app I tried because it's the first one that came up on the search in the App store. I actually had an interview this afternoon and jumped right in and tried it. I love it! It is simple and straight forward. It's easy to save and share. It's also pretty simple to transfer to my laptop with my usb. I can trim the video. It doesn't allow for a ton of editing, but I do think that's okay. For what I need it for, it's not necessary. I can rewind and fast forward with ease and adjust the audio. I like using my phone to record because my phone is usually handy and it's not just one more thing I have to drag around. I like that it looks like a tape recorder and acts like one, so it doesn't scare people away who may be used to the ease of a simple of tape recorder.
But the best feature on this recorder for me? The ability to record to phone calls! As someone who interviews people frequently for my job, the ability to record a telephone call right on my device is heaven. The sound is great for this too. The only thing that worries me is wondering if it's working while I'm talking and that I haven't shut it off or something. But that would be a problem with any telephone recorder. The recorder is also helpful when interviewing elderly people who may talk more softly because I can adjust the sound to make it louder when I play it back.
One thing that was a bit annoying on the free app are the ads. Sometimes it could get confusing if I am downloading for the recorder or a pop-up ad. This problem can be alleviated by purchasing the ad-free version for $1.99. I guess you have decide how annoying it is.
There is unlimited recording time and you can loop audio. A more simple version of this app would be the Voice Memo app, another free version with very limited features.
Evernote
I have had Evernote on my phone for ages. Have I used it? Not much, only for swapping some recipes from friends. But, I should be using it a lot more. Evernote used to be a big one for Android phones, but now is available for Iphone. Evernote is a great app for a variety of things, but I had no idea the capabilities it held for voice recording. The best feature of the free version of Evernote (you can purchase the premium package for $4.99 per month, a bit of a racket) is that you can take notes while recording. I am a copious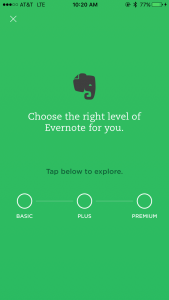 notetaker and this is a boon for me. But, taking notes on a phone isn't the easiest – the best mode for using this app is going to be on a tablet. You have plenty of space to take notes and you have a keyboard to do so.
The one thing I don't love about this is the fact that the saving part seems clunky. You have to email the voice recording and then download it. There doesn't appear to be a huge limit on storage size, but the continual urging to upgrade can be a bit annoying and there are so many apps that don't require a monthly fee, if you're just looking for voice recording, you may want to pass on this one. It is a great tool for organizing many other things though, especially if you are trying to organize a series of interviews or notes it works well. It's like a mini planner with a cool voice recording side too, but probably not the best for a super labor intensive project that you intend to transcribe and turn around quickly.
This free recording app is put out by FamilySearch. Like Evernote, the recording device is one of many functions within the app. This app is set up perfectly for family storytelling. So it is perfect for what I would be using it for. There are some unique functions within this app that I really love. Once recording is finished you can email, text, upload to Facebook or upload it to your FamilySearch account. It can live in your FamilySearch account forever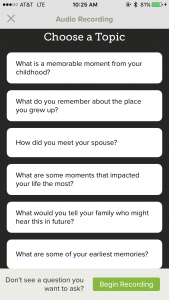 which is great. It's nice to have something stored in an extra spot, which I would always suggest anyway. Plus, if you decide to make it shareable other people on your family tree can enjoy the interview.
Another part of the app I love is that it offers up some prompt questions right on the device so you can look and refer as the interview progresses. You can click on the question, record the answer and then move to another question. Using those questions can bog you down a bit though because the app has you pause and name each question or file at the conclusion of the answer. It's a great way to divide up the interview and know exactly what questions and what answers are together, but could take some time to decipher if you aren't doing it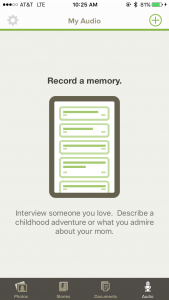 right away. But, if you already have your questions, you can just go on your own for as long as you want. The app suggests you work in five-minute intervals to keep the interview flowing and jot down your notes or whatever, but you can keep going if you want. For me, if the interview is flowing well you may not want to stop and start several times. On the other hand, it may give your subject some time to think between questions and come up with more solid answers. Trying the app is definitely worth the experiment though, especially because it's free.
Also included in the app are options to record the story, so you could go in and record the interview right away as well as upload photos or important documents. You can also move directly into your ancestors and add the stories, interviews right to their names on their family history. It's classic and wonderful.
Watch for an upcoming review of apps that cost and other recording/video products in the near future.
By Rachel J. Trotter
Subscribe!
Get our weekly email with tips to tell your story and the Sunday Edition. (Free, of course)