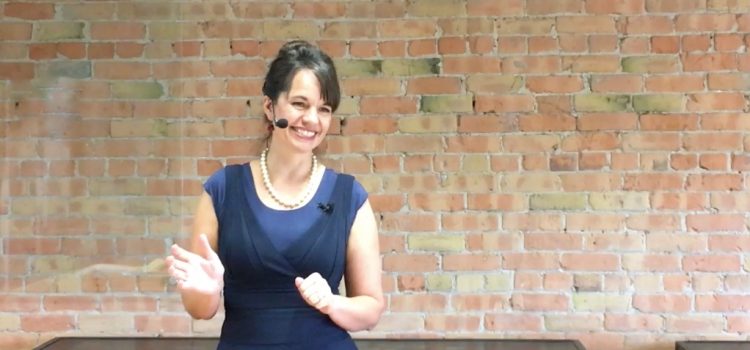 This article is updated regularly with the best affordable microphones I use use right now, new additions to my kit, and any new insights. Here I will share the most current gear that I have tested and personally still use. I am not sponsored by any companies and have paid for all of this gear out of my own pocket.
This article is an overview of the best affordable microphones that have made my cut for daily use as a biographer, interviewer, and presenter. I'm not an audio expert (that's a complex field), but do use voice recordings every day in my work. Also, I experiment a lot. My hope is to help writers, people doing family history, and businesspeople quickly zero in on nice microphones for the right job, and at a good price. I've tried a lot of cheap but good microphones (also some terrible ones) over the years. Whenever I get something new I compare it with the others in my kit, and the best affordable microphones stay. Quite a few have ended up in the trash – especially flimsy headset mics. Hence, this is my personal list of the quality recording microphones that remain in my toolbox today. As I mentioned earlier, this page is updated regularly and is part of a detailed series:
Click here for an index of related articles on recording, transcribing, and doing oral history
(Disclaimer: This page contains a few affiliate links which means if you purchase a product on Amazon with our links, we make a small commission. We really appreciate it! This is a tiny part of our income, but every bit helps.)
Quick list of my best affordable microphones and cables
Here is an overview of the quality recording microphones that have made my cut for daily use. Scroll down through the article for a short write-up on each. The links in this list take you to Amazon product pages:
Overview of how I use microphones
So you know my angle on this stuff, below is a summary of how I use audio. Music, theater, and broadcast quality are all outside my wheelhouse (and budget) but if you want to capture conversations, interviews, or oral history then you're in the right place. Here's a quick list of what I do:
Video – a side-by-side soundcheck in a quiet room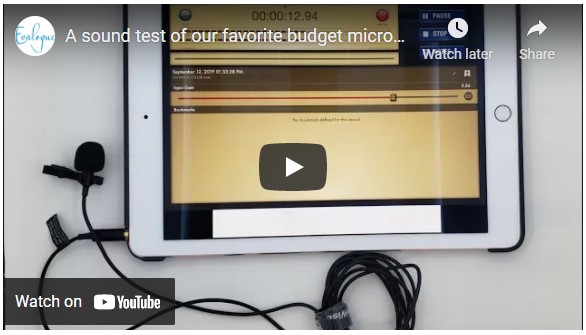 Sennheiser headset vs. PowerDeWise lavalier mic
The video above shows how various microphones check out in a relatively quiet room. Scroll down to read more about each mic, but in summary, I really like the PowerDeWise lavalier microphone records in a quiet room. Did you notice, however, that you could hardly hear the plastic bag crumpling when I was wearing the Sennheiser business headset microphone? The Sennheiser is a standout when there is background noise, like in the car.
Below is an audio file in the car with a lot of background noise. The clip below compares the Sennheiser headset to the PowerDeWise lapel mic in the car. What a difference! It was a rainy day so the windshield wipers are making this loud squeegee sound, and I have air blowing. The result is that the Sennheiser headset was the clear winner in this noisy environment, whereas the PowerDeWise sounds nicer in a relatively quiet room. And of course, a lapel mic would make more sense even if it didn't sound better, simply because it would be weird to put a headset mic on your subject.
Keep in mind that the PowerDeWise comes in at under $30 on Amazon, while the Sennheiser is in the range of about $60.
PoP voice Professional Lavalier Lapel Microphone
Guess what? I just ordered a new microphone for less money and it outperformed the PowerDeWise on a soundcheck. It has a 16-foot cord (that's maybe a bit too long for a lot of circumstances) and it comes with both a TRS and a TRRS connection adapter so you can use it with a smartphone and digital recorder. I'll be brief here but wanted to quickly give this update. Great mic, low price, great sound. Here is a link to get it on Amazon. When I get a minute, I'll upload the soundcheck. 🙂
PowerDewise lavalier for smartphone – a great affordable mic with a very nice kit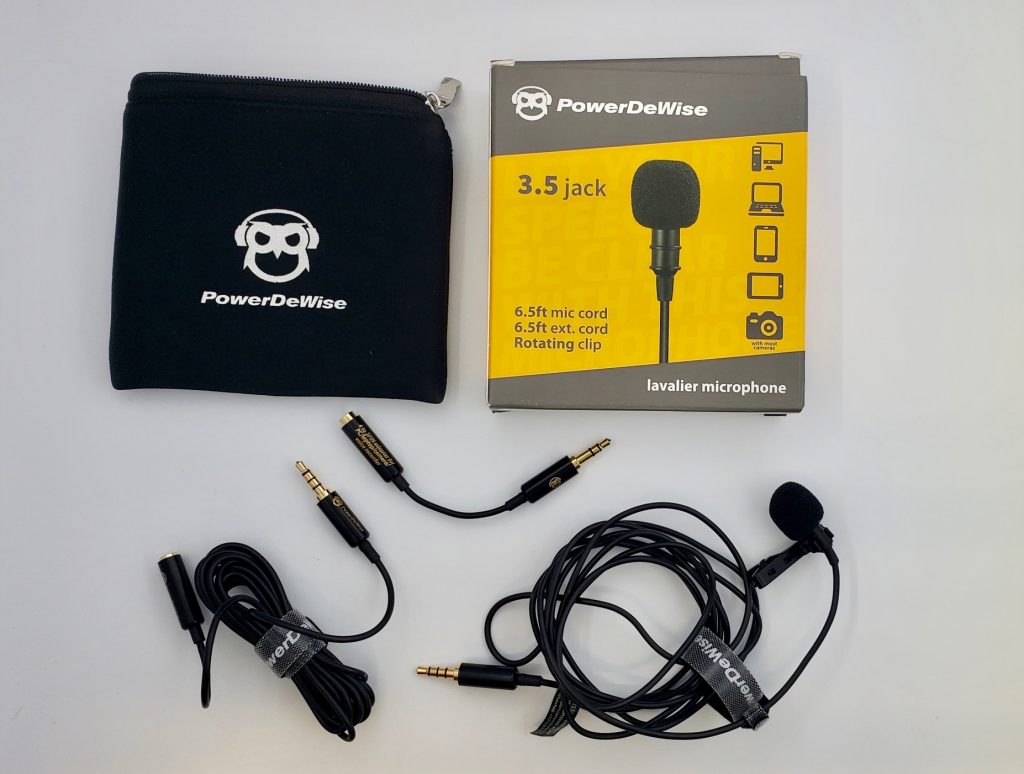 Since I originally wrote this article, there are two new PowerDeWise options, so I will start with those. The product I own, have used extensively, and love is pictured above with the 3.5 jack for Android phones, computers, etc. Here is the link to that product (Be sure to grab the Amazon coupon code at the bottom of this section): The PowerDeWise 3.5 jack lavalier mic
Now they also have a two-pack "interview set" with a splitter. They advertise it for the iPhone 6, 7, 8 and X, but note that it comes with a 3.5 jack and not an iPhone adapter. This looks like an amazing bundle and is exactly what you need for doing oral history interviews like we do in our business if you have an iPhone. Yay! Here is the link to purchase the interview two-pack.
Additional notes: the Power DeWise is billed as professional grade. It is very reasonably priced, and it works directly with a phone or tablet with no adapters needed. It is a nice microphone with GREAT sound. I find that the version I own is much better than just talking into my Android phone or my iPad's built-in mic.
PowerDeWise really knows how to bundle its products with a lot of value. The package I bought came with a really nice kit with an adapter, longer cord, extra foam covers, and a carrying case.
Note that I had two other similarly priced Sony lapel mics, and I like the recording quality of this one MUCH better. How do I know I like it better? I spent a whole afternoon running side-by-side sound tests with all my microphones in different configurations. Two audio clips are below.
By the way, when the company saw that I had posted this article, they sent me a 10% off code to pass along, (good if you buy on Amazon). Nice! Here it is: MIC10OFF
Important note about 3.5 mm phone connections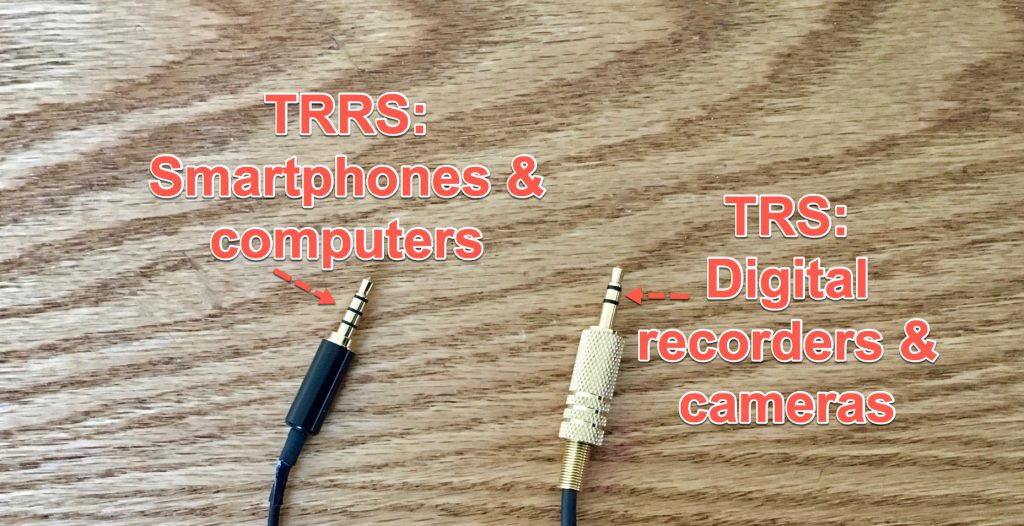 In in the pic above, notice how there are two different connector jacks. These 3.5 mm male connectors are called "mini" jacks, by the way. In the photo, two of the jacks have three black lines, and there is also an adapter with two black lines. The ones with three black lines are called TRRS connectors, while the one with two black lines is called TRS. What this means is that even though your mic might fit into a recorder or phone, it might not work. (This drives me nuts!) Hence, the PowerDeWise lavalier mic records beautifully with my phone, but it only works with my favorite Olympus WS-852 digital recorder by using the adapter included in the kit. And then I also have to change the recording setting from 128 kpbs stereo to MP3 64 kbps mono. By using the adapter, it did work, but there was a big loss of sound quality. The solution was to upgrade and purchase a nice Audio Technica uni-directional (carotid) lapel microphone for digital, which has a TRS connection.
Beware: every time you add an extender cord or an adapter connection, you lose quality and may add scratchy sounds, especially if the components are cheap. I have learned this the hard way! Expensive microphones with cheap connections = cheap sound. In summary, when I did a side-by-side test with the PowerDeWise + adapter + digital recorder, the sound was degraded enough that it was better if I just put my digital recorder on the table with no microphone at all.
Audio Technica Lavalier microphone with TRS connection for digital recorders and cameras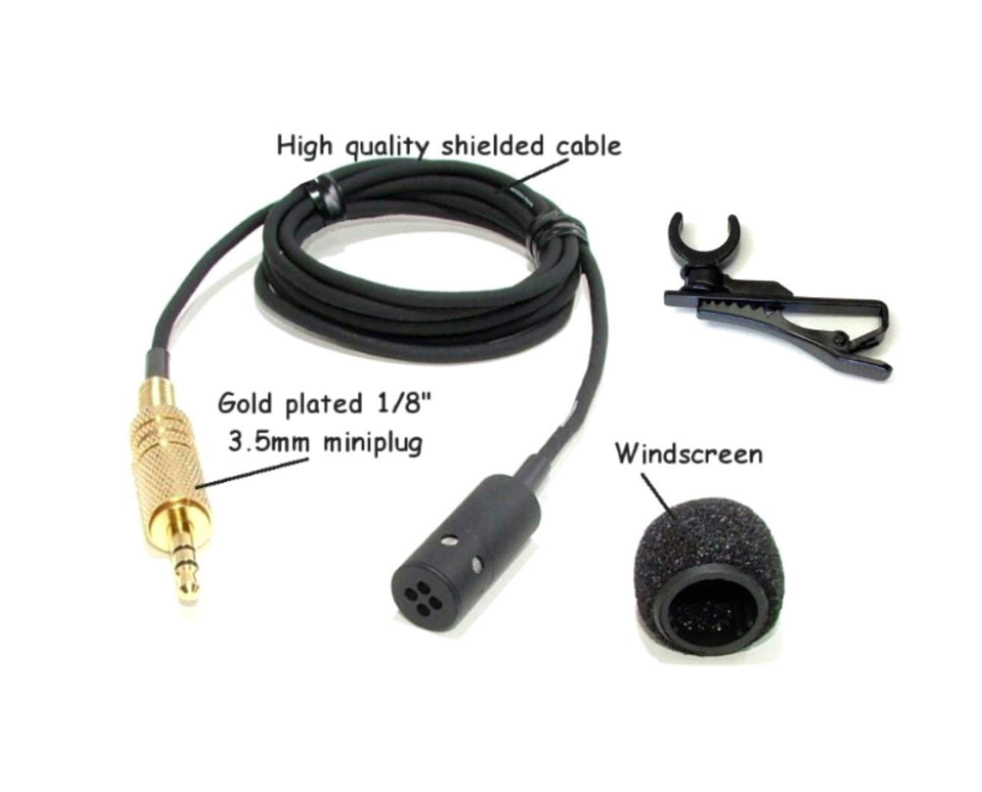 I recently upgraded from the inexpensive Sony (keep reading below) to this Audio Technica lavalier microphone for use with my digital recorder. Its price point is closer to $100, so it's not exactly a budget mic for family use. It is billed as "highest quality." It has quality plugs, which make a difference.
I have, indeed, been impressed with the clarity as well as durability of all the components. It sounds wonderful. (See sound check audio clip below). I feel like it out-performs the PowerDeWise on sound alone, but not on price.
It is quite sensitive, so I am finding I need to adjust settings on my digital recorder to not get distortion. Click here to view Audio Technica microphone on Amazon.
Since this microphone is considerably more expensive, you might consider choosing the appropriate PowerDeWise for use with your iPhone or Android phone instead. In that case, you could choose a digital recorder as a backup device in an interview rather than your primary. The cost of this mic would really add up if you had to purchase two of them for two interview subjects, whereas the PowerDeWise has a kit with two already in it.
Anyway, here is a sound check of the Audio Technica compared to the Sony mentioned later in this article.
Recording two people into one device: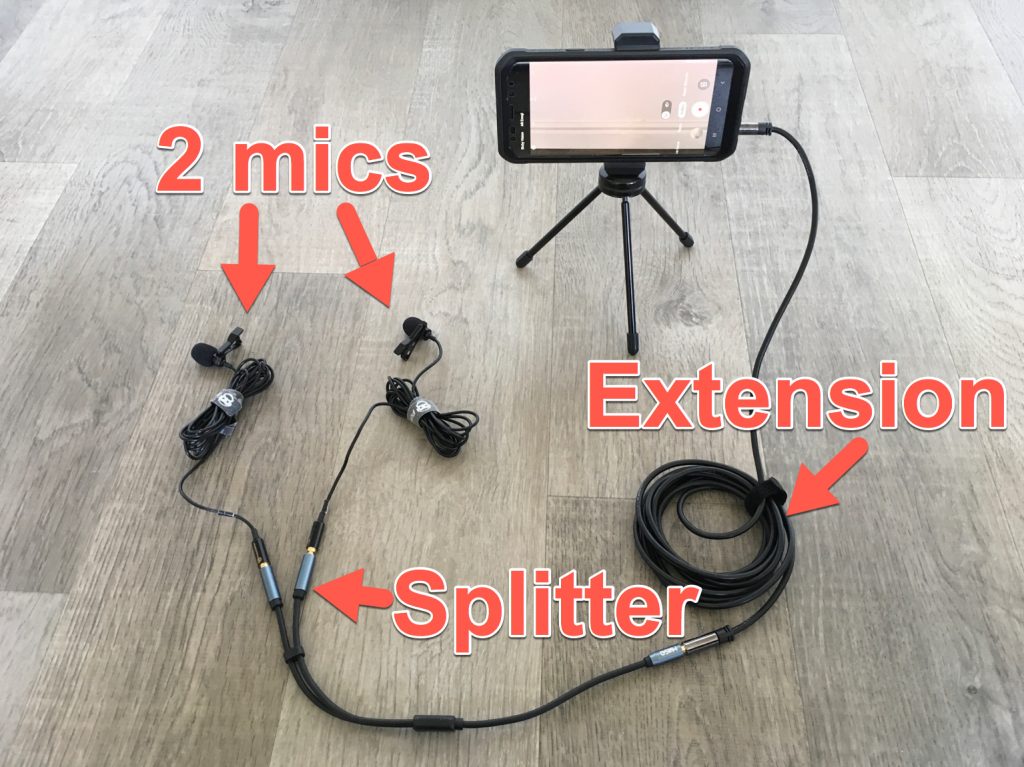 It took me longer than I care to admit to finally get happy with my setup for recording two people. Normally I prefer recording with my digital recorder, but the PowerDeWise lavalier mic is about a quarter the price of the mic I use with my digital recorder. These babies sound great so it made more sense to buy two of them. Also, this setup records video so it does double duty.
Sennheiser business headset microphone: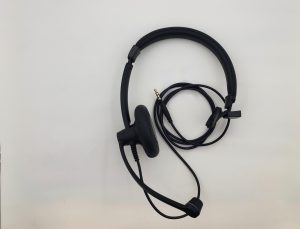 The Sennheiser business headset is a ROCK STAR for canceling background noise and saving your voice. If you are dictating or doing a lot of Skype, Zoom, etc, this will really improve your all-around sound. (Note: the sound tests in this article were recorded using the 3.5 mm connection plugged into my phone. They no longer make the 3.5 connection and have instead have gone to the USB connection, so that is the kind I have linked to both above and below.
Keep in mind that there are two options. One is the Sennheiser Business headset without the USB adapter, which saves you some money. The other microphone kit includes a USB adapter. I use the one without.
I have been using it daily for over two years now and it has held up to abuse. I tend to be rough on equipment, so I carry this in a hard case to protect it.
Since it picks up beautifully, and the mic is close to my mouth, it also saves my voice from getting strained. It sounds quite intimate, even in the car.
(I will say that if background noise isn't an issue, such as in a quiet room the PowerDeWise lavalier mic sounds richer.)
In summary, this Sennheiser is my all-time best option if I want to record voice journal entries or voice memos when there is background noise. It is also what I use for telephone calls on my Android phone.
Note also that a while back I had several business headsets and this one has been the best by a mile. The others were flimsy and sounded bad.
For all these reasons, I really, really love this nice microphone. At around $50, it was more expensive than the lavalier microphones, but for daily use to preserve my voice and capture clear sound it is an essential part of my workflow. I use it for calls and recording journal entries every single day.
Sony Omnidirectional Lavalier Microphone (lapel mic) – not my favorite choice
This inexpensive Sony omnidirectional lavalier microphone with a 3.5 connection enhances the recording quality when I use it with my favorite digital recorder, the Olympus WS-852, but I don't love how it sometimes sounds distorted (keep reading).
What I like about it is the price, and that it does capture clearer audio than when a recorder is sitting on the table. This is helpful if someone has a quiet voice.
Drawback: it sounds slightly distorted/digital/electronic. I'm not sure what the correct terminology is, but it's a bit like the audio has been edited. If it were a photo, I would call it pixelated. For this reason, I have stopped using this microphone for professional applications. It was fine as a starter microphone and for the price point, but I have since upgraded from this inexpensive microphone to one costing closer to $100.
Here is a quick overview of the settings and configuration: This Sony lapel microphone has a TRS connection (two stripes on the jack), which is what the recorder needs.
Below are two soundcheck audio files. The first at 128 kbps stereo and the second at 64 kpb. Each sound check compares the recording with the mic and without. In both cases, it sounds better with a microphone than without, but 64 is the winner overall.
Wind screens for recording outside: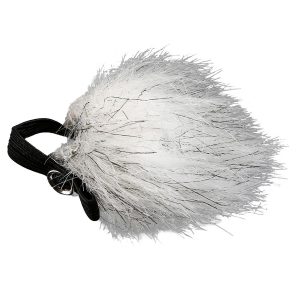 Pro tip: If you are recording outdoors, such as at a family reunion, get one of these little fuzzy covers that act as a windscreen to fasten over your lapel microphone. These reduce popping noises from wind.
Blue yeti USB microphone for desktop computer or Blue Snowball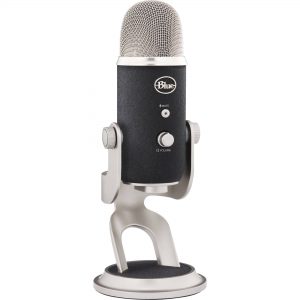 The Blue Yeti is a Podcast grade microphone that I use for narrating videos at my desk. It's not super low cost, but it is near-professional quality and a lot less expensive than others in its class. It has the richest, fullest sound of any microphone I own.
My husband also has the Blue Snowball, and it's working beautifully too. I haven't done a side-by-side comparison but they are both great.
It connects to my computer with a USB.
Now that we're all social distancing and I'm doing more video than ever, I decided to level up my computer sound with two new additions. The first is a Pop filter that makes it so my P's don't leave a popping sound in the audio. Here is a link to the brand I got, which is on a gooseneck and I like it a lot!
The other addition was a microphone stand with a boom arm to get the mic off my desk, so it doesn't catch vibrations. Am I getting fancy or what? This was recommended by a YouTuber, and she was right that it makes a difference. At least I look professional when I'm recording videos, ha.
Note that before buying the Blue Yeti, I researched and found this baby to be highly recommended by people who do podcasts because it has a wonderful sound. There are certainly more expensive recording microphones, but this one does a great job for what I need.
It has served me very well for the price. Watch the end of the main video above to see how it sounds compared to the small, inexpensive lavalier microphones tested in this article.
Related topic: Pratical tips for hosting a Zoom Funeral. This past year my mother passed away during COVID, and we hosted a Zoom funeral. I packed my kit and set up all the technology. The sound and visuals turned out so well, and I've since had a number of people comment that the quality was head-and-shoulders above what they've seen from other Zoom funerals. I was so glad I had a kit and knew how to use it. We had people from long distances able to attend, some working who watched the replay, and everyone else who had to practice social distancing. I felt so grateful for this technology.
Olympus TP-8 – telephone pickup microphone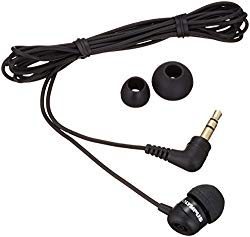 My list of best affordable microphones would not be complete without this Olympus TP-8 earbud mic (TP stands for telephone pickup). I use it to record calls. Note that I use this as my secondary/backup method because I prefer TapeACall as my primary recorder. This is because TapeACall records better sound quality by far. However, there is a service cost involved.
Hence, The Olympus TP-8 is a good, inexpensive option if you prefer hardware instead of a phone recording app. I certainly do. I tried phone apps for recording calls and found them to be quirky, unreliable, and in most cases they record all calls automatically. Who would want to record every call? That's just weird! So, I ditched call apps and went for a service + hardware.
As a backup or as an inexpensive method to record calls, the TP-8 works great. And as a side note about backups, I am a stickler about always having a backup because I can't tell you how many times my main recording method has failed!
Here is how it works: You put the earbud in your ear, and connect its male 3.5 mm microphone jack into your digital recorder's microphone port (not the headphone hole!) Then you put your phone up to the ear that has the earbud inside. Hit record on the digital recorder. Then talk and listen normally. The digital recorder will pick up your voice and also the conversation from inside your ear canal. What??! Yes. It works. The sound is a little muffled, but usable.
Amplifier microphone headset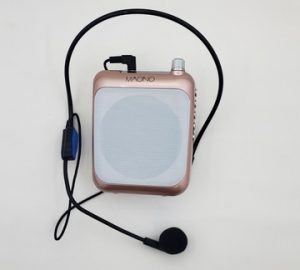 This MAONO portable amplifier microphone is not a recording device, but rather, is for making my voice louder. This is the microphone I use when I am teaching live classes so all students can hear me. I bought it out of desperation when I was recovering from a cold and it saved my life. I've been using it ever since, even in relatively small rooms. Disclaimer – I have the pink version pictured above. It's no longer sold, so this link goes to a newer model.
Hisonic portable PA system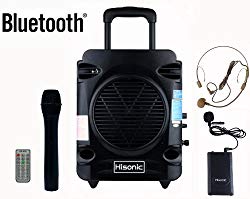 This Hisonic PA system is a great portable unit to end my list of best affordable microphones. Alas, this piece of equipment ended up being overkill to project my voice for teaching classes and has mostly been replaced by the MAONO above.
It is rechargeable, comes with a handheld mic as well as a headset, and can connect via bluetooth. The bluetooth feature is great if I need to project the sound from a video on my laptop. The only time I use it now is if I need to project the sound of my computer into a larger room, speak at an outdoor event, or if I were ever to teach in a large space without a podium mic (that's rare). I am including it, however, because it's a quality unit and it might be just the ticket for somebody.
Related articles
I hope you have enjoyed this summary of my best affordable microphones!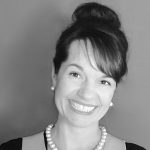 Rhonda Lauritzen is the founder and an author at Evalogue.Life – Tell Your Story. Rhonda lives to hear and write about people's lives. She believes that when you tell your story, it changes the ending., She and her husband Milan restored an 1890 Victorian in Ogden. She especially enjoys unplugging in nature. Check out her books: How to Storyboard, and Every Essential Element. Most recently she was the writing coach of bestselling author, Rob A. Gentile, who wrote Quarks of Light, A Near-Death Experience: What I Saw That Opened My Heart.
Do a family history interview
Sign up and we will email you a free, printable download of our mini-course to conduct a great oral history interview. You will be done in a week or less.