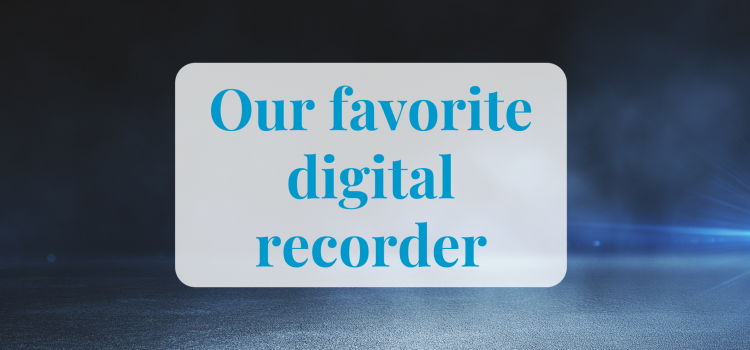 I have had a love/hate relationship with voice recorders over the years. As a professional interviewer and writer for over 20 years, I have tried my share. But the Olympus WS-852 voice recorder has helped me immensely! As of the time of updating this article, I've been using this recorder for about four years, and it is an essential part of my kit.
Early in my career much of my work was for articles for newspapers, magazines or press releases – things of a shorter nature. Now I do professional family history and oral history and much of the work I do is more detailed and of a longer nature, making a recording device vital for my work.
When I first started doing interviews to write articles and stories I did try using recorders but found them to be clunky and not user friendly for me. Times have changed. New recording devices are now user friendly, even sleek for a decent price. As mentioned before, a recording device is more necessary for my work now, so I set out to find the one best for me. Hence, a series of product reviews. For me, I need something simple. I want to use my time to do the interviewing and the writing and not worrying about my recording device. After trying a lot of options, this continues to be my standby.
Disclaimer: This article contains Amazon affiliate links, which means we make a small commission. Just know that these are the products we use every day in our professional work, and have done so for years.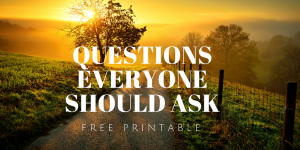 The Olympus WS-852 is simple and user-friendly
The Olympus WS-852 seems to be just that – simple and user friendly. It has some more complex features, like having several files and modes, but I don't really need that, so I can use the simple mode to decrease my options or use the normal mode if I want to set some specific settings like voice filtering, languages, lighting or many other specific details. I look forward to using some of those settings in the future.
Related: The Olympus WS-853 is an upgrade with more memory and true stereo mic
The recorder has five different recording settings ranging from conference room to office to even phone recording. I haven't used the phone recording setting as it requires some headphones, but I think it may come in handy from time to time. I tried recording on all the settings and found the conference room setting to be the best. It picks up great sound and I don't need to use a separate microphone to get good, loud sound from my subject. The volume does go pretty high and on some of the recordings that seemed a little lighter (the office wasn't as clear) but when I turned up the volume all the way I could hear things well.
Related article: Our review of great voice recording apps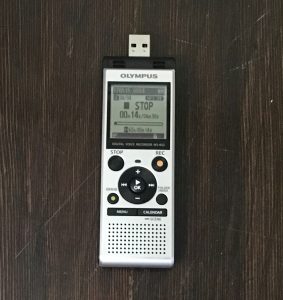 67 hours of recording time!
One of the bonuses of this recorder is that it has 4 GB of internal memory, which is at least 67 hours of recording time right on the device – no outside card needed, although one can be used if you want. I like this option because it's one less thing I have to worry about gathering when I'm on my way to an important interview.
Related: Get our free interviewing mini-course  – convenient PDF printable
But the very best thing about this recorder? The USB is connected to the recorder! No extra cords needed!  I can hook the device directly to my computer for easy transfer of information as well. It comes with a USB cord if needed too. Note that some less expensive models (even of good brands) do not come with a USB connection port, so that can account for price differences. When I am doing an oral history interview for a client, right after the interview I can upload the content right to my computer and to their thumb drive, easy peasy. It has always been seamless. The only issue I have ever had is when I switched batteries and failed to update the date. I thought my files were lost, but the date was just wrong. So always remember to update the date and time when batteries are replaced.
The Olympus WS-853 (upgrade) now has 8 GB of memory and true stereo pickup sound
Small and Lightweight Digital Recorder
The device is lightweight, at only 2.7 ounces and can fit nicely in your pocket – only 1.5 inches in diameter and .71 inches thick. I love that it can fit nicely in the palm of my hand! It also has a built-in stand in the back to set it on the table. This reduces vibration and optimizes sound so you get  maximum pick-up from the two microphones situated on the either side of the top of the device.
In summary, I feel like this is a perfect device for the beginner up to advanced user.
One option I like with the Olympus WS-852 Voice Recorder is that when I hit the "erase" button it asks me before if I'm sure I want to erase. That is a great reminder in case that button is pushed by accident too. There are multiple folder options so if you are working on different projects you can save in different folders. I have never used it because I download my files right away, but it's nice to know it's there if necessary. For now, I just need different folders for each interview to keep it simple. Another handy feature is the ability set playback speed for the purpose of transcription.
Sometimes we at Evalogue.Life have typed up notes directly from the device (such as on the train following an interview) and this can be helpful in a pinch. That said, you're much better off uploading the audio and listening on your computer, or transcribing with oTranscribe, a free, browser-based program that mimics a dictation machine. Why? Because there is no rewind function so if you need to go back or if you lose your place, you're out of luck.
The Sony model at a similar price point doesn't seem to have the ability to play back. You can generally find the Sony for around $50 on on Amazon.
Use with a lavalier (lapel) microphone
For the best, most intimate sound, be sure to use the Olympus WS-852 with a lavalier (lapel) microphone. This will capture high-quality audio of your subject for use with video, or just so it sounds like your subject is right there, decades later. A microphone will also help get the crispest audio for running through a speech recognition transcription programs later.
Related article: Best affordable microphones we have tried
Related article: how to transcribe audio
Record a phone call with your Olympus WS-852 and this inexpensive device – the TP-8 Telephone Pickup Microphone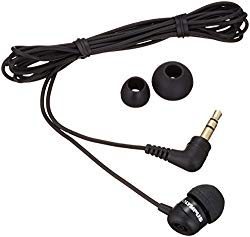 Use the Olympus TP-8 earbud mic (TP stands for telephone pickup) with to record calls. It is a good, inexpensive option if you prefer hardware instead of a phone recording app, or as a backup in addition to a call recording app on your phone.
Here is how it works:

You put the earbud in your ear
Then connect its male 3.5 mm microphone jack into your digital recorder's microphone port (not the headphone hole!)
Then you put your phone up to the ear that has the earbud inside.
Hit record on the digital recorder.
Then talk and listen normally.
The digital recorder will pick up your voice and also the conversation from inside your ear canal.
What??! Yes. It works. The sound is a little muffled, but not bad!
Pro tip – invest in rechargeable batteries
We have learned through the years that it's well worth it to invest in  rechargeable AAA batteries. Since these are used in so many ways, you'll save a ton of money and waste by using rechargeable batteries.
Pro tip – use a backup
Here is one more lesson learned when doing oral history. Always set up a backup recording device. Things go wrong. You don't want to lose the magic of an interview. This is a good way to use a recording app on your phone so you don't have to purchase two recorders. That said, since we do this work professionally, we often bring two of these Olympus WS-852 recorders. This allows us to set them up in different places in the room if there is more than one speaker.
Other articles and resources to help you record voice and capture oral history: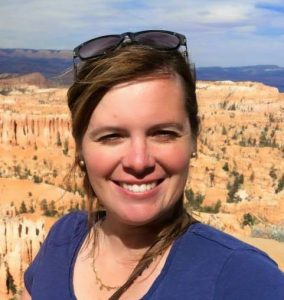 Rachel J. Trotter is a senior writer/editor at Evalogue.Life. She tells people's stories and shares hers to encourage others. She loves family storytelling. A graduate of Weber State University, she has had articles featured on LDSLiving.com and Mormon.org. She and her husband Mat have six children and live on the East Bench in Ogden, Utah.