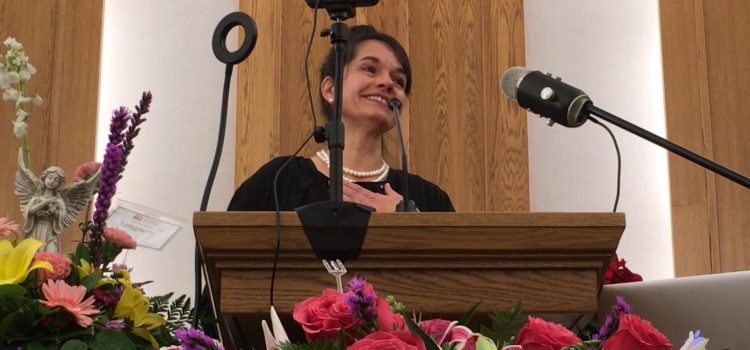 We recently laid my mother to rest after she passed peacefully in a care facility in the presence of family. My mother had her funeral planned in advance, but COVID threw many traditions out the window and we ended up hosting a Zoom funeral in a totally different way. This article shares some ideas if you find yourself in the sad situation of planning a virtual funeral, like so many during this difficult time. Funerals are so very important, and I hope this helps you to properly honor a life.
Before getting into the details, I do want to say that we were blessed with the opportunity to be with my mother before she passed. We had the gift of taking shifts round-the-clock vigil while holding her hand, and all seven of her children were together with her at one point. I never could have appreciated how much that would mean until we were prevented from being in her room for nine months due to COVID. I am also forever grateful that I already had her life story written before she got dementia. (Today, my business, Evalogue.Life helps people with their oral history and writing life stories.)
We had the luxury of a hybrid of services, with some family allowed to attend in person, while broadcasting other parts via technology.
Here are 10 quick insights and lessons learned from hosting a Zoom funeral
1. Hybrid services can be an unexpected blessing:
Our church allowed close family to gather at the church with masks and distanced seating, while also allowing us to film the service live via Zoom. This hybrid worked beautifully, and I have a feeling will become the norm after COVID. Being in the church gave us the feeling of tradition and familiarity, which is so important during a time of grieving.
At the same time, Zoom allowed family members and loved-ones to attend from distant places who would never have had the chance otherwise. The fact that we posted the replay allowed others—whose work schedules did not permit viewing the service live—to watch it later. We had many people comment on how moved they were by the service, and how grateful that they were able to attend from a distance.
Here is what one person said of the experience:
"What a beautiful tribute! I'm so thankful for technology that allowed us to join in during this time!" (L. Saunders)
I'm not the only one who sees the benefit of a Zoom service. Read this article in praise of the Zoom funeral.
2. Consider hosting a Zoom open house with breakout rooms:
We had the idea to host a Zoom "viewing" on the evening before the service. In our local tradition, a viewing is an important time to arrive in person and express condolences to the family. We wanted to simulate that experience while still distancing, so we created an open house where loved ones could join the meeting to talk with us.
I have six brothers, so we set up breakout rooms so each of us could talk one-on-one with the people who came to see us. This allowed us to pop in and out of the main session. In that area, we had some wonderful conversations among cousins who we hadn't spent time with in years. We also had a slideshow running on one of the screens in the main "room," which was a big hit. In summary, it was a great experience.
Click here to read how to enable Zoom breakout rooms.
3. For the actual service, keep it intimate:
I grew up in a family business and have my own business so there are colleagues and associates who care about us. We made announcements and invited people who had a close relationship, but decided not to stream it live on Facebook. We simply wanted to retain the spirit of a religious service and to keep our personal memories intimate. It would have been insensitive (not to mention tacky) to allow the proceedings to be taken over by a feeling of attention-seeking or publicity. We needed to feel comfortable weeping and sharing stories.
If you tell stories from the heart, people will be touched, even through the computer.
Here are some of the comments we received from people who watched the Zoom service.
"You all did a beautiful tribute to your mom. Listening to the stories made me realize how much I soaked in from being in her presence. I'm so grateful for her influence in my life. I can't stop crying." – Megan
"What a wonderful funeral. Your talks and lives were so meaningful to me. I loved all of your stories and appreciate how your words lifted me." – Michael
"I bawled through the whole thing. The spirit was so strong even through a virtual connection." – Kathy
4. Plan to record the service and post a replay:
I posted a replay of the service as "unlisted" on YouTube so family could watch it later, without taking up cloud space on Zoom. I have been amazed and humbled to see how many people have watched the service after the fact. People do care, but it's difficult to juggle commitments and many people made the effort to watch the replay.
5. Collaborate with the funeral home or church:
Many churches have been holding virtual services during the pandemic, so they may have systems and equipment set up. My family are members of the Church of Jesus Christ of Latter-day Saints, and they have a system in place that we could have used. I made the judgement call, however, to use my own Zoom account and equipment because I'm familiar with it, and many participants are also getting comfortable with this technology.
I'm glad I was able to manage the quality, but it did add stress on an already difficult day. For this reason, you might want to let the church, funeral home, or a friend help you.
Also be sure to check on your church's rules for filming and broadcasting. In the Church of Jesus Christ of Latter-day Saints, there are strict rules about no filming of some ordinances (sacred rites), which meant not filming the "dedication of the grave" in the cemetery. However, there are no restrictions on a funeral, so we had more latitude than for regular Sunday service. The local bishop was wonderful.
Questions Everyone Should Ask
Don't have regrets. Preserve a life story now with our all-time best questions. Interview a loved one or prompt your own personal history. Do it now, and it will be enough.
6. Get help so you can be present:
Managing technology is distracting and can really detract from being in the moment. Knowing this, I asked three colleagues to help manage various pieces of technology so I could be present during the funeral. They were lifesavers and I owe them a debt of gratitude because I was able to soak in all the love during my brothers' talks.
My colleague, Eva, helped moderate the virtual open house the night before. This allowed me to go into the breakout rooms.
My colleague, Bob, helped me set up the equipment and run the backup camera for the actual service.
My colleague, Rachel, acted as co-host of the live service.
7. Use the chat as a virtual guest book:
Ask participants to sign in and leave comments via the chat so all family members can see it later as a virtual guest book. We also took screen shots of the various Facebook posts where friends and relatives left comments. We shared all the comments from all the sources among all family members afterward. We also each took photos of the flowers that were sent to our individual homes so the whole family could enjoy them and feel loved.
8. Be careful with copyright:
If you are broadcasting a service and/or plan to post it on YouTube, you may run into trouble sharing copyrighted content during the service. For example, don't play a slideshow that uses copyrighted music, poems, or images. It would be a shame if your YouTube account got a strike because you inadvertently violated copyright.
9. Set up and test equipment early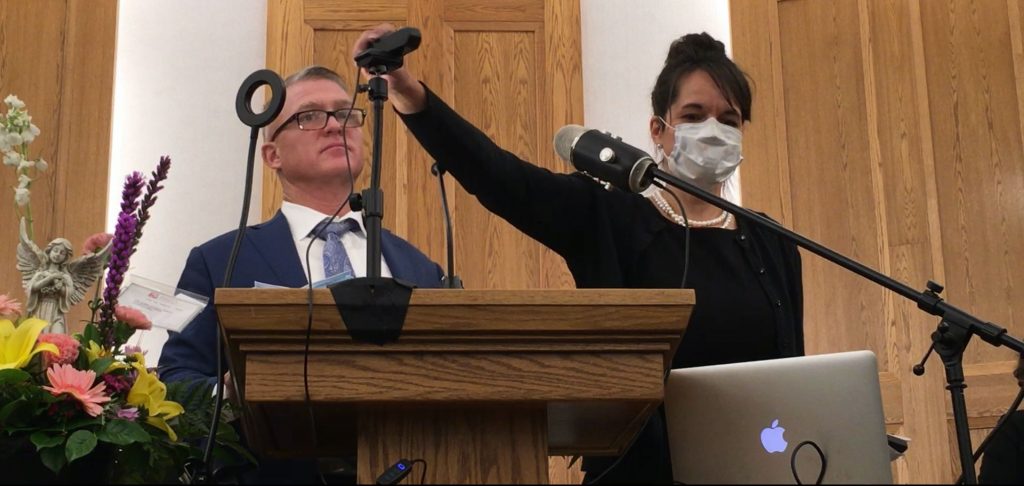 Set up your equipment at home and make sure it is working in the exact configuration you'll use it at the service.
Pack everything and make a checklist for the day-of.
Set up everything at the venue (church/funeral home) and start the meeting early.
Have someone remotely verify that the sound is working and that the picture is good.
10. Lesson learned – once it's set up, don't mess with it!
I made the rookie mistake of plugging headphones in after it was set up before the service started, which overrode the microphone I had so carefully tested. So, after the service began we got word from live viewers they couldn't hear anything. We then had to stop the service and fix it on the fly while everyone was watching. We did, but it was a stressful two minutes. The good thing is we had a moderator at home who alerted me, (and several people from home texted family at the service too). Fortunately, we found out before any speakers began that we had an issue, and we had the wherewithal to fix it on the fly.
Equipment I used for filming the live service:
Note that there is a balance between getting good video for the broadcast and having a lot of gadgetry in your face for the live service. When people saw our setup they joked that it looked like a press conference. Still, I think once the service started everyone forgot about the technology and the people at home appreciated the effort to have a quality viewing experience.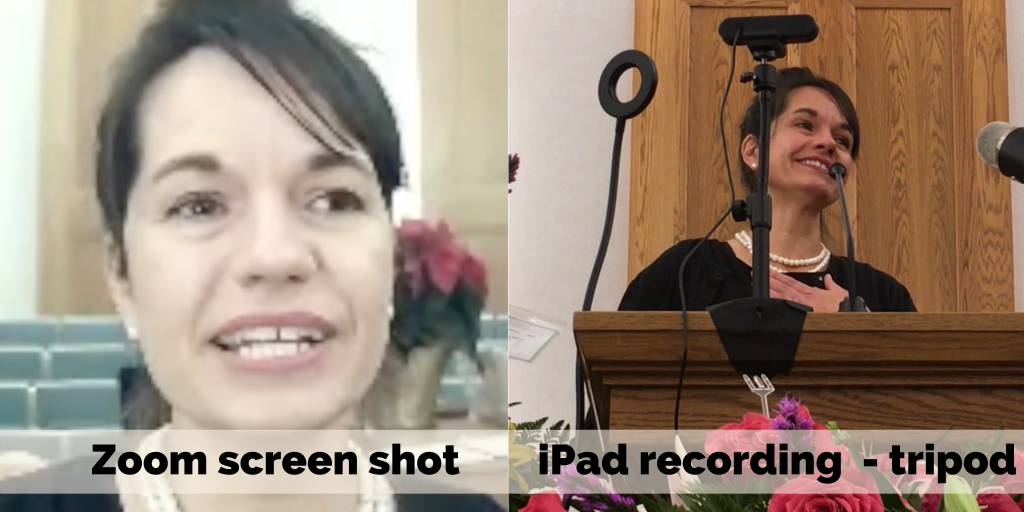 (Note: the following section contains Amazon affiliate links of the equipment I use. If you click and buy, I make a very small commission.)
Webcam (on gooseneck and weighted base) allowed the camera to be at eye level. This is a much better viewing experience than the dreaded "nose shot" from below looking up on a laptop, or a weird proportion because the camera isn't straight.
Backup camera on a tripod – we filmed a backup recording on an iPad and  tripod in case something went wrong with the recording. In this way, we'd be able to email it out afterward. Although we ended up not needing it, I was glad to have it when I realized that the camera angle cut out one of the singers. Ideally, string a long microphone directly into the iPad or phone because it won't sound good if you are very far back. Here is an affordable lavalier (lapel) mic with a long cord that sounds great.
Digital recorder to capture the audio: This became another backup. It was sitting on the pulpit so it recorded high-quality audio. This made it easier to get a transcript afterward, and it also captured the beautiful music. My favorite digital recorder is the Olympus WS-852.
Ring light: I brought the ring light I use for Zoom meetings and filming at my home office. It is on a clip, which made it easy to attach to the pulpit. Good lighting on people's faces makes an enormous difference. This is the affordable ring light on a clip that I use.
Gaffer's tape: I was glad I put a roll of gaffer's tape in my bag, which helped us help secure equipment in place, and to tape down cords so nobody would trip. Gaffer's tape removes cleanly without damaging wood or flooring.
Power cords, extension cords, and a battery pack: Remember to charge your equipment, bring the power cord, an extension cord and a power strip. I also brought a battery so I could plug in the iPad just to make absolutely sure we'd have enough battery on the backup camera. 
Microphone: make sure you use a good quality microphone that feeds straight into your computer. I cannot emphasize enough that people will forgive mediocre video, but NOT bad audio.  Click here to read my article about microphones I use for various purposes.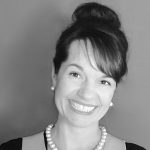 Rhonda Lauritzen is the founder and an author at Evalogue.Life – Tell Your Story. Rhonda lives to hear and write about people's lives, especially the uncanny moments. She and her husband Milan restored an 1890 Victorian in Ogden, Utah and work together in it, weaving family and business together. She especially enjoys unplugging in nature. Check out her latest book Remember When, the inspiring Norma and Jim Kier story.