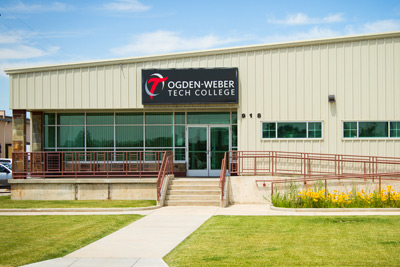 Vision. That's what was needed to create an Ogden-Weber Technical College campus at Business Depot Ogden in 2000. And vision was exactly what Collette Mercier possessed. Mercier is the former president of the Ogden-Weber Technical College and played a large role in seeing that the Business Depot Ogden campus came to life.  And now, after 20 years in the making, the Ogden-Weber Technical College dedicates the beautiful campus in Mercier's name – the Collette Mercier Campus. The dedication ceremony will take place October 21 at 3:30 p.m. The campus located at 918 West 2nd Street, Building 10, Ogden, UT 84404.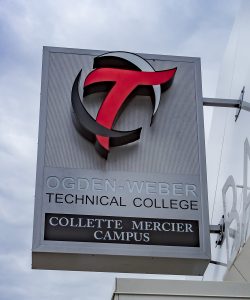 With over 90,000 square feet of learning space, the campus has already earned numerous awards upon completion
Utah Construction & Design Most Outstanding Tenant Improvement Project – 2018
ENR Mountain States 2018 Best Projects Competition – Best Renovation/Restoration Winner
International Interior Design Association Intermountain Chapter Awards – 2018: Best Learning Space Over 15,000 Square Feet and Best of Best of Show
But in many minds, none of this would be possible if it weren't for the leadership and guidance of Mercier. Always a team player, she involved all parties in the decision-making process and has often conveyed that the "magic is in the people."
Related article: How can you be a Multiplier and not a Diminisher? Collette Mercier was a Multiplier President. 
"For her to see two really old warehouses that were dirty and dingy – this is not just a thank you for being president for 12 years, this is much more," current tech college President James Taggart said of Mercier. "Collette has always been an unabashed champion for tech education. It's never about her personally even though she was a strong leader, for her the success was found in the students," Taggart continued.
It was in April 1999 that the application for the transfer of federal property for education was submitted. Mercier said Brent Wallis, who was the president of the Ogden-Weber Technical College at the time, found out about the possibility of a second campus at Business Depot Ogden and he, along with the other leadership of the college, were immediately interested. Mercier worked tirelessly through the entire process to make the project come to fruition.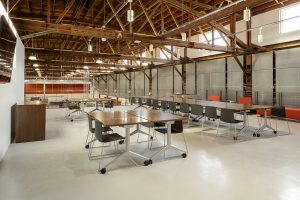 For her, it just made sense to have a site that would we be a mecca for business that students at the tech college had the skills to do upon graduation and completion of their courses. Included in the proposal were two large bays, but Mercier didn't know if they would be awarded both. They were awarded the first bay later in 1999, but tragedy would strike in early 2001 when a fire decimated the bay. But that didn't stop the college from moving forward. They were eventually awarded Bay 2 and work began transforming the burned area and the old 2nd bay into an amazing facility that not only houses the automotive classes for the college but many other custom fit programs that coincide perfectly with the many thriving businesses located at Business Depot Ogden. Bay 1's remodel was completed in 2014 with Bay 2 in 2017, but the official naming and dedication of the campus is now.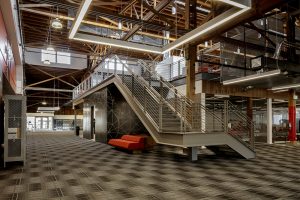 Mercier worked to get funding from the state to help bring the state-of-the-art facility everything it needed for students and businesses to give the needed training. There were years of struggle though. During Mercier's tenure the recession hit hard and she faced cutbacks and layoffs, all the while continuing to add to the BDO campus. Her team of leadership decided a new mission statement was needed to keep focus and to make sure both students and future employers for those students were getting what they needed. "We build a prosperous community by creating a technically-skilled workforce one student at a time," became a shining part of the college's mission statement and still guides all that enter the doors of the new campus today.
Mercier can't help but smile as she sits in the lobby of the beautiful space. She admits to being "almost embarrassed" about the facility being named in her honor. "I am truly honored. I love this place. I miss the people and the feeling and spirit people have. The success of the students is what it is all about."