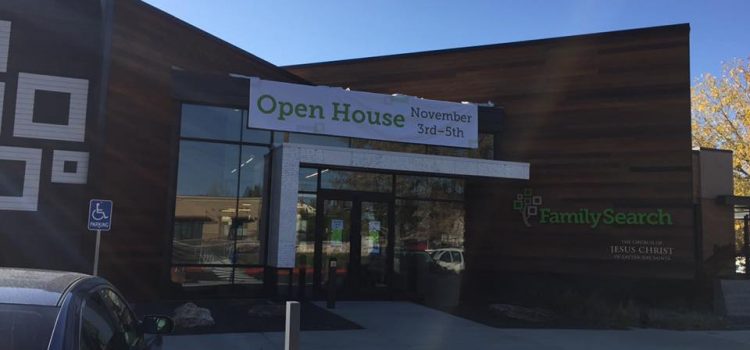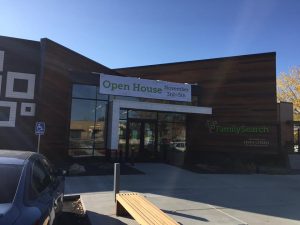 Crowds of people gathered around each of the nine stations at the new Layton FamilySearch Center this week during a series of day-long open houses to celebrate the new center, which is now officially open to the public. This family history center in Layton will be one that will be well-loved by the community.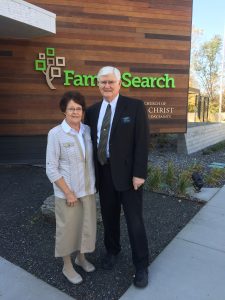 The center, located at 915 West Gordon Avenue in Layton, is one of the most unique in the world with the most state-of-the-art technology to connect families through generations. Those connections come not just with genealogy charts, but with live action video recording rooms and countless touchscreen computers throughout the 14,000 square foot facility. "Here we do some of the most important works in the world and this is one of the most unique buildings of this time," said Elder Stettler, one of the many missionaries called from The Church of Jesus Christ of Latter-Day Saints to volunteer at the center. All those that work at the center are either volunteers or are called by their LDS church leaders as missionaries to volunteer their time to help patrons navigate their way around the facility.  Those missionaries called range in age from late teens to senior citizens.
Directors of the center, Lyle and Linda Elmore, are thrilled with the people that have come to see the center and with the interest of all ages. Lyle loves having the younger missionaries on hand to show people the ropes. "They can do things in about half a second that takes me about a half a year," he said with a laugh.
The two were recently called as missionaries themselves to lead the center. The couple is from Syracuse. "This is our home and our Syracuse home is our home away from home," Lyle joked.
Through the open house people could peer at the different stations and get a brief synopsis of what they will be able to do when they come back for another visit. There is an advanced scanning center where pictures can be scanned in quickly with two different kinds of scanners. Linda said that is her favorite spot and has already scanned over 5,000 family photos and put them on flash drives.  Lyle and Linda are proud to say that they will be getting passed on to their families as Christmas presents.
Lyle's favorite spot is the recording studio. The center has two of the large studios that are equipped with large television screens that serve as recording devices. Interviews can be done in 10-minute increments. "If you have everything organized and together you can get right to it and get quite a bit done,"  missionary Sister Everlson said. If people get stumped, they can choose an option to have questions come up to encourage responses. The camera and recorder can also be paused to avoid all the ums too, Sister Everlson said.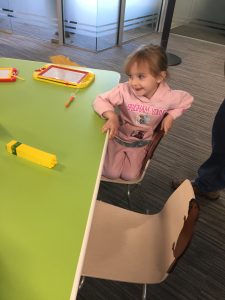 Once the recording is finished the video can be emailed to a personal email account and the audio can be emailed separately. "You can have it right on your phone before you even leave this room," Sister Everlson said. She and her husband have already started to tell their love story in the recording studio – they too plan to deliver it as a Christmas present.  That's one of the reasons Lyle loves the recording studio – the ability to connect generations quickly. "It's just so significant to have those audio and visual videos for families," he said.
Another room is set up like a family room with another television screen set up to transfer from video tape to DVR. The recording is done in real time and the room can be reserved for two hours. The room is set up like a family room with a big, comfy couch and a table with plenty of USB ports scattered through the room, even in the couch, so other work can be done while the transferring is happening.
There's a large children's area with special white Legos to build temples and large blocks with questions like, "Where was your grandma born?" to start to dialogue with children about their own family stories.
"These are great conversation starters to plant in young children's hearts," missionary Sister Roth said. Sister Roth was careful to point out the area is for playing with children, not leaving them unattended. "We want you to experience these things with your children," she said with a smile. There is also a dress up area and a machine that combines you and a child's face together.
The Discover Center helps people find a little bit about where they came from and about their ancestors with just a touch of the finger. Using their index finger, people can navigate through a large television screen to find what different parts of the world their ancestors came from and any photos or stories that have been shared on FamilySearch. People can also look up the year they were born a treasure trove of facts pops up about what was happening in the world that year. "My grandkids really loved this. They are always asking, 'Grammy what was going on when you were a kid?' Now I have been able to show them," said missionary Sister Bishop.
There's a refreshment area where people can take a break to eat a snack they have brought in, an open space for sharing ideas, classrooms where scheduled classes will be taught and rows and rows of computer for personal research with plenty of experts on hand to answer questions.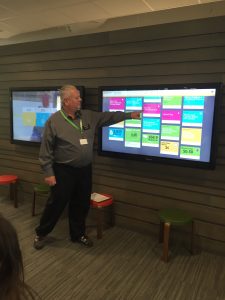 Lyle noted that it's not a library and there are many things happening in the open space where people can talk and converse with one another.
Lyle said there is a certain significance to life when people know where they came from. "When we know who they are we know who we are," he said. "We are standing on their shoulders and figuring things out about them and about ourselves," he said of people's ancestors.
The center is open on Mondays and Fridays from 9 a.m. to 5 p.m., Tuesdays through Thursdays from 9 a.m. to 9 p.m. and Saturdays from 9 a.m. to 1 p.m. The center is closed on Sundays. To sign up for a specific working time at any one of the stations visit the website.