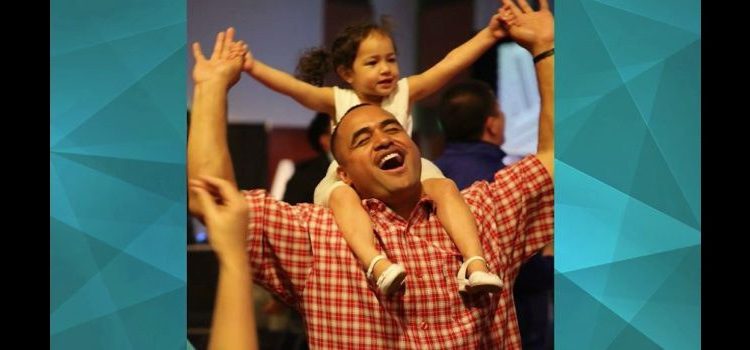 Tragedy and triumph are two very different things, but both evoke strong feelings. I have experienced both, but definitely not to the degree of former BYU Football runningbacks Coach, Reno Mahe. What Mahe taught me helped me look at my attitude about trials in my life.
Meeting a hero
First, let me say I have always admired the guy. I watched him play football at BYU – he was amazing. I then followed him as he played professionally for the Philadelphia Eagles and then was thrilled when I heard he would be coaching the Cougars under new head BYU Football Coach Kilani Sitake.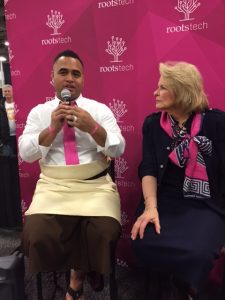 So when I heard he would be speaking at RootsTech Family Discovery Day in 2017 I was pretty dang excited. Getting to know your sports heroes in a more personal way is always a treat. But as soon as I heard he would be speaking my heart was also heavy knowing what he must be going through and that he would likely address it – the death of his sweet 4-year-old girl Elsie who in a tragic accident in the fall of 2016.
Mourning a loss
Football fans from all over mourned as we heard the news of the accident and college football teams across the state of Utah showed support by wearing sweet pink bracelets in his daughter's honor. Mahe was wearing one that day. The family showed a brave face to the community – so positive – I was in awe. But what would he say now?
I loved that he wasn't afraid to admit he didn't know a lot about family history, but that he wanted to learn. As I watched him through the course of the day – as he spoke and then when we talked at the media hub afterward, I could see his thought process of family history changing as he told his own family stories, some personal and touching. He also made a commitment to family history and he delivered one of my favorite quotes of the week from RootsTech. "You don't progress unless you make commitments." Truth right there.
He also was there to talk family history – not BYU football. So he got to it. "We learn from our commitments what we have done," Mahe added.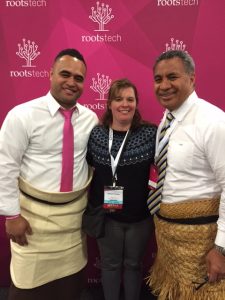 While Mahe was born and raised in the United States, his family is from the islands – his parents most recently from Hawaii. His family is well-known for their O'Tai- a delicious drink made with coconut, mangos and a lot of sugar – I think there is even some sweetened condensed milk thrown in. His family sells it on the side of the road in Hawaii. Mahe talked about an uncle that came to the United States and worked to help bring the rest of the family over to the United States. "Anytime this uncle would call my mom would drop anything to talk to him. She loved him and cherished him," Mahe said. For him, a family story of triumph – where someone worked hard to bring his family blessings.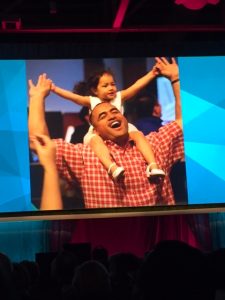 Both Mahe and his speaking companion and former BYU Football Player, Vai Sikahema, talked about how islanders often deal with tragedy, because they are faced with much tragedy in the way of storms on the islands. I wrote about his family history story as well.  "One thing I've learned is that you don't put too much into personal possessions, because when tragedy comes you can't rely on those," Mahe said. Great perspective and something I try hard to live by in my life. (I have a super
small house and really old furniture – good to hear that from Mahe because it makes me feel a little better for my choices.)
Reno Mahe – turning tragedy into triumph
Mahe talked about how much he had drawn on his family and culture during tough times. About a week before a big game – the big BYU-Utah rivalry to be exact, Mahe had to have his appendicts removed. He asked the quarterback of the team to give him a blessing that he would be able to play the next week. "I had a feeling I would need to be able to play," he said. He received the blessing and was okay to play. He feels like his heritage of faith and courage gave him strength to overcome and triumph in the end. Everyone laughed at the story and his determination to play the game he loved.
Loss and Family History
The feeling in the room grew serious as he talked about a tragedy that recently hit so close to home – his little Elsie. He said he was doing okay, admitting he was riding on his wife's coattails of faith and determination to overcome the heartache that hit. "It's a club you don't want to be a part of," Mahe said very quietly. "She's an angel," he said of Elsie. "Ironically, being here has made me want to get to know my grandparents better," Mahe said, acknowledging the fact that she could be with them now, getting to know them herself. "I feel incentivized to be better, to do my genealogy work to get to know my family that are waiting with her for me," he said.
For him, her death has made him want to be a better person so he can reunite with her one day. He also tries to hold on to anything positive that has come from his little girl's life. "Her organs have been harvested and 8 children are going to live and their lives will be improved because of her," Mahe went on. What a positive outlook! What a goal to set for myself. It reminded me of a talk I heard once where the speaker told us that we are so busy looking for rainbows sometimes we fail to be thankful for the rain. Sometimes the rain brings the greatest blessings.
Mahe then committed – aah there's that commitment word again – to do an oral family history this year. What a great goal and is that something I can do? Yes, I can!
Vacations and Education
After his Discovery Day presentation he talked with a few of us at the media hub and shared some of his oral history which impacted me too. He said Sikahema, who he considers as a great mentor, told him to do two things to create a great family dynamic – vacations and education. He noted how important family vacations are and how important it is to make sure your kids are educated and educated well. Such good advice. I have found this true too. A great vacation cures a lot of ills. There is a peace in having everyone packed in the car for a road trip that is hard to find any place else. And education – well, I think that speaks for itself.
I was so impressed with the easy and honest way he talked about life and his tragedies that he has turned into triumphs. He said after being at RootsTech he realized that there were things so much bigger than himself in life and he feels eager to learn more about family history and how to put into action. I always feel that way after attending RootsTech too and it's obviously still lingering with me, because I'm still thinking about it and writing about it. And I'm also thinking about Mahe's example – his example of goodness, faith and conquering hard things. I can commit to trying a little harder to be more like that.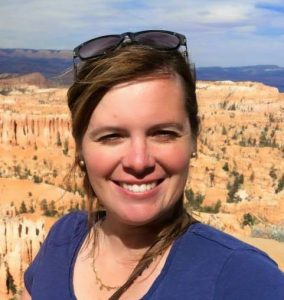 Rachel J. Trotter is a senior writer/editor at Evalogue.Life – Tell Your Story. She tells people's stories and shares hers to encourage others. She loves family storytelling. A graduate of Weber State University, she has had articles featured on LDSLiving.com and Mormon.org. She and her husband Mat have six children and live on the East Bench in Ogden, Utah.
Subscribe!
Get our weekly email with tips to tell your story and the Sunday Edition. (Free, of course)