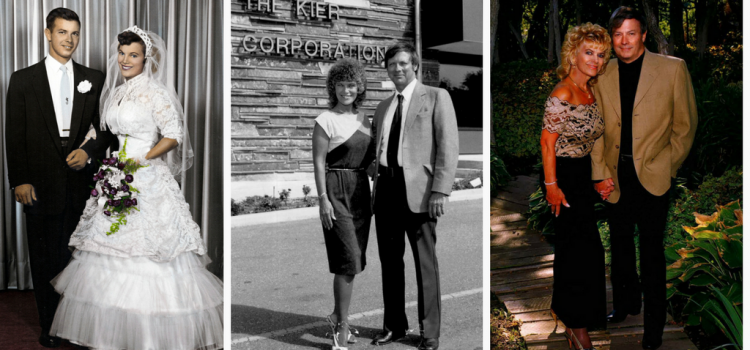 Editor's note: This article is written by Rhonda Lauritzen, Founder of Evalogue.Life who co-authored the new book Remember When with Norma Kier. It shares perspective learned by collaborating on this sweeping memoir, and also life lessons from the remarkable Kier family who founded Kier Construction, Kier Management and Kier Corp. 
When I first settled into Norma Kier's lovely living room to begin helping her write Remember When, her voice sounded soft and politely Canadian, with a certain elegant quality that women had in classic movies. It was not surprising since she was a woman who went to modeling school and was selected as a runner-up in a beauty pageant from an era when grace and manners were expected from young people.
This incredible lady, fabulously amazing at 80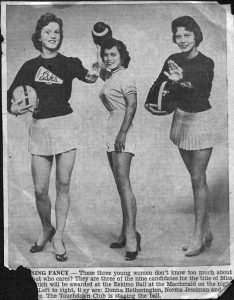 Norma had greeted me at her front door looking gorgeous at almost 80 years old, an age you'd never guess. Her blonde hair was done nicely, her make-up looked better than mine, and she wore beautiful jewelry paired with a form-fitting outfit. Every day she runs errands in tall heels for extra inches because she's not a millimeter over five feet. That evening, though, she greeted me barefoot because it was her habit then to sprint up and down the stairs. I say "then" because she's had recent changes in her health, which I'll get to in a minute, that made us grateful we started writing when we did. At that time, she was working out with a personal trainer and playing tennis, amounting to at least five vigorous workouts a week. Her tennis instructor urged her to enroll in the senior games because  in his words, "you'll run everybody out." Also, since Norma has banished flab from her frame, she gets away with wearing anything she wants.
Are people interested in musings of a "Remember When" style?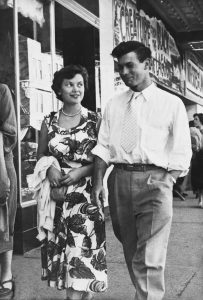 Since we began, Norma Kier has become very dear to me, but in that first interview her words were formal, and the pitch of her voice a little higher than usual, as though she were talking to a newspaper reporter, not a friend. She apologized for being nervous and told me how shy she is. "You, shy?" I thought.
I've known Norma for many years through the Breakfast Exchange Club and she strikes me as many things: warm, selfless, classy, fun-loving, and beautiful. Shy is not a word I would have chosen.
Still, that first evening she told me how as a girl, her father was in the Royal Canadian Engineers (Army). Moving from school to school made it hard to make friends and she preferred to blend in and avoided getting called on. When she had to deliver a book report, her hands trembled and she fantasized about a giant hole opening in the floor and swallowing her. In later interviews, I learned that as the wife of a gregarious, larger-than-life entrepreneur, she stood behind him in a wholly supportive role. Everybody loved Jim Kier and one colleague described Norma as a "First Lady" type of person, hosting wonderful parties and being gracious in every way. She was Jim's secretary at first, she cleaned the houses before putting them on the market, and she was the interior decorator. She also reared the children and lived frugally so they could invest in the business. When Jim passed away, she participated in a meeting where a male colleague commented, "I don't think I've ever heard you speak."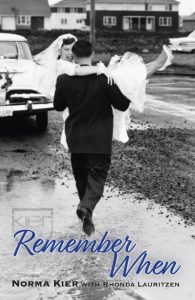 With genuine modesty during that first interview, she wondered if others may not be interested in her musings and thought perhaps we would just keep it simple, focusing on family readers. I believe family is the most important audience, so we simply made a pact to take the interviews as they came and tell the story with real heart.
For about fifteen minutes she rattled off  off the sort of autobiographical details that are useful to know up front, but not especially gripping in a story. Names, dates, and that sort of genealogy.
Then she asked if I had any questions for her. That gave me permission to ask a warm-up question, gleaned years ago from a marriage counselor who uses it to break the ice with new clients. That simple question was, "How did you and Jim meet?"
Ding, Ding! We have a winner!
It was then that Norma told an emotional love story that left me shaking my head with delight. I knew we had a winner. That first story told in our first interview became the opening scene of the book. That never happens in my writing since the opening and closing scenes are so hard to choose.
Related: Become a master business storyteller with these 5 questions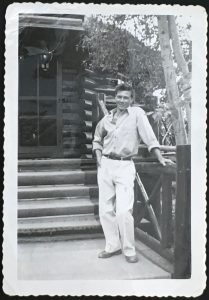 The night they met:
When she was 15 years old and living in Ottawa, Ontario, Norma and two of her girlfriends were walking to a Friday night dance in a January blizzard. She was hit by a car, her body thrown something like 85 feet, and there she lay in the snow unconscious. After they waited too long for an ambulance, an adult chaperone volunteered to drive her to the hospital and one of the older boys scooped her out of the snow and placed her in the car.  That boy was Jimmy Kier. When she awoke from a coma, Jimmy and a buddy visited her in the hospital and in subsequent afternoons Jimmy skipped school to keep her company. When she returned back home, Jimmy brought her lessons and tutored her in typing. (Fun note: That was quite the "return on investment" for his tutoring time considering that when she became his business partner she took on all the bookkeeping and secretarial work.)
Then, on the night of her 16th birthday, Norma was heartbroken that a train was to arrive at 11:59 p.m., whisking her family away to an Army camp in the middle of nowhere. Before the clock struck midnight, though, Jim proposed. They kept it a secret because her dad would have come unglued, and the next years of being apart were filled with the expectant longing of youth and love letters that kept the two close. They married, and she later told me, "From the time I was fifteen, I never wanted anyone but Jim."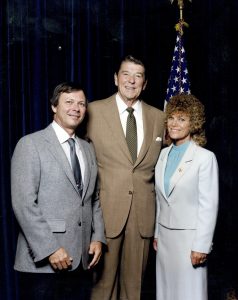 Remember when we had just $100?
As newlyweds, they had an employment opportunity in Ogden, Utah and they arrived with $100 in their pockets. Circumstances propelled them into business before they felt quite ready, and for the next decade their little family got by on practically nothing. Norma refers to that as the "scrambled eggs and beans period." They completed their family with an unexpected pregnancy of twins (Kimi and Kara), and ultimately parlayed that original $100 into a family of companies that did nearly $200 million in combined revenues last year.
A lifetime told in moments
These are the broad brush strokes of their life, but their story is filled with wonderful moments like the day Norma realized she had—quite literally—nothing suitable to wear, and she schemed to write the milk check for $5 over the invoice. Then she indulged herself in buying a pair of shorts with the cash. Or the moment when Jim recounted being a teenage boy, hiding in the school bathroom stall until the other kids left because he had to work as a janitor to earn his keep. As a young man he was in the Canadian equivalent of foster care and although he never shunned hard work, he was ashamed that he didn't have a family. That teenage boy grew into a man for whom family was supreme. One of his great business philosophies was to treat everyone—including subcontractors, employees and friends—like family. When they became successful they never forgot what it was to have nothing, and supported many community causes, especially those helping children like the Children's Justice Center and Christmas Box House, which Kier Construction built in Ogden.
I love the pivotal moment in the story when Jim and Norma came very close to packing up and moving back to Canada because the business was struggling. They dug deep and decided to stay in Ogden, then had their first big breakthrough.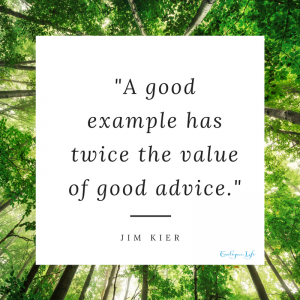 Another of my favorite vignettes was when Jim pulled a subcontractor's bid from the running because he knew there was an error in favor of Kier Construction. Jim Kier would never knowingly profit from someone's honest mistake. The story is told as a one-time moment in the book, but many people told me of similar experiences with Jim. Then it did my heart good to learn about the way their boys Steve and Scott  carry the same integrity and work ethic forward. Steve and Scott have become very successful and Kier Construction is well-respected throughout the west.
At the very end of the book, daughters Bonnie and Kimi, who run Kier Management, completed their biggest and most complex project when they completely renovated the historic Marion Hotel on 25th Street into Federally subsidized housing. It became single occupancy apartments to help the formerly homeless permanently get off the streets. They did a beautiful job and brought together a staggering number of partners and programs to make it happen. It was a grueling sort of final test that would have made their dad/mentor so proud.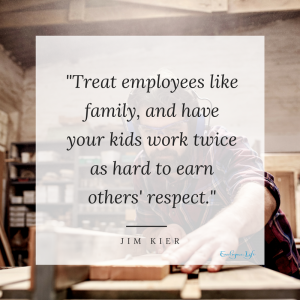 Daughter Kara is the most artistic member of the family and she often works as a design freelancer with the businesses. She created the book cover.
This is the power of telling business and family stories: to solidify values for future generations who never met the founders. My heart broke when I learned what they went through with Jim's cancer, and then my spirit soared to see the way Norma rose from the ashes and assumed her role as the matriarch and founder. She found her voice and her place.
A scare before publication
In the fall of 2017, Norma's family and I wrung our hands with worry when, right before publication of this book, Norma suffered a sudden heart attack and stroke. She had taken perfect care of her body, but genetics got the best of her on this one. When she returned home from the hospital, she said, "It scared me, and I'm glad we started this book when we did." The doctor delivered other disheartening news. "I can't play tennis or run up the stairs now," Norma said with some sadness. But she is ever the optimist who has trained her outlook to always look for the positive in a dark situation.  "I can live like this, and I am grateful to have more time," she said with determination. From a literary perspective, I don't think that Norma's character growth could be more complete or more satisfying.
It has felt like a profound privilege to write Remember When with Norma and in her voice, and a responsibility for which I have felt wholly inadequate. Still, what a treat to spend such quality time with one of Ogden's finest families, and to count them as mentors. Norma is one of my heroes and the business lessons I have learned from her are many.
My favorite quotes from Jim and Norma: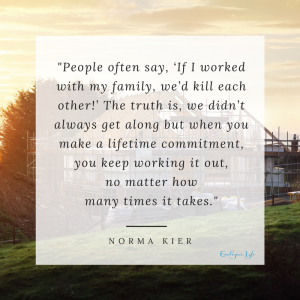 "A good example has twice the value of good advice." – Jim Kier
"Treat employees like family, and have your kids work twice as hard to earn others' respect." – Jim Kier
"Manage your risk and you will weather any market conditions. You've got to take risks to make money, but never more than you can afford if it goes south. Last, feed the company first. Always pay yourself after everything else. Lean up and put resources into the company, especially when there's not enough to go around. If you taste a little success and first thing you go buy a fancy truck and big house, those possessions will own you." – Jim Kier
"People often say, 'If I worked with my family, we'd kill each other!' The truth is, we didn't always get along. Jim and I had a great marriage, but we would sometimes go the rounds and we each got to have our say. But when you make a lifetime commitment, you keep working it out, no matter how many times it takes. Our children have made a lifetime commitment to each other. They are business partners and best friends. Most of the time." – Norma Kier
"When the time comes, I don't want a funeral. Throw a life celebration and my requirements are these: Everyone must wear leopard print and there will be dancing, chocolate, and wine." – Norma Kier
"Dynamite also comes in small packages." – Norma Kier
Order Remember When on Amazon by clicking here.

Rhonda Lauritzen is a professional biographer, teacher and author on telling personal stories. She has been preserving family stories since she was a young girl. She received a cassette recorder for Christmas when she was 10 years old and followed her 6 older brothers around constantly, asking questions. Today, Lauritzen is a professional biographer and author on telling personal stories. She is the Founder of Evalogue.Life – Tell Your Story, she served as a Vice President at the Ogden-Weber Technical College. However, it was working in the family business—ultimately as CEO—that inspired her first book, Every Essential Element. That family business memoir is told in her mother's voice. Lauritzen loves learning and teaching the craft of how to tell your story and she unwinds by  unplugging in nature with her family.
Disclaimer: This page contains affiliate links which means if you purchase some of the products we mention by using our links, we make a commission. Be assured that I'm only sharing the methods I actually use, but I do appreciate when you buy with my links because it helps fund articles like this one.
Do a family history interview
Sign up and we will email you a free, printable download of our mini-course to conduct a great oral history interview. You will be done in a week or less.