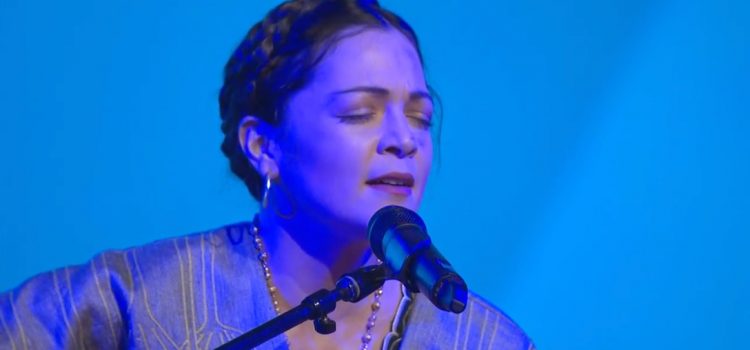 Natalia Lafourcade has become an international pop star after performing at the Academy Awards in 2018, winning multiple Grammy awards, and singing the theme song in the movie Coco. With RootsTech 2021 coming up, we were inspired to take a fresh look at her insights.
We fell in love with her when she delivered a spellbinding keynote at RootsTech 2018, which is the world's largest family history conference in Salt Lake City. Onstage, she gave her first-ever live delivery of Remember Me, bringing the audience to tears. We had the exhilarating privilege of interviewing this lovely and very genuine woman offstage afterward.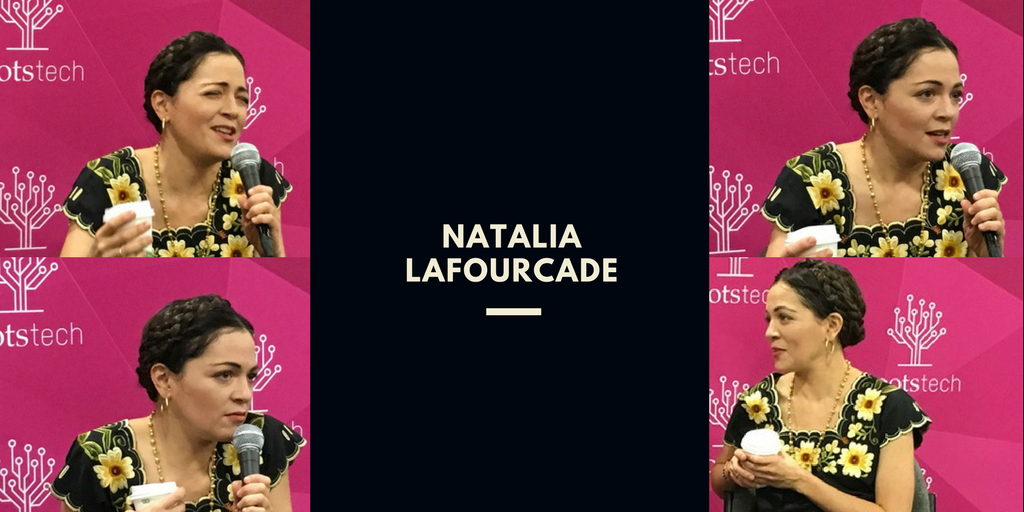 It seemed as though Natalia Lafourcade came out of nowhere, but if you have seen the Disney Pixar movie Coco, then you have heard her sing the pop version of Remember Me at the end. That song won an Oscar for best original song, and the movie won for best animated feature film.
Lafourcade is no stranger to awards, though, and she received her latest Latin Grammy in 2017 for the album: Musas (Un Homenaje Al Folclore Latinoamericano En Manos De Los Macorinos, Vol. 1.
A vintage guitar – "She's my lady"
Before singing, she introduced her guitar.
"This beautiful instrument is Francisca. Her name is because I bought it in San Francisco. A vintage 57, and a beautiful one. She's my lady."

Then she laughed, "We sleep together."
Onstage she radiated a genuine warmth, palpable to the audience perhaps because it felt like such a contrast to many overly-produced pop stars of our day. While she certainly sparkled with star quality, her stage presence seemed to come from a deep-earth place of family and tradition. She accepted praise with grace but seemed mindful of not letting compliments inflate her ego,
"I am small. I am human. I get sick sometimes. I have insecurities just like everyone."

Staying grounded
She seemed to be grappling with newfound stardom and hoping to keep her feet on the ground.
"I still get lost. I am not perfect."
Then she gave an example. "Last week we were celebrating my birthday with my friends in Paris. We were going into these very, very expensive shops. We didn't buy anything…" But then she bought her first pair of Gucci shoes because, "I am going to the Oscars, and the girl was giving me champagne and I was feeling so guilty because in Mexico so many people would be eating so much with this money. Then I was like, Oh come on, it's the Oscars. And the other side of me was like, 'Oh it's too much.'"
She laughed, and it was an endearing moment. A lesser human being wouldn't have those concerns.
Then, she played and sang. If you want to watch the recording, check out the link below. It includes three amazing songs, the final one being her very first live performance of Remember Me, ever.
Here is the link to Natalia Lafourcade singing live at RootsTech.
Playing music from a humble place invites magic
In that spirit, she embraces her gift.
"If you are singing or playing music from a very humble place then there is this moment when magic happens…a magic connection between hearts."
She elaborated on her philosophy after the performance, "I believe that music is very important to wake up the heart. To wake up the spirit. There are no borders with music. There are no different languages. Music is a universal language."
Natalia Lafourcade's Story
Lafourcade has an amazing story. The 34-year-old was born in Mexico City. Her father, Gaston Lafourcade, is a harpsichordist and served as a music professor. Her mother, Maria del Carmen Silva Contreras, is also a music educator and she created the Macarsi Method of Musical Education. Natalia learned music through this method, which her mother adapted to help Natalia recover from a head injury after she was kicked by a horse (Source: Wikipedia). At age 16, Natalia Lafourcade began to write songs, and in 2002 at 17, she signed with Sony Music and recorded her debut album.
Although Natalia Lafourcade grew up loving the Jazz greats like Ella Fitzgerald and Billie Holiday and she wanted to sing pop, her father filled the home with Bach. He urged her to play piano and was not happy when she requested an electric guitar. That phase passed, probably because she was already so grounded. "Music was my life."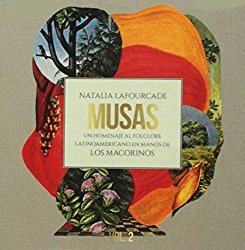 As the daughter of a mother and father who taught music to children, her childhood was a wonderful studio for learning. No wonder her career launched so young.  Then she dug deeper "7 or 8 years ago," and turned a corner. "There was a moment when I said, now I am going to take it seriously." When she did, she bridged the folk music of her culture's past with a fresh and forward-looking spirit.
Folk songs are time capsules
In going back through history for musical inspiration, she found folk songs to be like archaeological time capsules, unearthed to deliver stories of daily life in the past. She explained, "In folk music in Mexico, you can tell the way people lived by the lyrics, the way they sing, and the way they construct the whole melody." Written between the lines of songs about washing clothes and gathering wool are political statements that would have been suppressed if made overtly. Cloaked in melody, however, the stories and the details have survived intact for centuries.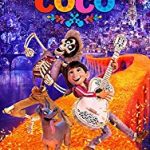 Coco bridges generations and cultures
With Coco, Natalia Lafourcade landed squarely on the American music scene, appealing to a broader audience than the millions with Latin roots. At RootsTech, the crowd was predominantly Caucasian and faces were tear-stained by the middle of Remember Me. While the other two songs were less familiar and delivered with Spanish lyrics, the 10,000 attendees were moved. As Lafourcade said, music does not require a common language to be felt.
Related: Coco movie reminds us what is truly important – family- past, present and future
When asked how connecting with the past changed her perspective, Lafourcade replied, "Before, I wasn't happy with my soul. But since I made this connection to my history, my family, my country, the only thing I am trying to do is connect to the real spirit. What I can share is music. And I can do it from a real place. It's not about a competition or showing you are the best. No, it is about doing something that will inspire others to do the same."

Natalia Laforcade's family history
Connecting with her past does not mean she has all the answers, however. Her family speculates that their paternal line came from France, although her father said it had something to do with pirates, a claim Natalia suspected was just a good story. Onstage at RootsTech, she received answers as she was presented with her genealogy, showing her family's music ties and tracing the line back to Bordeaux, France. She was also presented with documents about her maternal line that she had never known. In the post-performance interview, she shared that now she understands why she has always felt such a connection in France, crying while walking on the street without knowing why.

A Musical Ambassador
Lafourcade takes the role of musical ambassador to heart,
"I feel like I am representing my country, my people, our tradition, our history. And it makes me feel very happy, especially in this moment. [Remember Me] is like a healing. It is like medicine for all of us."
She added, "Coco is about the importance of having a family, and it brings us together."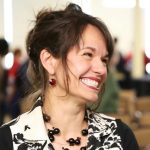 Rhonda Lauritzen is the founder and an author at Evalogue.Life – Tell Your Story. Rhonda lives to hear and write about people's lives. She believes that when you tell your story, it changes the ending., She and her husband Milan restored an 1890 Victorian in Ogden. She especially enjoys unplugging in nature. Check out her books: How to Storyboard, and Every Essential Element. Most recently she was the writing coach of bestselling author, Rob A. Gentile, who wrote Quarks of Light, A Near-Death Experience: What I Saw That Opened My Heart
Disclaimer: This page contains affiliate links which means if you purchase some of the products we mention by using our links, we make a commission. Be assured that I'm only sharing the methods I actually use, but I do appreciate when you buy with my links because it helps fund articles like this one. 
Do a family history interview
Sign up and we will email you a free, printable download of our mini-course to conduct a great oral history interview. You will be done in a week or less.