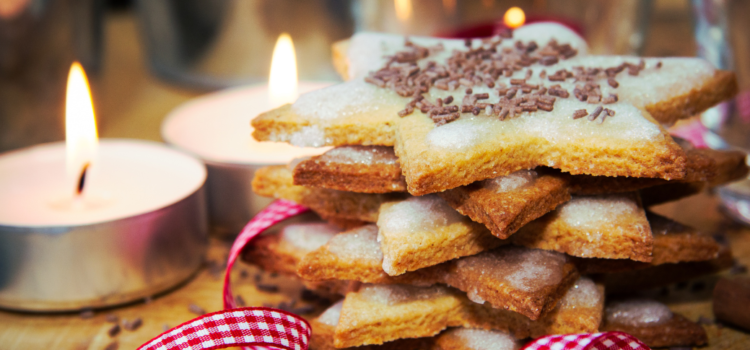 It's hard to think of the holiday season and not think of all the holiday food – the tantalizing treats both sweet and savory – that accompany the celebrations. Have you ever thought about writing about those holiday foods?
Ask anyone and they probably have a holiday food that makes them smile. I know this is true for me – I have 10 or 20! Most of them take me home, home to grandparents, aunts, uncles and cousins or to my parents house. When I interview clients for their life stories, I've often thought about snapping a picture when I ask questions about favorite holidays. People travel to that place in their minds (it's usually Christmas) and the first words that pop out of their mouths are almost always food related. Why? Because food elicits memories!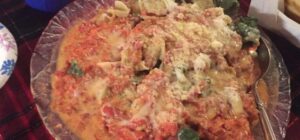 I've been doing this adult thing long enough, that many of those food memories take me to my own home – the place where some nights I cook into the wee hours of the morning – preparing Christmas candy or other treats with steamed windows and Christmas music blaring (sometimes a little too loud for that hour.) I truly love it and the memories and feelings it evokes, and that's a lot why I do it – the memories – which brings me to my first reason why holidays and food go together.
Related: Why should we remember?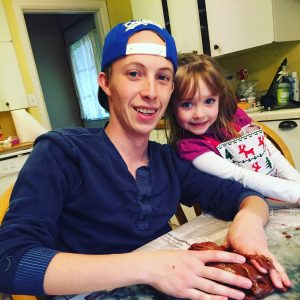 1. Holiday food traditions bring memories of Christmases past that we cherish.
This is true on so many levels. My Grandma Furniss was a master in the kitchen. She had the ability to make a can of corn taste divine – just the right salt and pepper maybe, or maybe just because it was at her table. My grandma was a pro at the art of Christmas candy making. She made several different kinds of fondants and then dipped them (beautifully, I might add) in chocolate. Those candies were  coveted by all and she was picky about who she passed them out to. You had to be pretty special to get candy from Grandma, especially her cherry chocolates.
So as a young bride I decided I was going to learn the art. For a few years in a row I would go out on a Saturday in December and the two of us would make candy. It was a process! Stirring the fondant just right and then pouring it out on the marble slab and then kneading the heck right out of it. That was (and still is) the hardest part.
Once we made all the fondants – it took most of the day – I would go the next week and we would dip them. She had a fancy chocolate melter and we would go out the night before and get it set up (it took all night to property melt the chocolate) and then dip chocolates. All conditions had to be perfect – the window open just a crack, the cookie sheets spread with just the right amount of corn starch so things wouldn't get sticky and on and on.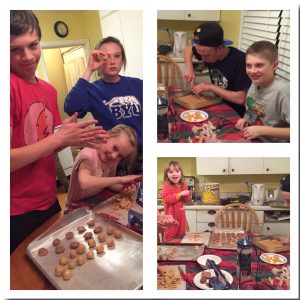 Cooking leads to conversations
The candy is divine but the best part was always spending that precious time with my grandparents. We talked about everything from politics, to soap operas, to spiritual matters to the drapes in the kitchen. My grandma has been gone for 16 years now and every Christmas time I drag out her old marble slab (it's sitting outside my door as we speak getting cold) and I make a few batches of candy. I think of her through the whole process and I talk about her with my husband and kids as we make the candy.
It is a family affair and although it's hard and it kind of stresses me out, (okay it really stresses me out) it's a tradition I cherish, even if I might complain about it just a bit. My mom and children always encourage me to carry it on every year and I love them for it. My oldest son is my candy apprentice now and he is coming from Provo to help make all the candy.
Dinner Table Conversations
Strengthen bonds and help children be more resilient through intentional conversations. Get our prompts to spark lively discussions and create a culture of storytelling.
Related: Is family storytelling for kids? Yes!
2. Holiday food traditions teach us about our heritage, an important part of our story.
Many of us celebrate the holidays with unique foods that have been passed down for generations . We may serve them at a special occasion or on specific days of the season. That's the case for our founder, Rhonda Lauritzen. Her family has biscuits and gravy on Christmas morning. Now that her extended family has grown, there are pockets of extended family enjoying biscuits and gravy all over the place on Christmas Day.
For years, she thought this tradition came from her dad, but discovered recently it came from her mom's side of the family who came from the deep south. Aah, biscuits and gravy – south. Makes sense.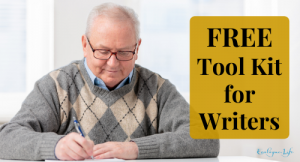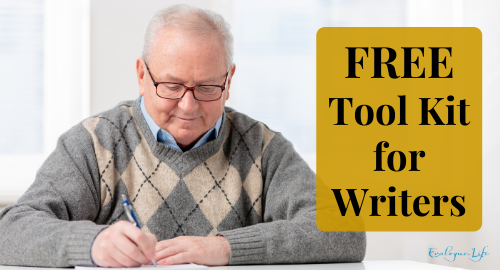 Recipes reveal our past
In my family it's all about the olikooken. It's a Dutch donut that all factions of my extended family make at Christmastime to celebrate our Dutch heritage.
My Great-Grandma Kap immigrated here from Holland in the early 1900s and the family recipe has been a popular one. I love walking into my mom's house on Christmas Eve and smelling the fried spiced donuts  with raisins and currents still warm in a bowl, just ready for eating. We also make them on the night we decorate the tree, and I make them in my own home too for the same occasions. It's another treat that only goes out to close friends and family because they are special. They are our heritage. And the recipe? Don't even ask. No one ever said it is a family secret, but no one is giving that baby out to anyone besides family.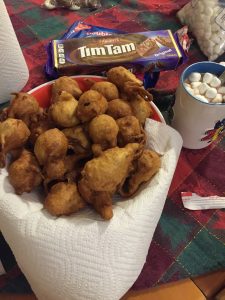 Related: What's your fave recipe? Family story questions that stick
3. Holiday food traditions unite family and friends in a very unique, uplifting way. 
What's better than family and friends coming together to eat something delicious that you've eaten together for years? Sometimes the unitedness comes in the preparations, sometimes it comes in the eating of the holiday food and sometimes it proves to be a catalyst to bring new friends and family into the fold. My dear friend Jenni Kozak makes "Santa Claus punch" for her holiday table every year. While the tradition is fairly new, starting with her parents, it brings warm memories of her father, Monte. He used to make the punch, which is a frappe, and he was the neighborhood Santa at many local events. That's why he coined the name, "Santa Claus punch."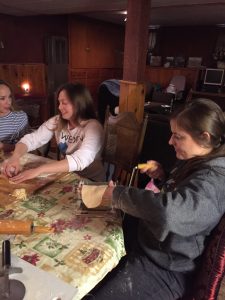 Making tortellini last year with my kids and sister, an important holiday food tradition in our family
"It's a mixture of cran-raspberry drink, sprite, vanilla ice cream and raspberry sherbet. It's delish!!! My dad passed away 10 years ago, just a couple of weeks before Christmas. This tradition now holds very sentimental meaning. As we mix it up each year, we talk about my dad and what a wonderful man he was," Jenni said.

Christmas Eve cooking
This also rings true in my family, with a fabulous holiday food tradition of making tortellini from scratch – a tradition and skill that my Aunt Penny shared with our family that she learned about while living in Europe. I plan to write more about the whole tradition in a later blog, but it is a tradition that I did every year growing up. After I got married, we dropped the tradition for a few years.
But me being a constant lover of tradition and ritual, I revived it and have no regrets about it. While my extended family is too big to get together and eat tortellini on Christmas Eve, I take great pleasure in knowing that we are all eating it in one way or another on Christmas Eve somewhere in the world. No doubt, as we eat we are all talking about those years of togetherness in our own families.
What are your food traditions?
Do they fall into these three categories? We would love to hear about them…include recipes if they aren't family secrets! Plus, use this as a catalyst to write down your memories, holiday food traditions or special thoughts about this magical time of year. You won't regret it! I hope as you've read this post, your own traditions are bringing a smile to your face and that you are ready to write or record your cherished holiday food family stories.
Related: Questions to ask your parents or grandparents.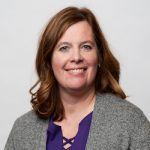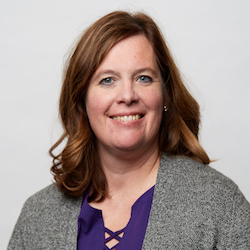 Rachel J. Trotter is a senior writer/editor at Evalogue.Life – Tell Your Story. She tells people's stories and shares hers to encourage others and especially loves family storytelling. A graduate of Weber State University, Rachel has had articles featured on LDSLiving.com and Mormon.org. She and her husband, Mat, have six children and live on the East Bench in Ogden, Utah.
Dinner Table Conversations
Strengthen bonds and help children be more resilient through intentional conversations. Get our prompts to spark lively discussions and create a culture of storytelling.